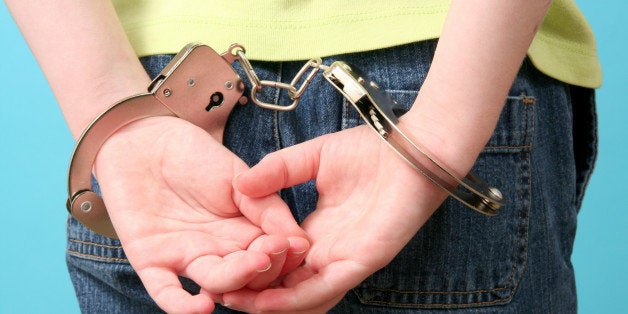 After a 5-year-old boy ended up handcuffed and shackled in a patrol car following a classroom outburst last week, his family is saying the school's failure to follow an established action plan left their son traumatized and unable to return to school.
Chelsea Ruiz told The Huffington Post Monday that her son, Connor, had a "meltdown" at Philadelphia Primary in upstate New York last Wednesday. School personnel told Ruiz that Connor was jumping around, stabbing himself with pencils and trying to choke himself by chewing on foam and crayons.
Ruiz said teachers in her son's special needs classroom tried for two hours to de-escalate the situation. But eventually, instead of calling Ruiz or her husband, Ryan, the school called the state police. Ruiz said the school didn't reach out to her until after that.
"They're incompetent, is how I feel," Ruiz said of her son's teachers and school officials. "I didn't find out that they let my son spiral out of control for two hours until I read the [news] report."
Because Connor has attention deficit hyperactivity disorder, obsessive-compulsive disorder and oppositional defiant disorder, his family had established a plan for how to deal with him should he act out in an extreme way, said Ruiz. Connor's family had made the school aware of their plan before Wednesday's incident, Ruiz said.
"Nowhere did [our plan] state to call the police or have him evaluated," Ruiz said. "If the teachers can't calm him down, they should call me or my husband, because we can. But they didn't. We were the last call."
At the hospital, Ruiz said, her son cried and hugged her, telling her he'd been "arrested for being a bad guy."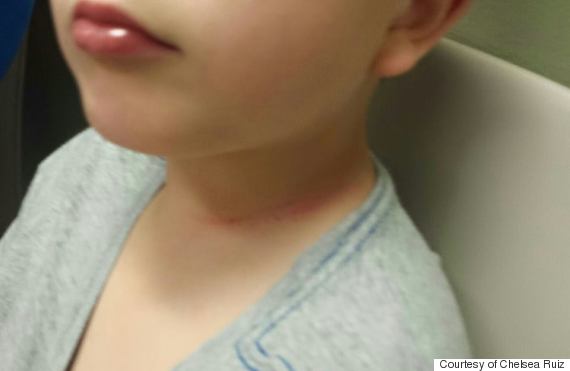 Chelsea Ruiz said her 5-year-old son with special needs was left with scratches after he was shackled and handcuffed by police following a behavioral outburst at school.
Mary Beth Klotz, director of educational practice for the National Association of School Psychologists, told The Huffington Post in an email that calling police on a child with behavior issues is appropriate only under certain rare circumstances -- "if the student had a weapon for example, or if the student was so out of control that they were posing an immediate serious threat to the safety of themselves and others."
"Again with adequate staffing levels, proper staff training and credentialing, and utilization of multitiered systems of support and positive discipline techniques, these occasions should be very rare," Klotz wrote.
Trooper Jack Keller, a public information officer with the New York State Police, defended the police measures, telling HuffPost that the responding trooper initially attempted to build a rapport with Connor to calm him down.
"After that was unsuccessful, [Connor] was trying to stab himself with pencils," Keller said. "At that point the trooper had to -- it's kind of a bear hug -- tried to subdue the child to prevent him from hurting himself."
When that didn't work, Keller said that police cuffed Connor's hands in front of him to prevent him from swinging his arms, put his legs in shackles and carried him to a patrol car, where an officer sat in the back with him.
"It's one of those things where it's a last resort. It's not something we would do normally," Keller said. "No officer wants to put restraints on a 5-year-old. The idea here isn't to discipline the kid."
Keller said that he spoke with Ruiz two days after the incident. He described their talk as "very productive."
"My concern was to address her concern," Keller said.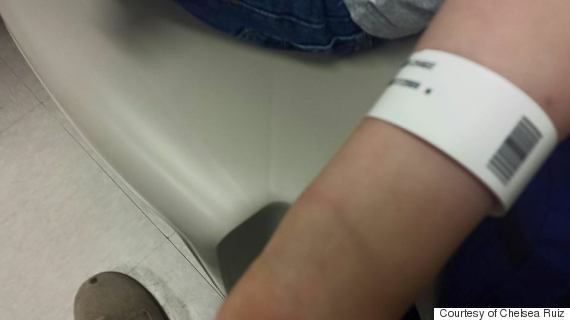 Ruiz took photos of the marks left on her 5-year-old son's wrists after he was shackled and handcuffed by police.
Ruiz, meanwhile, has been trying to get more information about last week's incident, but she says it hasn't been easy. Police told her she must file a Freedom of Information Act request to see a copy of the incident report involving her child. She made one call to Connor's school, but says it was "intercepted" by James Kettrick, the district superintendent. Since then, she says, she hasn't tried to contact the school district again.
"The staff and the police did everything necessary to keep that child safe," Kettrick told The Huffington Post on Monday. He declined to go into specifics about the incident or about the school's alleged failure to follow the plan devised by Connor's family.
"We're getting into a level of detail that I can't respond to," Kettrick said. "I don't want to get into a point-counterpoint with the parents."
Ruiz also disputes the school's claim that they tried to contact her and her husband as their son was taken to Samaritan Medical Center for a mental health evaluation.
"All of this trauma, and for what? He never even got the mental evaluation the school insisted he needed," Ruiz said. "The one professional who could determine if he needed this or not decided he didn't need it."
Ruiz said she plans to pursue legal action against the school. Connor hasn't returned to Philadelphia Primary since the incident, and Ruiz wants the district to provide a tutor for him until she can find a new school to place him in. She said she won't be sending Connor to any school in that district, or any public school at all, for that matter.
"He said, 'No Mommy, please, no more teachers.' He's terrified of all of it," said Ruiz, adding that her son recently hid at the sight of police at their local park.
"People are saying kids bounce back from this stuff, but not a special needs child. They're not typical developmental children," said Ruiz. "They have to have help to learn how to cope with things. He's not going to just bounce back."
"Honestly, I feel like someone needs to be held accountable," she added. "Everyone is deflecting and blaming my son."
Support HuffPost
The Stakes Have Never Been Higher
Related
Before You Go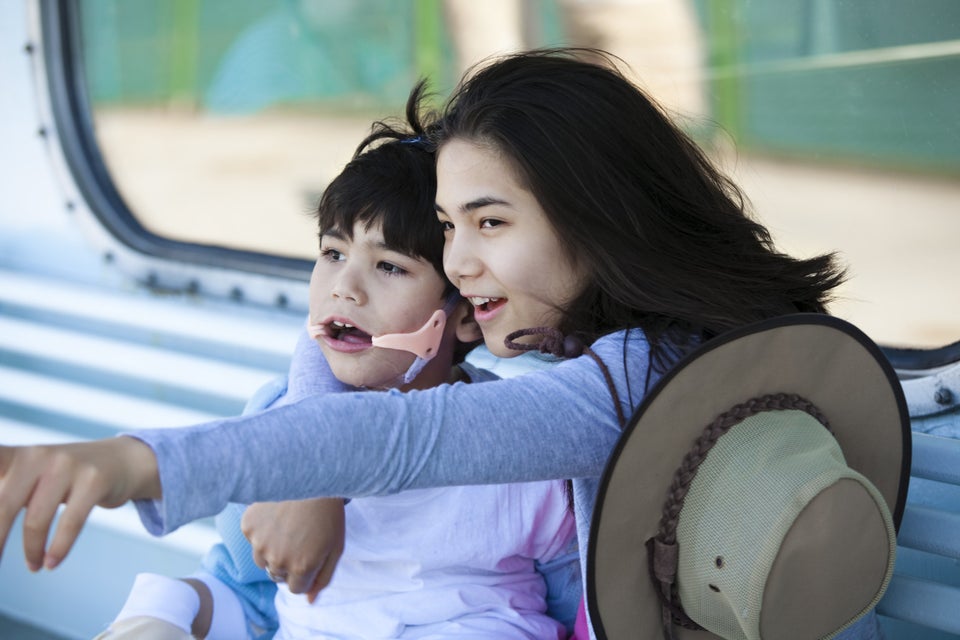 10 Things Parents Of Kids With Special Needs Wish You Would And Wouldn't Do
Popular in the Community