WAYNESBURG, Pa. ― Over 200 coal miners, family members and local activists crowded into a hall at the Greene County fairgrounds Sunday afternoon in Pennsylvania's rural southwest corner.
The attendees, many of them retirees in their 60s and 70s clad in the United Mine Workers of America's signature camouflage-patterned regalia, were there for one last get-out-the-vote rally for Democrat Conor Lamb.
But the raucous atmosphere at the rally felt more like a church revival service than a political gathering. And while everyone present was there to support Lamb, the main event was Cecil Roberts, the charismatic preacher and president of the UMWA labor union.
After ascending the stage to chants of "U-M-W-A," Roberts delivered a nearly 30-minute sermon in which he managed to portray a vote for Lamb in Tuesday's special election as a sacred and patriotic act in keeping with the godly social justice tradition of Moses, Gandhi, UMWA founder John Lewis, Martin Luther King Jr. and the recently victorious West Virginia teachers' strike.
"We're God-fearing folks down here in these coal fields," Roberts roared in his West Virginia twang. "I believe in God and so do you and we don't apologize to anybody for that."
"The bible tells us some day we're all gonna be judged by how we treat the least of these, and the labor movement and the Democratic Party are about treating the least with respect and lifting them up," he continued, to loud applause and affirmative shouts of "that's right" from attendees.
To hear Roberts tell it, the struggles of organized labor reflect a deep spiritual and patriotic fervor ― a fervor that Lamb shares.
"It just excites me when people run up to me with a camera and say, well, 'Tell me what kind of person Conor is.' We don't know each other personally, but let me tell ya, I know what he's about," he intoned in his breathy preacher's cadence.
"Let me try to explains [sic] to ya what kind of folks we are and what kind of Democrat Conor is. He's a God-fearing, union-supporting, gun-owning, job-protecting, pension-defending, Social Security-believing, health care-greeting and sending-drug-dealers-to-jail Democrat!" he bellowed in conclusion as the audience rose to their feet and broke out in chants of "CON-OR, CON-OR."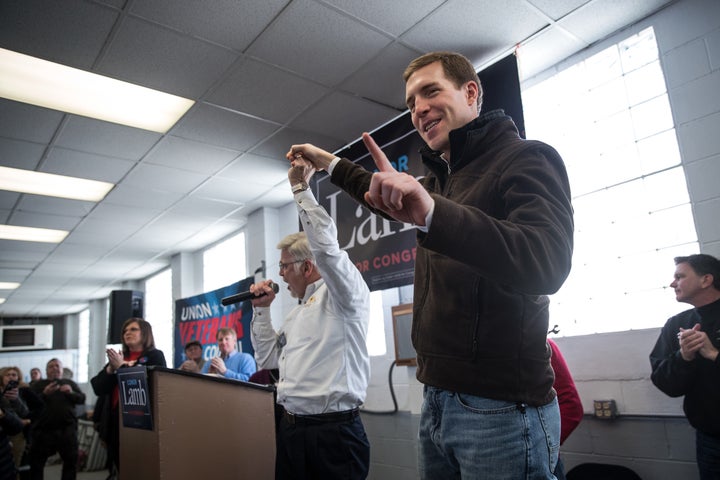 Elements of the rally ― the religiosity, the pro-gun rhetoric and the romantic attachment to coal country ― would surely make more socially liberal Democrats squirm.
But for better or worse, Roberts' speech was the rhetorical capstone of a campaign that has sought to bring rank-and-file union members who voted for Donald Trump or past Republican congressional candidates back into the Democratic fold.
And in union-heavy congressional districts like Pennsylvania's 18th, if not in the country at large, organized labor remains a powerful tool in Democrats' toolkit.
Suburban women played a key role in Democrats' electoral sweep in Virginia in November. And black women got credit for helping put Democrat Doug Jones over the top in his surprise win in the Alabama Senate race in December.
Now it's labor unions' turn to bask in the spotlight: If Lamb wins Tuesday, he will owe much of his success to them.
Lamb has acknowledged as much, telling the audience at the UMWA rally that organized labor has "been the heart and soul of this campaign."
A Lamb victory would not merely give organized labor an avowed policy champion, however. It would elevate the political capital of unions across the country by reminding both major political parties of their power to sway close contests ― particularly in the swing-voting industrial states along the Great Lakes.
"What this race shows already, regardless of the outcome, is that labor is still very relevant and still has a lot of clout and the ability to organize and affect elections," said Mike Mikus, a Democratic political consultant based in western Pennsylvania.
"What this race shows already, regardless of the outcome, is that labor is still very relevant and still has a lot of clout and the ability to organize and affect elections."
Organized labor has experienced a steady decline in the country in the past few decades, devastated by the hollowing out of manufacturing and employers' increasingly aggressive union avoidance tactics. Just 10.7 percent of American workers belong to unions, down from 20.1 percent in 1983.
But in Pennsylvania's 18th, with its high concentration of steelworkers, coal miners, carpenters and civil servants, about 23 percent of voters remain unionized.
Thanks to more conservative views on hot-button issues like guns, abortion and immigration, rank-and-file union members have increasingly lent their support to Republicans, often against the advice of their leaders.
President Trump, with his talk of reviving American manufacturing and coal mining, proved especially effective at picking off union members in this region. The UMWA, fretful about the effect of the Obama administration's environmental regulations on the coal industry and Clinton's promise to continue them, declined to endorse a presidential candidate in 2016.
Area Republicans have also proven adept at signaling that they are, at the very least, not enemies of unions. Former Rep. Tim Murphy, a Republican whose October resignation amid a sex scandal sparked Tuesday's special election, actually secured the endorsement of the Pennsylvania AFL-CIO in 2016 when he ran unopposed. He supported several union policy priorities as well, voting in 2007 for the Democratic-sponsored Employee Free Choice Act, which would have made it easier to unionize.
"If Tim Murphy wouldn't have gotten caught up in this scandal, I'd vote for him every time," said Dwight Harris, a Republican union coal miner from the city of Washington, who plans to vote for Lamb.
This time, however, the choice for labor unions is stark. Lamb, who hails from a prominent, pro-labor Democratic family (his uncle, Michael Lamb, is Pittsburgh city controller), has pledged his full support for a host of union priorities, from an infrastructure bill to bipartisan legislation that would shore up coal miners' underfunded pensions.
In the final week of his campaign, Lamb held at least three major rallies with labor unions, including a Tuesday assembly at the local chapter of the United Brotherhood of Carpenters where former Vice President Joe Biden spoke, and a Friday rally at the United Steel Workers' headquarters where Pennsylvania Gov. Tom Wolf (D) and other elected officials addressed a crowd of at least 300.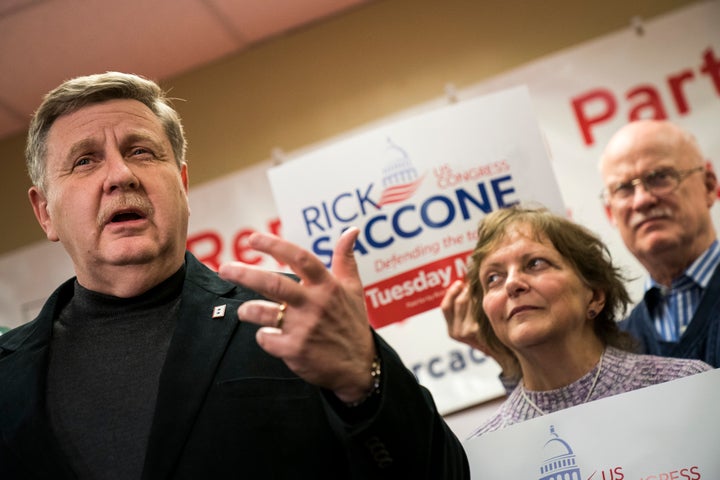 At every event, Lamb speaks poignantly about the vital role of unions, noting that Philip Murray, the founder of the modern United Steel Workers, enjoys a saintly monument in a Catholic cemetery in the Pittsburgh suburb of Castle Shannon.
"In western Pennsylvania, it's no surprise that we put a statue of one of our great labor leaders right there in the churchyard for everyone to see, forever," he said in a January stump speech in Houston, Pennsylvania.
In contrast, Lamb's opponent, Republican Rick Saccone, is as clear-cut an adversary as organized labor has had in the region in some time. Among other offenses, he supports right-to-work laws and has not been clear about his stance on federal legislation to aid the coal miners' pensions.
As a state representative, Saccone has been a constant thorn in unions' side. He infuriated building trades unions with his vote against a 2013 transportation infrastructure bill, and irked public-sector unions with his vote for a 2017 bill that would have made it harder to collect dues from their workers.
The district's frequently divided labor unions have united against him, activating their sophisticated voter education and turnout machine to inform their members that Saccone is not the kind of Republican they can get behind. The phone calls, emails and in-person admonitions that organized labor makes to its members often carry more weight than contact made by unknown campaign canvassers.
Across the district, union members who happily voted for Murphy and either stayed home or backed Trump in 2016, said that they were choosing Lamb over Saccone thanks to appeals from their unions.
Scott Zeszutek, a 48-year-old union electrician, voted for Sen. Bernie Sanders (I-Vt.) in the 2016 presidential primary, then left the top of the ballot blank in November because of his personal disdain for Hillary Clinton. He also regularly voted for Murphy.
But in a Saturday conversation at the smoke-filled Cuddy Sports Club in Cuddy Hill, Zeszutek said he would vote for Lamb. A representative of his union, the International Brotherhood of Electrical Workers Local 5, called him to say that Saccone supported right-to-work laws. That is a dealbreaker for Zeszutek, who believes that preventing unions from compelling dues payment from workers they represent is tantamount to theft.
"If they start taking money out of my pocket, what are they going to do for the rest of this country?" Zeszutek said.
Of course, labor unions' efforts on Lamb's behalf have not been without their hiccups. Lamb rankled some union officials during a February debate in which he disavowed the $15 minimum wage, which has become a leading progressive cause thanks to the organizing work of the Service Employees International Union.
(For his part, Saccone said he opposes an increase in the minimum wage, which is $7.25 in Pennsylvania, and argued that the floor on pay should be "market-driven.")
Darrin Kelly, a union firefighter who is now president of the Allegheny County Labor Council, said that organized labor was at least guaranteed an audience with Lamb when it disagrees with him.
"The best thing about what we have with Conor Lamb is that we know he'll listen," Kelly said. "That's all we really want when we help someone get elected ― is to make sure that our voices get heard."
Before You Go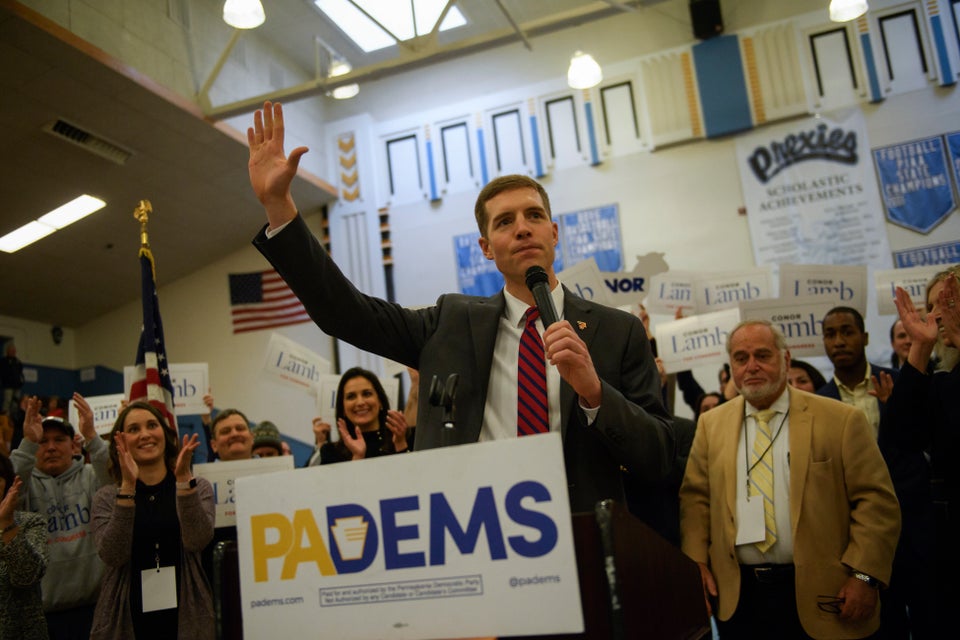 The Special Election for Pennsylvania's 18th Congressional District
Popular in the Community