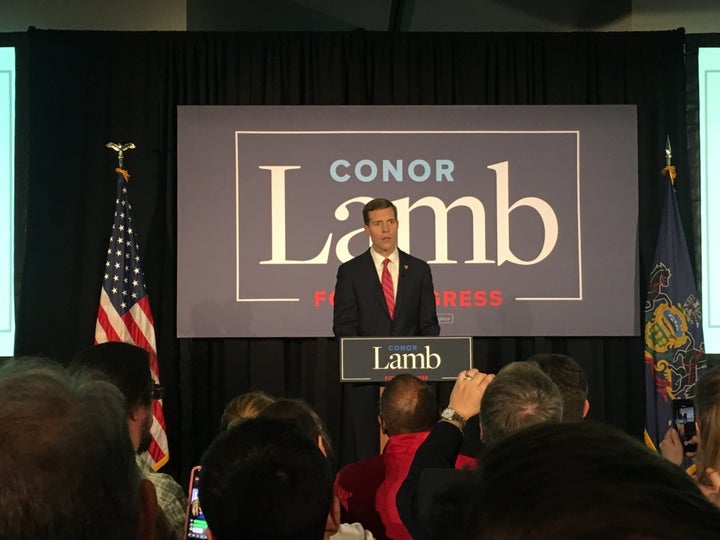 CRANBERRY, Pa. ― Nearly eight months after Democrat Conor Lamb's upset special election win for the U.S. House in a heavily Republican southwest Pennsylvania district, more than a thousand supporters gathered in a hotel Tuesday to toast his romp to re-election.
Even as many Democrats in other corners of the country were nervously watching returns come in, the crowd at Lamb's reception was ebullient, sipping longnecks and scarfing down waffle fries to the tunes of local rock 'n' roll favorite, Donnie Iris and the Cruisers.
Lamb's win was called shortly before 10 p.m. ― the first of several Democratic victories in contested congressional races in Pennsylvania. A few minutes later, with the fate of the U.S. House still undecided, Lamb took the stage.
"We did it again!" Lamb said to the roaring crowd. "You did it again!"
To be sure, Lamb, a 34-year-old Marine veteran and former federal prosecutor, had an easier job this time: A court-ordered redistricting had moved his hometown of Mount Lebanon into a district that Donald Trump had won by 3 percentage points. (He narrowly won his special election in March in a district where Trump had won by more than 19 points.)
Rep. Keith Rothfus (R), long-since abandoned by the national GOP, telegraphed his desire to lose gracefully in advance with an Oct. 30 video advertisement celebrating religious and ethnic diversity.
Still, Pennsylvania Democrats and their allies in organized labor see in Lamb a formula for rebuilding a once-mighty political network that failed to deliver in the 2016 presidential election.
Everybody unites around the economy, unites around jobs, unites around how they feed their family.

Darrin Kelly, President, Allegheny County Labor Council
That formula is to focus relentlessly on economic policies that help workers and families pay their bills, afford health care and secure dignity in retirement, according to Darrin Kelly, a union firefighter and chairman of the Allegheny County Labor Council.
"No matter if you think left or you think more moderate, everybody unites around the economy, unites around jobs, unites around how they feed their family," Kelly said.
Notwithstanding the more favorable political terrain, Lamb indeed stuck to kitchen-table concerns in his re-election run. In his victory speech, Lamb ticked off what he considered the central message of the 18th District election: Voters want their representatives to defend Social Security, Medicare and Medicaid; safeguard protections for people with pre-existing medical conditions; and take "[their] side in the economy." He did not mention Trump a single time.
Lamb's style of campaigning is a direct response to the showdown between Trump and Hillary Clinton. Former Pennsylvania Gov. Ed Rendell (D) famously predicted that for every white, blue-collar Democrat that Trump picked up, Clinton would win two more Republicans and independents in the suburbs.
Rendell was wrong: Along with lackluster African-American turnout, attrition to Trump among blue-collar white voters who had voted for Obama cost Democrats their "blue wall" ― Pennsylvania, Michigan and Wisconsin ― and with it, control of the White House.
Lamb's new district and his old one are overwhelmingly white, making it hard to glean much about his appeal among the voters of color whose participation Democrats desperately need in order to win in other parts of the country.
But Lamb seems to have cracked the code for enticing just enough blue-collar white voters back into the Democratic fold, even as he ran up his greatest margins in the same types of educated, affluent suburbs fueling Democratic gains across the country.
"We believe he represents the whole district," Kelly said.
Ron DiNicola, a Democratic defense attorney taking on Rep. Mike Kelly (R) in the state's northwestern 16th Congressional District, emulated Lamb's combination of pro-labor liberal economics with moderate stances on hot-button cultural issues, such as gun control.
DiNicola's approach exceeded expectations though ultimately fell short by about 4 percentage points in a district where Trump won by 20 points.
Toward the end of voting at a polling place in a Catholic church in New Castle, poll workers said that nearly 200 people had shown up to vote, compared with about 75 in 2014, the last midterm election.
One of the new voters was Laura Rotan, a bartender who didn't vote in 2014 but voted straight Democrat this year because she wanted to rebuke Trump, whose behavior she loathes.
"He's a businessman. He has no business in politics," she said.
At American Legion Post 432 in Wheatland, a mill town not far from Newcastle, some voters opted for DiNicola, a Democrat, despite their continued support for Trump.
Nick Cuzzocrea, who works in an auto body shop, told HuffPost between swigs of Iron City beer and drags from his cigarette that he is satisfied with Trump's performance. He simply thought that DiNicola's skill as a defense attorney would make him a good congressman.
"All the money's in defense [law]," Cuzzocrea said. "When they're good, you know it."
Jean Ann Unverdorben, a retired cookie factory worker, voted twice for Barack Obama and then Trump. She's pleased with the job Trump's done so far, but her state Rep. Mark Longietti (D), whom she likes, vouched for DiNicola, so she voted for him.
Democrats' performance in other competitive Pennsylvania House races was somewhat disappointing for the party. Democrat Scott Wallace failed to unseat Rep. Brian Fitzpatrick (R) in the 1st, which Clinton won in 2016. And George Scott lost to incumbent Rep. Scott Perry (R) in the 10th Congressional District, a more Republican-leaning seat.
By the night's end, the party had picked up only three GOP-held House seats.
However, Gov. Tom Wolf and Sen. Bob Casey's wins more closely paralleled Lamb's blowout margin, with all three on track to post double-digit victories.
The two statewide incumbents' strong performance portends well for Democrats' standing in the Keystone State ahead of the 2020 presidential election. In the other "blue wall" states of Michigan and Wisconsin, Democrats likewise had a banner night, flipping governorships and holding onto Senate seats.
"Last night showed that if the blue wall's not completely rebuilt, it's definitely far along in the rebuilding process," Mike Mikus, a Western Pennsylvania-based Democratic strategist, said on Wednesday.
The Oct. 27 shooting at the Tree of Life synagogue in Pittsburgh loomed over Tuesday's elections.
Lamb addressed the tragedy in his victory speech.
"A terrorist, an anti-Semite tried to rip this town apart, and you saw real leaders in Pittsburgh hold us together," he said. "We will keep our communities together. We will leave no one behind."
Lamb told HuffPost in a Sunday interview that he is not willing to make a connection between the motives of the accused shooter Robert Bowers, who espoused anti-immigrant hatred, with the xenophobic rhetoric of Trump.
"All of us have a huge responsibility to pay attention to the way that we talk and behave," he said.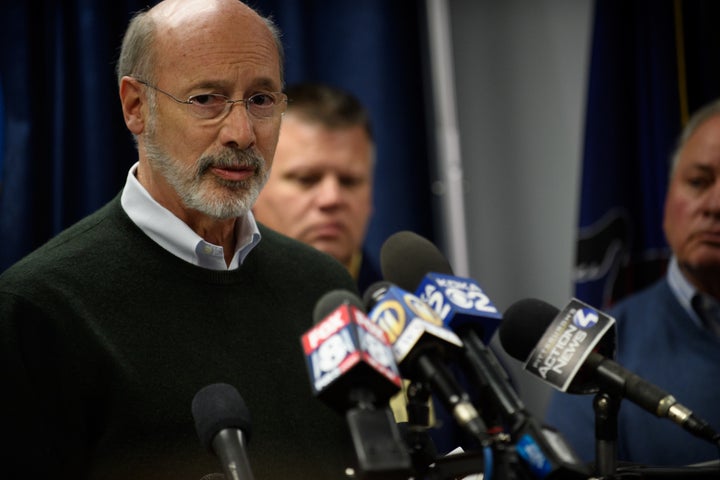 At a canvassing kickoff event in Mount Lebanon, Lamb's constituents were less reticent, with several activists blaming the president for promoting the conspiracy-laden, anti-immigrant hatred that had motivated the shooter.
Mindy Ranney recounted how pro-Trump family members were saying on social media the week before the shooting that "the Democrats and some individuals in the United States were funding the migrant caravan.
"And that's what the shooter said," Ranney continued, choking back tears.
Laura Young, a Jewish Mount Lebanon resident at the event, shared Ranney's assessment and said that the massacre had inspired her to canvass for Lamb.
At her suburban synagogue, congregants discussed the best way to speak with their children about what had happened. One takeaway was that they should remind their children to avoid hateful ideas themselves ― to "always choose kind," Young recalled.
Young had no illusions that a humiliating election result would lead Trump to grow kinder, but she took heart in the idea that her fellow Americans might be on the brink of rejecting his brand of bigoted politics.
"If this blue wave happens, then they are 'choosing kind,'" she said.
This story has been updated to include comment from Mikus.
Calling all HuffPost superfans!
Sign up for membership to become a founding member and help shape HuffPost's next chapter
BEFORE YOU GO
PHOTO GALLERY
Scenes From Capitol Hill