Something exciting is happening over on Lifetime TV on Sunday nights. A group of followers has taken to Twitter with the hashtag "#DeviousArmy" and are live-tweeting during the broadcast of each new episode of Devious Maids. However, here's where it gets interesting: The cast and crew of the show are tweeting along with the #DeviousArmy creating an interactive social media and television viewing experience during the East Coast airing of the episodes (this is also done again three hours later for the West Coast). The end result has created a legion of loyal fans and has also produced steady growth in viewership for Devious Maids. Not bad for a show that received criticism even before it debuted.
I am one of the people who join in on the fun every Sunday night. My initial curiosity about the show was motivated by the fact that Eva Longoria and Marc Cherry from Desperate Housewives serve as executive producers, and I am a fan of several of the actresses who were cast in Devious Maids as well. When the promo ads and billboards started appearing for the show, I knew I had to check it out. (I don't know very many models, let alone actresses, who can pose with cleaning supplies and look sexy.) So on Sunday, June 23rd, I tuned in and watched the premiere episode of Devious Maids. I thought it was well-written and humorous, and definitely worth watching again. As for the initial criticism the show received about having Latina actresses portray maids? I'm Latino, and I wasn't offended in the least bit. The key to tackling stereotypes is to play off of them, not to play into them. I think Longoria and company succeeded in doing that. And seriously, would we have been interested in a show that was titled Devious Brain Surgeons?
As that first episode ended and a preview trailer aired, I tweeted my interest to Ana Ortiz about an upcoming scene that caught my eye involving her character, Marisol, setting fire to a curtain. Then a few minutes later, this happened: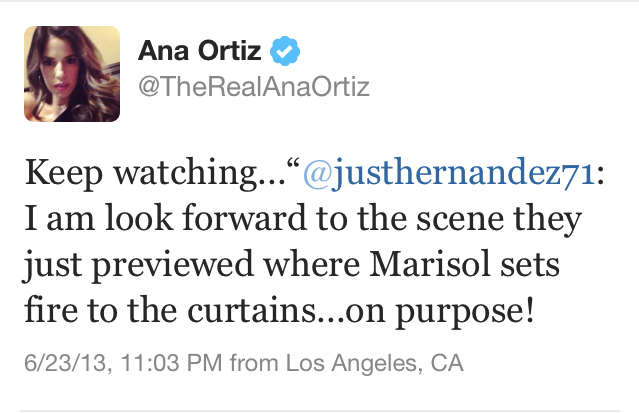 I was absolutely floored. One of the lead actresses from the show tweeted me. From there, I was hooked. Now I had to keep watching so I could keep up with Ortiz and live-tweet her during the Sunday night airings of Devious Maids (she has replied, retweeted, and favorited several of my tweets). I've also communicated with Roselyn Sanchez a couple of times.
Don't misunderstand; the show is great on its own. I wouldn't be able to sit through something if it was boring just for the sake of a social media bonding experience. However, as the weeks have progressed, I've noticed that the cast and crew are out in full force on Twitter and interacting with the fans during show time. Even Eva Longoria herself has joined ranks with the #DeviousArmy. My timeline from 10:00 p.m. until well after 11:00 p.m. is filled with different messages from the show's actresses and its fans. Admittedly, seeing these tweets roll into my timeline as I'm watching Devious Maids adds to its entertainment value. It gets me more excited, and it gives me the sense that the cast and crew really care about this show. They clearly take pride in what they are involved in, and want it to succeed.
Live-tweeting during shows isn't a new concept. Reality TV has been doing it for quite some time, and these days, Twitter has injected some much needed laughs into predictable award shows such as the Grammys or the Oscars. I do believe, though, that this is the first time we are seeing a scripted show utilize social media to the degree that Devious Maids is. The fans are tweeting... the cast is tweeting... the producers are tweeting -- and it's working!
Television is a cutthroat industry. Shows are no longer cultivated and given a chance to find an audience like they were back in the M*A*S*H era. If a network doesn't have a hit on its hands right out of the gate, then it's considered chopping block material regardless of the writing, acting, or critical acclaim. Devious Maids' social media strategy is producing results. Both the buzz and the ratings are growing every week, and a second season will likely be ordered by Lifetime any day now. I predict we'll see more shows utilize Twitter's platform and follow in the footsteps of the Latina ladies who clean houses in Beverly Hills.
And just like that, Devious Maids went from being stereotypical to being trendsetters.
Calling all HuffPost superfans!
Sign up for membership to become a founding member and help shape HuffPost's next chapter