Chicken pox, lice, strep throat and broken bones. These are some of the diagnoses pediatricians often deliver.
Something else they could diagnose: hunger.
The sad reality is that far too many children in the United States are malnourished. Research shows that nearly 1 in 3 school-age children and adolescents are overweight or obese, and that 1 in 5 experience "food insecurity," a problem that manifests as hunger.
Obesity and food insecurity are known together as the double burden facing our nation's children and their families. Many organizations are working to change this, including the American Academy of Pediatrics, an organization whose 64,000 members are in a unique position to help.
Through the very nature of their jobs, pediatricians are on the front lines of this crisis, working directly with those who may be at risk. In their respected roles, these doctors have the opportunity to save lives in many ways. Just as they can set broken bones and provide antibiotics to beat infections, they can play crucial roles in reversing the double burden.
The AAP recently announced two specific suggestions. In a policy statement released in October, the organization made the following recommendations, both for the first time:
Encouraging pediatricians screen children for hunger.
Encouraging members to advocate for SNAP and WIC, the federal programs that help put food on the table of those struggling to afford it.
Dr. Sandra Hassink is an important voice in this conversation. In addition to being president of the AAP, she is a pediatrician who ran a weight management clinic for nearly three decades. I'm honored to turn this spot over to her.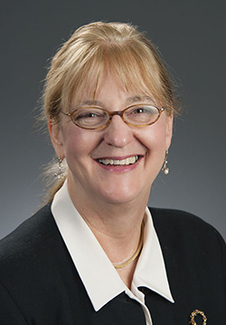 As a pediatrician who spent the majority of my career caring for children who have obesity, there was so much more to my treatment than just addressing their weight. Obese children are at increased risk for high blood pressure, high cholesterol, cardiovascular disease, asthma, joint problems, and social and psychological problems, among other ailments. I've seen far too many youngsters fighting these battles -- and far too many of them becoming adults whose health continues to suffer.
Another challenge facing our children is consistent access to adequate, high-quality food throughout the year. How can we take on this double burden of obesity and food insecurity? Where can we begin to turn the tide?
The answer is clear. We must build a strong foundation of nutrition at home, at school and in our communities.
Conquering Food Insecurity at Home
Food insecurity -- which means lacking access to dependable and consistent sources of food -- and obesity both arise in environments of poverty and toxic stress.
Toxic stress occurs when there is strong, excessive and/or prolonged adversity in childhood without the buffer of supportive relationships with caring adults. This condition can create lifelong impairments in learning, behavior, and physical and mental health. The accumulated burden of economic hardship arising when a family is food insecure provides a glimpse into the amount of stress experienced by all members of the family, including the children.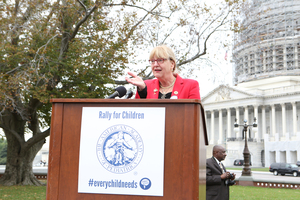 Families experiencing food insecurity tend to consume foods high in energy density and low in nutritional value. Many times, the challenge for low-income families in today's modern food environment may not be obtaining enough food, but rather having dependable access to healthy food. Increasingly, the face of food insecurity in our country is an overweight child without access to nutritious food.
A recent White House Council of Economic Advisers report exemplifies the toll of food insecurity on children's health. It highlights a growing body of research showing that children who receive food assistance to protect against food insecurity see improvements in long-term health and academic performance. The report also finds that the Supplemental Nutrition Assistance Program (SNAP), formerly known as food stamps, is highly effective at reducing food insecurity, but that SNAP benefit levels are often inadequate to sustain families through the end of the month. This leads to high-cost consequences, such as diminished performance on standardized tests among school age children.
This is why the AAP's new policy statement encouraging pediatricians to advocate for SNAP and WIC and to screen children for hunger is so revolutionary.
Screening for hunger and connecting families to resources in their communities is an important first step to conquering the double burden. But since children consume more than half their daily calories at school, we have to make sure the food they eat there is healthy as well.
Keeping Food Healthy at School
Luckily, the Healthy, Hunger-Free Kids Act, passed five years ago this month and currently up for renewal, has made tremendous progress to improve the nutritional quality of school meals. As U.S. Department of Agriculture Secretary Tom Vilsack announced recently at the AAP's National Conference & Exhibition, 97 percent of schools are meeting new requirements to serve more fruits and vegetables, whole grains and lower sodium foods.
What's more, the number of eligible high-poverty schools utilizing USDA's Community Eligibility Provision has increased by 20 percent since last year. The Community Eligibility Program ensures universal access to healthy breakfast and lunch for all children attending high-poverty schools. This is great news especially since children typically consume up to half of their daily calories in school, and, for some children, the only food they can reliably count on is that which they receive in school. As Congress continues work on reauthorizing the child nutrition programs, we must focus on building from the progress we've already made in making school meals healthier and more accessible for all children.
When you're in the midst of a crisis, and I believe we are when it comes to childhood obesity and food insecurity, you can't keep doing what you've always done.
Innovative approaches to healthy eating in schools, at home and in the community are what parents want; it's what the public supports, and it's what pediatricians know is best for the lifelong health of children. We know sound nutrition in childhood sets the stage for lifelong health. Just like we vaccinate to protect against the flu, so too can we provide children with good nutrition to protect against chronic disease.