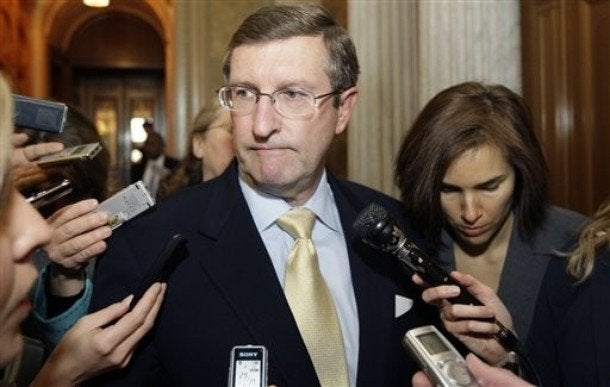 Sen. Kent Conrad (D-N.D.) moved sharply toward public health care Monday, saying that he could "absolutely" support major parts of Sen. Chuck Schumer's compromise proposal for a public option after closed-door negotiations.
Conrad has backed a health care co-op proposal that advocates of a public option have thoroughly rejected. Schumer (D-N.Y.) took their side on Sunday in comments made to the Associated Press. "I don't think I could say with a straight face that this [co-op proposal] is at all close to a nationwide public option," Schumer said. "Right now, this co-op idea doesn't come close to satisfying anyone who wants a public plan."
Schumer and other backers of a public option insist that any plan must be national in scope, have substantial funding at the beginning from the federal government, and include national purchasing power in order to negotiate lower prices.
Conrad ticked off the areas of agreement that were reached Monday.
"National structure: I believe to be effective there has to a national entity with state affiliates and those affiliates have to have the ability to regionalize. I think his concern there can be addressed," said Conrad. "Second, he believes there needs to be national purchasing power. I think that's a good point that the national entity would be able to do purchasing on behalf of the state and regional affiliates and on behalf of the national entity itself."
Schumer wants $10 billion to start the plan, after which it would be self-sustaining. Conrad said the "state of negotiations" is that $3 to $4 billion would be provided.
Schumer wants the board overseeing the plan to be appointed by the president. Conrad said that according to the state of negotiations, the Health and Human Services Secretary would be charged with appointing the board.
Conrad wants the board to be temporary and eventually disappear, leaving the co-op to be run by its members. Schumer, said Conrad, still wants the board to be permanent.
"Poll numbers, as you know, are here today and gone tomorrow. What's going to decide what passes here are votes," said Conrad. "Votes of members. And the reason I was asked to get involved in this was an effort to find a compromise. And what I read in Senator Schumer's comments are that he's continuing to negotiate, and negotiate in a forthright, aggressive way. Good for him."
As Conrad spoke to reporters, Schumer stepped off the Senate floor and passed the conversation.
"My remarks were not directed at him, they were directed at someone on the other side of the aisle," Schumer quipped, underlining, if only in jest, the new Democratic unity that seemed to be forming.
UPDATE: I'm getting a lot of angry e-mails as a result of this diary.
I reported that Conrad said he could support "major parts" of Schumer's public option proposal. Schumer wanted any public option to be national in scope and have national purchasing power, concessions that Conrad agreed to. They still differ, as I reported, on the duration of the board's existence -- Schumer wants it to be permanent; Conrad wants it temporary -- and the amount of start-up funding. Conrad isn't abandoning the coop model, but he is agreeing to major parts of Schumer's compromise. He's by no means fully embracing a public option, but he certainly moved in Schumer's direction.
On MSNBC on Tuesday, Conrad was read the first line of the story above and asked if it was wrong. "No, that report is not wrong. What is wrong is the interpretation of what that means. What Senator Schumer was discussing was changes to the coop plan. He wasn't talking about a pure public option," said Conrad.
When Conrad originally proposed the coops, they were to be regional in size and have no national purchasing power. The changes to the coop plan make it more similar to a national public option than it was when Conrad first proposed it.
Calling all HuffPost superfans!
Sign up for membership to become a founding member and help shape HuffPost's next chapter