LOS ANGELES -- UPDATE: 4:18 p.m. -- Dr. Conrad Murray, the former personal physician of Michael Jackson, was found guilty of involuntary manslaughter in the King of Pop's 2009 death.
California jurors delivered their verdict to a stone-faced Murray on Monday after deliberating for ten hours.
The jury of seven men and five women concluded that the evidence was sufficient beyond any reasonable doubt that Murray caused the sleep-deprived singer's death.
On the ground, John Smith, 60, followed the trial for 33 days outside. "I never thought he would go on to be this huge," he said. "Mike was loved for his human rights, charity and music. Conrad Murray is going to be found guilty."

Kimberly Binion stood outside the courthouse holding a photo of herself and Michael Jackson from when they were both teens. She has been following the trial since it began and this is her first day outside to hear the verdict. "I think that Conrad Murray should get second-degree murder. Manslaughter is not enough," she told HuffPost.
The judge has ordered jurors' personal information sealed.
Before the verdict was read, crowds outside the courthouse were chanting "Guilty, guilty, guilty" and "This is it, this is it" -- not only signaling the resolution of a lengthy investigation, but recalling the name of the tour Jackson was working on at the time of his death.
Murray has been remanded without bail, and scheduled for sentencing on Nov. 29.
After the verdict was read, Julia Thomas, 39, burst into tears outside. She has been coming to courthouse for two years and has held protests outside Murray's apartment. "I'm just overwhelmed. He was a great soul and a great humanitarian. Now there is justice for his children, family and for him," she said of Jackson.
Jamie Khawaja, also standing outside the courtyard, told HuffPost of feeling "an overwhelming feeling of jubilation and excitement. Conrad Murray has set an example for other doctors who are treating celebrities. He did not get away with it and now nobody else will either."
The jury deliberating the fate of the former personal physician of Michael Jackson has reached a verdict in the case, as California jurors buzzed three times from the deliberation room Monday morning.
The jury of seven men and five women is expected to reveal at 4 p.m. Eastern Time whether Dr. Conrad Murray is guilty of involuntary manslaughter in the King of Pop's 2009 death.
Jackson died at his home in the Holmby Hills neighborhood of Los Angeles on June 25, 2009. Jackson was preparing for a series of 50 shows in London for his career comeback tour entitled "This Is It" when he suffered cardiac arrest.
According to the Los Angeles County coroner, Jackson's death was caused by "acute propofol intoxication" in combination with two anti-anxiety benzodiazepines: lorazepam and midazolam.
The prosecution insisted that Murray, Jackson's $150,000-a-month private doctor, was reckless for using a surgical anesthetic to treat Jackson's insomnia and was therefore criminally negligent.
Murray acknowledged giving the 50-year-old singer propofol as a sleep aid but denied any wrongdoing and pleaded not guilty to involuntary manslaughter.
During opening statements, Los Angeles Deputy District Attorney David Walgren told jurors that the pop star "literally put his life in the hands of Dr. Conrad Murray." Walgren added, "That misplaced trust in the hands of Conrad Murray cost Michael Jackson his life."
Murray's defense counsel contended Jackson was so desperate for sleep that he administered the fatal doses of propofol and sedatives to himself when Murray was not watching.
"When Dr. Murray left the room, Michael Jackson self-administered a dose of propofol that, with the lorazepam, created a perfect storm in his body that killed him instantly. The whole thing is tragic, but the evidence is not that Dr. Murray did it," Murray's attorney, Edward Chernoff, said during the trial.
Prosecutors said it made no difference who administered the drugs since it was Murray who brought them into the bedroom and left Jackson alone with them.
On Tuesday, Nov. 4, Murray declined to take the stand in his own defense.
"My decision is that I will not testify in this matter," Murray told presiding Judge Michael E. Pastor.
The jury's verdict followed 22 days of testimony from Jackson's employees, paramedics, doctors, investigators, medical experts and a number of Murray's girlfriends and patients.
Murray faces up to four years in prison and the loss of his medical license.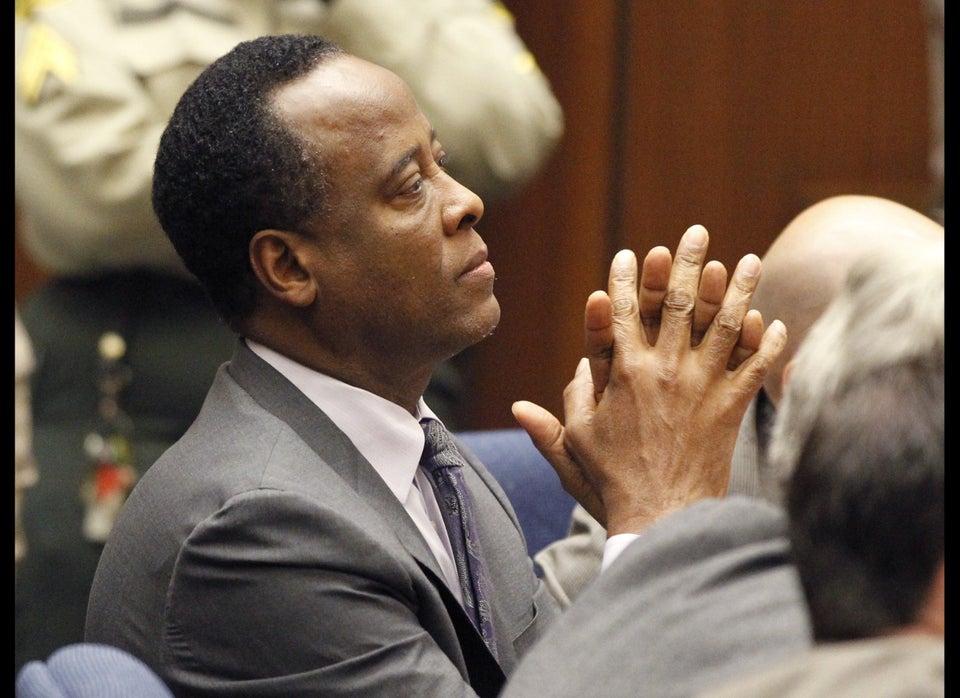 Conrad Murray Trial
Related
Popular in the Community