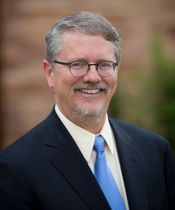 Peter Laugharn
President and CEO, Hilton Foundation
Peter Laugharn (pronounced LAW-harn) serves as President and Chief Executive Officer of the Conrad N. Hilton Foundation. Peter is a passionate leader with 25 years of foundation and nonprofit experience internationally, with a focus on improving the well-being of vulnerable children.
He was executive director of the Firelight Foundation from 2008 to 2014. Firelight identifies, funds, and supports promising African nonprofits serving vulnerable children and families in the areas of education, resilience, and health.
Prior to Firelight, Peter served for six years as executive director of the Netherlands-based Bernard van Leer Foundation, a private foundation that works to improve opportunities for children up to age 8 who are growing up in socially and economically difficult circumstances. He was director of programs at the Foundation for three years before becoming executive director.
Peter began his career at Save the Children, where he worked for 11 years in a variety of roles. Eight of those years, he was based in Bamako, Mali. Peter helped develop the Village Schools model, which promoted access to basic education, girls' schooling, and community participation. The model helped 45,000 children go to school and raised the number of primary schools in the country by 40 percent. Peter was later Save the Children's Mali Field Office director, West Africa Area director and then education advisor for Africa, providing technical assistance for programs in 10 countries.
A graduate of Stanford and Georgetown Universities, Peter holds a Ph.D. in education from the University of London. He was a Peace Corps volunteer in Morocco from 1982 to 1984. Peter was a co-founder of the International Education Funders Group and the Coalition for Children Affected by AIDS, and he is a member of the National Advisory Board of the Haas Center for Public Service at Stanford University.
Ann Paisley Chandler: What is the Conrad N. Hilton Foundation?
Peter Laugharn: The Conrad N. Hilton Foundation is a family foundation established in 1944 by the man who started Hilton Hotels, Conrad N. Hilton. An astute businessman and savvy entrepreneur, Conrad was also a devout Catholic who was passionate about helping those in need. As such, he left nearly all of his fortune (97 percent) to the Foundation when he died in 1979, and much of our organization's work is guided by his last will and altruistic nature. Specifically, the Foundation invests in six strategic initiatives including: homelessness, foster youth, Catholic Sisters, substance use prevention, safe water, and children affected by HIV and AIDS. We also award the world's largest humanitarian prize - the Hilton Humanitarian Prize - to a nonprofit doing extraordinary work to reduce human suffering.
Chandler: What makes your nonprofit so unique?
Laugharn: I think what makes the Foundation so unique is twofold:

First, we have a compelling background story. Our founder was a famous hotel mogul with a humanitarian heart. He had immense respect for other people and cultures, believing that good personal relations led to good business deals. When he passed away in 1979, he left virtually all of his fortune (97 percent) to the Foundation with a mandate to "relieve the suffering, the distressed and the destitute." He was clear that he wanted his wealth to help the people who needed it the most--including children and the Catholic sisters. He was also clear that there should be "no territorial, religious, or color restrictions on your benefactions...The practice of charity will bind us--will bind all men in one great brotherhood." The Foundation's giving follows this precept closely, giving out approximately half of our grants in the U.S., and the other half internationally. It's amazing and deeply humbling to think that Conrad not only founded hotels, but he also managed to start a foundation that's been able to help alleviate human suffering for more than 70 years.
Second, we give the world's largest humanitarian prize, currently worth $2 million. The Prize honors exemplary nonprofit organizations working to improve the lives of disadvantaged and vulnerable people throughout the world. Over the last 21 years, we have awarded this prize to a wide range of organizations, including those that fight child prostitution, empower women, and work to end poverty and hunger. We are unique in the sense that we are ultimately helping to alleviate world suffering by shining a spotlight on an impressive set of nonprofits around the world, who collectively raise the standard for humanitarian action.
Chandler: Can you tell me more about the Prize and what makes it so special?
Laugharn: Yes, since 1996, the Foundation has bestowed the Prize to a nonprofit organization doing extraordinary work to reduce human suffering. Each year, the Foundation reviews hundreds of nominations from notable nonprofits across the globe, and an independent, international panel of distinguished jurors makes the final selection after a rigorous vetting process.
To provide you with some brief background on the Prize, it started at $1 million, and at the 10-year anniversary in 2005, the amount was increased to $1.5 million. To further the reach and impact of the Prize even more, the Foundation decided to increase the monetary award to $2 million in 2015 in honor of the Prize's 20th anniversary.
Above all else, the Prize is meant to shine a spotlight on organizations doing extraordinary work to alleviate human suffering.
While the Prize is about so much more than money, the unrestricted grant funds certainly are useful, even for organizations with seemingly large budgets. Because the funds are not restricted to specific purposes, they allow organizations to decide how best to use the funds, whether to launch and scale up key programs, or to invest in strengthening existing programs or infrastructure. We find that the Prize helps these tremendous organizations grow and reach more people around the world. When I reflect back on past Prize recipients, which include the likes of Doctors without Borders, Partners in Health, ECPAT International, and Landesa, I am proud of the fact that the Prize really helps to give nonprofit organizations a chance to see their vision and mission come to fruition. For example, when we awarded Operation Smile our first prize in 1996, they were working in eight countries. The award helped them ramp up their reach and quickly expand to 15 countries. Today, they are performing surgeries in more than 60 countries.
We are immensely proud of our history and work to date, and to be associated with such tremendous organizations.
Chandler: Can you tell me about this year's Prize recipient and why you chose them specifically?
Laugharn: Each year, the Foundation reviews hundreds of nominations from notable nonprofits across the globe, and an independent, international panel of distinguished jurors makes the final selection after a rigorous vetting process. This year's Prize recipient is The Task Force for Global Health (The Task Force).

The organization has been a pioneer in global health since its founding 32 years ago by Dr. William H. Foege, a renowned epidemiologist and former Centers for Disease Control and Prevention director, who is credited with developing the strategy that led to the eradication of smallpox. Today, The Task Force reaches hundreds of millions of people in 151 countries through programs focusing on neglected tropical diseases (NTDs), vaccines, field epidemiology, public health informatics, and health workforce development. The organization collaborates with partners in diverse sectors, including pharmaceutical companies and health agencies in other countries, on comprehensive disease control and elimination programs. Major funders include governments, foundations and corporations.

Personally, what impresses me the most about Task Force is the fact that they are laser-focused on compassion, collaboration, and smart solutions. The organization and its partners roll up their sleeves and solve massive global health problems, and they do it without fanfare. This is an organization that, with its partners, is on track to help eliminate three NTDs by 2025--blinding trachoma, river blindness, and lymphatic filariasis--which collectively threaten hundreds of millions of people each year with blindness, disfigurement, and even death.

The Task Force will receive $2 million in unrestricted funding and join 20 other distinguished nonprofit organizations that have received this Prize during the last two decades. Specifically, the Prize money will support the acquisition of a larger headquarters in Atlanta that will enable The Task Force to move into noncommunicable diseases and meet the growth needs of its existing programs.
Chandler: Can you tell me about your grantmaking process? How do you decide which organizations to give to, and how much to give them?
Laugharn: Our Foundation, which is based in Agoura Hills, Calif., is strongly influenced by Conrad Hilton's last will and testament, but also his sense of entrepreneurship. Our grantmaking programs work to improve the lives of disadvantaged and vulnerable people throughout the world by investing in smart solutions and effective partnerships. As such, the Foundation currently conducts strategic initiatives in the six priority areas mentioned above, as well as five further program areas: hospitality education, multiple sclerosis, disaster relief and recovery, avoidable blindness, and Catholic education. To date, the Foundation has awarded a total of nearly $1.5 billion in grants since inception, giving away $107 million in 2015 alone. Under the stewardship of our board of directors, we hope to continue Conrad's philanthropic legacy in perpetuity.
Chandler: Peter, you recently joined the Foundation in January as the new President & CEO. Can you tell me about your background and new role?
Laugharn: That's correct. I began my tenure as President and CEO on January 1, 2016, succeeding Steve Hilton's 10-year term as chief executive of the Foundation. Steve is now chair of the board. I was very drawn to the vision of our founder, Conrad Hilton. He was a self-made man who grew up in a family of modest means in what was then New Mexico. He had a strong work ethic and was a devout Catholic who prayed before every business deal. He combined strong entrepreneurial skills, moral convictions and great compassion - all grounded in his faith. Historically, we have channeled Conrad's personality and values, and I'll continue to do so, because they're very energizing for an organization, and a strong basis for philanthropic activity.
In terms of my background, I grew up in Los Angeles and spent much of my career in Africa so the Foundation allows me to keep working on these two places that mean so much to me. Additionally, my background encompasses 25 years of foundation and non-profit management experience focused on improving the well-being of vulnerable children and families. Prior to joining the Foundation, I served as Executive Director of the Firelight Foundation, an organization dedicated to improving the lives of children affected by HIV/AIDS and poverty in sub-Saharan Africa. Before that, I served as the Regional Director of West Africa for Save the Children, and Executive Director of the Bernard van Leer Foundation. At the beginning of my career, I served as a Peace Corps Volunteer in Morocco.

Our Prize has a great track record of choosing excellent recipients, and I'd like to generate more awareness surrounding them and the Prize, overall. Not only do I want the world to know which organization received it, but I want people to value their work. I want the Prize to make people think about what happens to the organization throughout the year of the Laureate. You know, "What new challenge have they taken on?" "Where are they now"?" "How are they continuing to change the world for the better?"
Chandler: I understand that the Foundation will be putting on a symposium at the end of September. What is the purpose of that and what do you hope to accomplish?
Laugharn: Yes, that is correct. The Task Force and their achievements will be honored at this year's Prize ceremony, which will take place at our international Humanitarian Symposium. It will take place in New York City at the Waldorf Astoria on Sept. 30. The focus of the symposium will be the future of humanitarian action, with speakers offering their visions of success in tackling some of the world's most pressing issues, such as the growing refugee crisis. We are honored to have a roster of prestigious speakers for our event, including: Mary Robinson, president of the Mary Robinson Foundation--Climate Justice, former President of Ireland, and former United Nations High Commissioner for Human Rights; as well as Zainab Salbi, Iraqi-American author, women's rights activist, humanitarian, social entrepreneur, and media commentator, who is the founder and former CEO of Hilton Prize Laureate Women for Women International.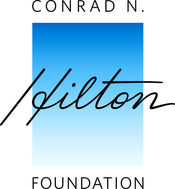 Calling all HuffPost superfans!
Sign up for membership to become a founding member and help shape HuffPost's next chapter