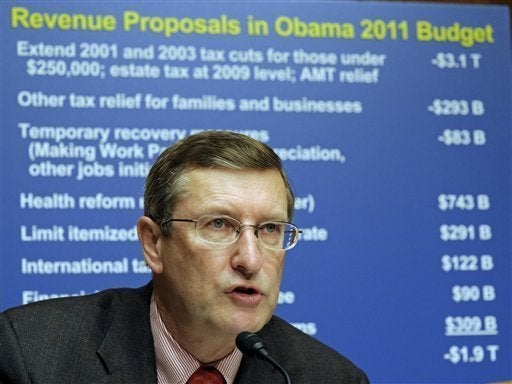 WASHINGTON -- Sen. Kent Conrad (D-N.D.), one of the most important voices in the ongoing tax cut debate, is supporting a proposal pushed by a prominent conservative economist.
The North Dakota Democrat announced on Tuesday that he personally favors using the coming expiration of the Bush tax cuts as a catalyst to overhaul the entire tax system. If that couldn't be done in time, he added, he would favor extending the current rates for all incomes, temporarily.
"Frankly, it makes a great deal of sense to go to tax reform," Conrad said, at an event sponsored by the fiscally conservative Peter G. Peterson Foundation. "What is really needed, I believe, is fundamental tax reform and maybe it would help incentive the movement in Congress, in the White House, towards fundamental tax reform if we were to let all the tax cuts expire... I believe in a perfect world we will go to fundamental tax reform. I have argued that both privately and publicly. I think that would be the best course."
"If I were able to make the decision, I would go for changing the tax system fundamentally and I would have an extension until that is accomplished," he added.
Conrad's proposal, he acknowledged, is a reflection of that offered earlier in the week by Kevin Hassett, a fellow at the conservative think tank, the American Enterprise Institute, and a one-time adviser to Sen. John McCain. The country, Hassett argued, would benefit by a tax structure that would advance its competitive advantage. And the best way to achieve that would be to take advantage of this moment -- with the Bush tax cuts expiring -- to push Congress to scrap the current system.
It is, if nothing else, a bold suggestion. But it fails to account for Congress' general reluctance to tackle anything other than non-incremental reform. A group of senators have been pushing broad tax reform for months if not years, without getting much of an audience.
Rather, the path forward on the Bush tax cuts seems more likely to be the one articulated by Conrad's co-panelist at the event, Sen. Evan Bayh (D-Ind.)
"I think for the next couple of years we need to err on the side of growth, not adding to the burdens of people making the hiring and investing decisions," said the Indiana Democrat who, before retiring, will likely have to vote on a tax cut proposal. "But after that we need to quickly pivot and begin reducing this debt. So I would favor a two-year extension... of all of them."
Should Democrats follow the Bayh and Conrad route -- and even the Obama White House has indicated that it's willing to talk about such a proposal -- it will be labeled capitulation. Not only does extending rates for the wealthy have little economic impact, the Democratic base has argued, but it also invites lawmakers to continue pushing the tough pill of tax increases down the road. That said, in an email to the Huffington Post, a party operative laid out a fairly straightforward way that, in the long term, the party could take advantage of the current conversation. .
"I wonder if Democrats have considered passing a temporary extension of all tax relief to pacify Republicans, only to re-introduce a bill immediately after the fact to make the middle class relief permanent. This would force Republicans to vote against tax relief without the fall back that Democrats are raising taxes on anyone during a recession. Plus, it would allow Democrats repair their appeal to progressives who want them to take a stand. It's worth asking."
REAL LIFE. REAL NEWS. REAL VOICES.
Help us tell more of the stories that matter from voices that too often remain unheard.