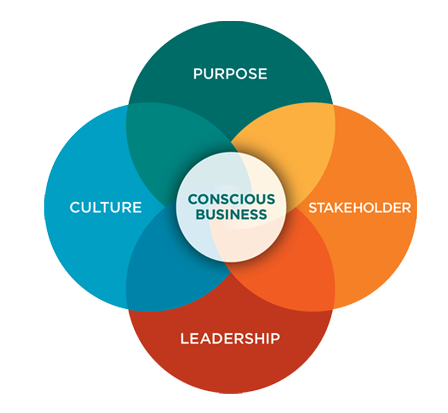 Yesterday my wife/co-founder Kim and I spent a terrific the day at Conscious Capitalism Australia's Annual Summit in Sydney. The U.S. parent organization was started in the U.S. three years ago by John Mackey, Founder of Whole Foods Market, and Raj Sisodia the Franklin Olin Distinguished Professor of Global business at Babson College. They literally wrote the book on it.
It is a movement grounded in four principles to change the way business is done. The principles are higher purpose, conscious leadership, stakeholder orientation and conscious culture. Whole Foods is a big proponent obviously, as are companies including The Container Store, Unilever, Patagonia, LinkedIn, and Airbnb, along with local players Airtasker (similar to Task Rabbit), Car Next Door (similar to GetAround), TuShare (Similar to Yerdle) and our company gDiapers.
I attended one of the U.S. summits while living in the States. Moving back to Sydney four months ago I was very happily surprised to see just how strong the movement is Down Under.
The Australian organization is lead with passion by Matt Perry and Amy Powell. Craig Davis, the co-founder/CMO of innovative package delivery company Sendle is on the Board and was a great MC for they day including some exceptional ad-lib poetry.
Raj Sisodia layed out the current state of play: 88 percent of Americans feel that they work for a company that doesn't care about them as people. So that means 130 million people go home every day feeling unfulfilled. But it's just not employees. Ninety-six percent of bosses report feelings of burn out. So the system isn't working for anyone.
Despite the depictions of business we see in popular culture like The Wolf of Wall Street for example, and what we read in the Wall Street Journal -- like a CEO being richly rewarded by laying off thousands of employees to hit a number -- the reality is business is not (a) a game; (b) a math problem; (c) a machine; or (d) war. Business is about real lives and real people. In the Conscious Capitalism paradigm, success is measured by the way we touch people's lives.
The team from LinkedIn shared their amazing onboarding process that ensures new team members are aligned to the mission and empowered to contribute to the culture as well as the bottom line. Brigid Walsh, the Managing Director of Golden Door Health Retreat (Australia's answer to Canyon Ranch) shared similar tales of how she took a business on the brink and through a transformation in the team, turned the business around. It was powerful stuff.
Hugo Verkuol, MD of Marketing at Unilever Australia/New Zealand shared their efforts to embrace the community. Their brands including Dove and Ben & Jerry's have had profound impacts on how women see themselves and how the Queensland Government was on the wrong side of the argument when it comes to caring for the Great Barrier Reef. Who knew an ice cream could do that?
We heard from Jill Dumain, Patagonia's legendary Director of Environmental Strategy. She has been with the company for 26 years -- it has been her only employer! Patagonia's transparency and commitment to every piece of the supply chain from the beginning -- how the ducks that supply the down for their jackets are treated to the end-user -- repairing jackets for customers is astounding. The audience was well and truly inspired.
We also heard a panel on the sharing economy that included the GM's of Airbnb, AirTasker, TuShare, and Car Next Door. Despite being technology platforms, people and trust is at the core of their business models and thus the tenets of Conscious Capitalism fit neatly here.
B Corporation Australia / New Zealand's Alicia Darvall spoke of the growth of B's Down Under: 60 and counting! B Corporation and Conscious Capitalism fit perfectly together with B Corps assessment tool essentially measuring the tenets offered up by Conscious Capitalism.
Kim and I also lead a session on our company's journey to becoming a Conscious company looking at the importance of stakeholder alignment.
In one of the last sessions, we were asked to make three commitments leaving the summit. One of Kim's was to nurture herself -- it's hard to lead when one's own system is run down. Lo and behold not five minutes later the universe delivered. We won the door prize -- three days at The Golden Door Spa. We can't wait and are looking forward to next year's Summit already!
This page contains materials from The Huffington Post and/or other third party writers. PricewaterhouseCoopers LLP ("PwC") has not selected or reviewed such third party content and it does not necessarily reflect the views of PwC. PwC does not endorse and is not affiliated with any such third party. The materials are provided for general information purposes only, should not be used as a substitute for consultation with professional advisors, and PwC shall have no liability or responsibility in connection therewith.