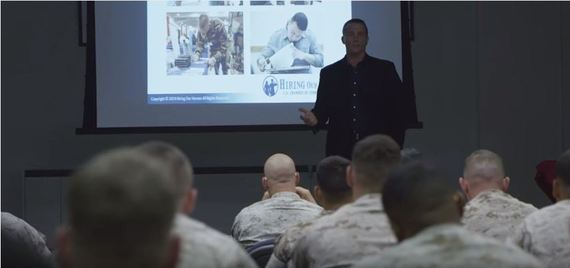 Last week was a big one for veterans, the most important news being the 240th birthday of one of the greatest institutions known to man -- the United States Marine Corps. Next year will mark a decade since I raised my right hand and joined something so much bigger than myself. I am forever grateful to the Corps for the ways it has changed my life, and I salute the more than 220,000 Marines actively serving today. Take a moment -- not just on Veterans Day, but throughout the year -- to remember all of the families who continue to serve and sacrifice in the defense of our country.
Last week also saw reports that the monthly unemployment rate for U.S. veterans dropped to 3.9 percent in October, the lowest level in seven years. The rate remains higher for post-9/11 veterans, female veterans, and military spouses, but the outlook is bright. At every level, the work we have seen to hire former military is working. That's honestly the best news I've heard in a while, that things are getting better for my fellow veterans.
Still, there are some thoughts that keep me up at night. I often ask myself if we're getting veterans into the right jobs. The fact remains that the transition from military to civilian employment is a culture shock that impacts service members of every rank, branch, and specialty.
As a result, you see many veterans finding jobs after the military, but then leaving them early for one reason or another. According to the Institute for Veterans and Military Families (IVMF), roughly 28 percent of veterans surveyed in 2014 spent six months or less in their first job. Another 16 percent stayed for 7 to 12 months. Perhaps the job was a bad fit for that veteran's particular skills, or maybe more training was needed for the field. The problems of retention is a serious one, and we need to continue focusing on solutions.
My past Veterans Day messages have been aimed at companies and recruiters, then at veterans themselves. Now I'm addressing a third piece of this puzzle, the service branches that made us veterans what we are today.
The military's transition assistance programs have all come a long way since I left in 2011. Through my work with Hiring Our Heroes and Toyota, I often work with TAP and TRS offices, and I've met people who are passionate about the service members they serve. There are more fellowship opportunities, certification opportunities, and other corporate training available to actively serving military than ever before. Experiencing the civilian workforce prior to leaving the military goes a long way towards solving the problems of retention and advancement.
Beyond the transition officers and efforts, though, I'm also glad to see more military leaders taking an interest in the welfare of transitioning service members.
During my visits to different bases across the U.S. and overseas this year, I met more and more officers -- commissioned and noncommissioned -- who told me they wanted to be better resources for the men and women they command. The truth is a lot of these men and women can lead you through combat because they have been through it, but none of them have gone through the transition process. Regardless, part of being a good officer is setting your service members up for success. It is to their credit that they've chosen to tackle this problem head-on by seeking out and sharing resources like Resume Engine, talking to the employment readiness offices on base, and attending transition events along with their service members.
If the men and women you command are important to you, then helping them make a smooth transition to civilian life should be a top priority. In guiding them through this, you are not only doing the right thing by them, but continuing to serve your country by standing up its future leaders.
Calling all HuffPost superfans!
Sign up for membership to become a founding member and help shape HuffPost's next chapter