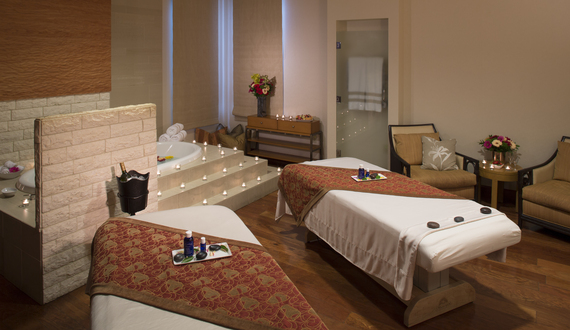 When we tell people that we work together and we're married, we often get big eyes and twisted faces (if only we had an animated .gif to insert here). The shock we receive results from people immediately imagining working with their own mate -- a nightmarish thought for many. For those couples in shock, work and home-life succeed because they are separate...but when you have your own business, they are very much intertwined.
We used "muse" to describe our connection in our 2014 wedding vows, as we both look to each other for inspiration and motivation. And while we make a great team, sharing the stresses of business with your spouse can be really freaking intense too. To strike balance, we try to create time to enjoy being a couple...even if it's just cuddling up together with a cocktail at the end of the day.
Recently, we elevated our couple time to a relaxing and romantic spa weekend at the JW Marriott Desert Springs. The beautiful resort which embraces the aesthetic of the surrounding Sonoran desert, boasts the luxury Spa Desert Springs, named on Conde Nast Traveler's "Hot List." After a sun-drenched afternoon spent lounging by the adults-only salt water spa pool and an al fresco lunch from the wellness focused bistro, we enjoyed a couple's treatment.
The Revive treatment room is designed for two. The flicker of candlelight and two massage therapists welcomed us into a cozy oasis complete with massage tables and a hydrotherapy tub. And because it was Victor's birthday weekend, we were treated to champagne and chocolate covered strawberries...a blissful and welcomed break from our busy lives. All within a short drive from Los Angeles.