 I never was a romantic. That doesn't mean I wasn't sentimental; I cried at the expected moments during chick flicks and even the occasional TV commercial. I enjoyed celebrating anniversaries of first dates and bringing unexpected gifts home to my partner for no reason. But I didn't believe in such fantasies as "true love" and "love at first sight."
Until I met the Love of My Life, Kiran, I was hopelessly pragmatic. I'd cite statistics when talking with my friends about finding life partners.
"Look," I'd say, assuming a newscaster tone of voice, "There are 7 billion people on this planet. If you get out there and meet enough of them, you're sure to find a soul mate. It's a numbers game."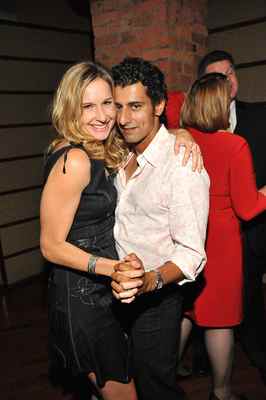 But my worldview got turned upside-down this year. I met Kiran completely by chance on a beach in Costa Rica early in 2008 -- and it was love at first sight. However, thanks in part to my no-nonsense nature, it took us three years to venture from friendship into relationship territory.
When we did make the decision to give our romance a chance to blossom this past spring, it flourished like Jack's beanstalk. I moved from San Francisco to LA to be with Kiran after only two months of dating. We eloped less than three months after that.
Suddenly, I find that I am no longer "Miss Practicality," as my college friends nicknamed me decades ago. I'll be sitting at a restaurant telling new acquaintances mine and Kiran's love story, and I'll find myself saying things like, "It was meant to be," and "He is my destiny."
During our short time together as a couple, Kiran and I have navigated our share of scratchy patches. Yet even when we have misunderstandings or I get snappy (which I do too often... but hey, I'm working on it!), we find our way back to a profound connection and deep love.
Let's be honest here: Kiran gets most of the credit. Unlike me, he was born a romantic -- wildly creative, beautifully sensitive and capable of imagining a world that is far more magical than ours. The care and attention he gives our romance has kept our intimate bond sacred.
While we co-authored this blog, the lessons are Kiran's. I only hope that by sharing them, I can inspire you in the ways that the Love of My Life has inspired me.
Relationships are work. That's what you hear people say, time and again.
"So let's not call it a relationship," is Kiran's response. "Let's call it a romance."
The simple act of giving our partnership this label makes it feel special. When you're in a relationship, it does take work to settle conflicts. When you're in a romance, it takes a passionate moment of disagreement, followed by an even more passionate reconnection.
Kiran is truly gifted in paying compliments. Several evenings a week, when he comes home from work, he sits me down on the sofa and begins reciting to me all the reasons that he loves me. "My love supreme," he says, cradling my head in his hands. "You are so beautiful, so talented..." (I won't go on and on here as he does, lest you grow annoyed and click away on this Lindsay Lohan headline.)
Several times a week, I receive a voicemail from Kiran. He's singing a made-up song about how much he adores me.
"I like to gush on you," Kiran says. He didn't have to teach me to do the same. I started mimicking him of my own accord.
Seriously, I don't think you can gush on your loved one too much. There's simply no such thing.
3. Take multiple mini-moons
Kiran and I only took a one-night honeymoon after we eloped in September, as he was starting a new job the next day. We jokingly called it our "mini-moon." But then, a few weekends ago, Kiran decided that we needed an escape from everyday life in order to cultivate our romance.
So he booked a room at a Santa Monica hotel for one night. Sure, it was only 15 minutes from home, but it felt a world away with its ocean view, room service and complimentary bottle of champagne from the front desk clerk who loved us.
This gave us the idea of taking frequent "mini-moons" throughout your relationship. Why wait for your anniversary? You don't need an excuse to get away from dishes, groceries and even kids for a night when you're living a romance. It doesn't have to cost a lot of money, either. You can always check into a cheap motel or even swap houses with couple friends who also need a break from their daily routine.
Okay, let's get serious here. Even when you're talking romance (and not relationship), there is some work involved. Kiran says, "Romances are strong, but they're also very fragile. You need to nurture them."
It's critical to own your stuff. When you're triggered by something your beloved says or does, rather than reacting from a hurt place -- lashing out with criticisms, getting defensive -- take a deep breath. Say, "I need a moment to clear my head" and take a short walk. Do what you need to do to respond from your heart, with tender loving care.
Also (note to self) mind the snippy little remarks that can sneak out when you're hungry or tired. Treat your romance like the delicate rose that serves as its most celebrated symbol.
Don't just say it; do it. Put your beloved's needs first: before your work, before your friends, before even your family of origin. Practice devotion to your romantic partner.
Every day, Kiran makes the deliberate choice to show me that I am his No. 1 priority. Even when stretched thin during a 14-hour film shoot, he still takes the time to text me, call me and let me know that he's thinking of me. As a result, I never doubt his commitment to us and to our fine romance.
This devotion to one another is the container that keeps the relationship safe and secure. It is the vase containing the water that sustains the rose and revives it after its delicate petals have been bruised.
Kiran, Love of my Life, I adore you. I am blessed to be your wife. Thank you for the magic you bring into my life.