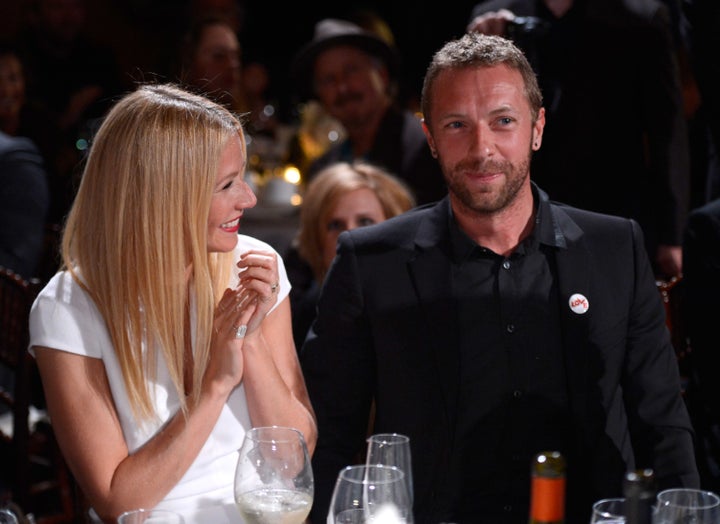 If you think their version of divorce is a little, well, different, you're not alone. In the latest issue of Rolling Stone, Martin himself calls their divorce a "weird one" -- but weird in a good way.
"I have a very wonderful separation-divorce. It's a divorce -- but it's a weird one," said Martin, who has two kids, Apple and Moses, with Paltrow.
The 38-year-old musician also told the magazine he takes exception to the word "divorce." (Of course he would; after all, the blog post that he and Paltrow authored about their breakup helped to popularize the phrase "conscious uncoupling.")
"I don't think about that word very often," Martin said of the D-word. "I don't see it that way. I see it as more like you meet someone, you have some time together and things just move through."
(Story continues under the photo)
Paltrow, too, has stressed how well the whole family has transitioned to life after marriage. In the March issue of Glamour, the 43-year-old actress called Martin a "great ex-husband" and talked in detail about redefining family after divorce:
"We spend a lot of time together. He's been away for two weeks [promoting his album]. Last night he got in at midnight and slept here so he could surprise the kids in the morning, we could all have breakfast, and he could take them to school. So … we're not living together, but he's more than welcome to be with us whenever he wants. And vice versa: I sleep in his house in Malibu a lot with the kids. We'll have a weekend all together; holidays, we're together. We're still very much a family, even though we don't have a romantic relationship."
Clearly, the family who brunches together, stays together -- even after divorce.
Clarification: Language has been changed to avoid the implication that Paltrow or Martin coined the phrase "conscious uncoupling."