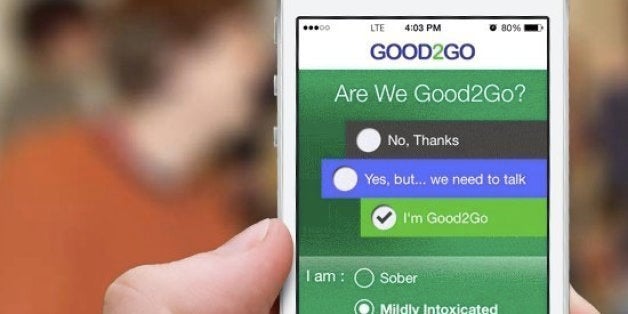 Want to have safe and consensual sex? There's an app for that.
Lee Ann Allman, president of Sandton Technologies, created Good2Go along with seven other mothers and fathers of college-aged children. The idea emerged from conversations with their children and their children's friends about the overwhelming number of sexual assaults that happen on college campuses all over the country.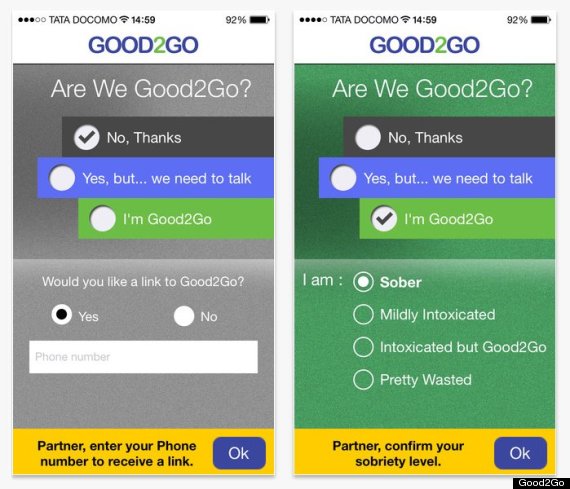 So, once a user decides she or he wants to have to sex with someone, the app works as follows:
Launch and log in to Good2Go and hand the phone to your potential partner.
Good2Go then asks your potential partner if she/he is ready to give consent by asking "Are we Good2Go?"
The three answer options are: 1. "No, thanks"; 2. "Yes, but... we need to talk"; and 3. "I'm Good2Go."
If the potential partner decides "No, thanks" a screen pops up that says "Remember! No means No! Only Yes means Yes BUT can be changed to NO at anytime!"
If the potential partner decides "No, thanks" a screen pops up that says "Remember! No means No! Only Yes means Yes BUT can be changed to NO at anytime!"
If she/he decides "Yes... but we need to talk," a small bar at the bottom reads "Let's talk!"
If the potential partner says they're Good2Go the app asks if she/he is "Sober," "Mildly Intoxicated," "Intoxicated but Good2Go" or "Pretty Wasted." If the potential partner chooses "Sober," "Mildly Intoxicated," "Intoxicated but Good2Go" the user can give consent, however, if she/he is "Pretty Wasted" the app says the partner cannot consent and to give the phone back to its owner.
When asked why the app informs a "Pretty Wasted" user that she/he can't consent (even though they're sober enough to be using Good2Go), Allman told The Huffington Post in an email: "If someone answers 'I'm Pretty Wasted' the app will not allow an affirmative consent answer even though they probably aren't at the legal threshold of incapacitation. We have set a higher bar concerning sobriety than the law defines."
Allman also made it very clear that the purpose of the app is to teach young people "the language of affirmative consent." "If the app becomes a tool that is adopted across campuses, we believe that it will reduce sexual assaults, unwanted or regretted encounters," she said.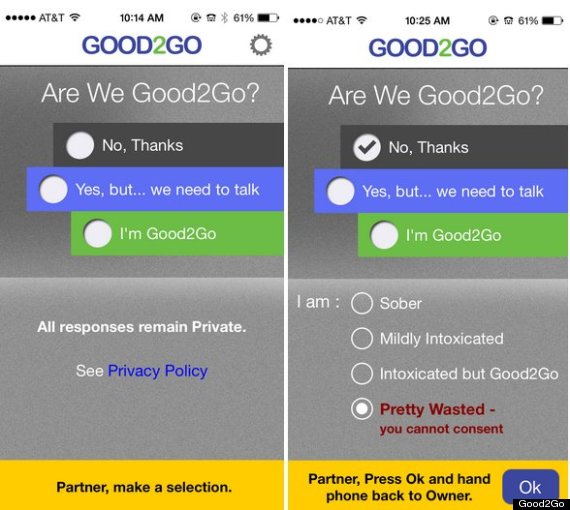 These days, it seems like there's an app for everything, so why wouldn't there be one to facilitate consent? But some are skeptical about whether Good2Go could actually prove effective at combatting sexual assault.
As Slate's Amanda Hess pointed out the app doesn't clarify what kind of sex people are consenting to: "Good2Go is obviously a euphemism for sexual activity, but it's not clear what that means exactly -- is it making out, oral sex, vaginal intercourse, or anal sex, and with protection or not?"
When asked about this gap, Allman told HuffPost that, "Affirmative consent should be asked for and given for all sexual acts, no matter what they are. This should be part of the conversation that they will have as part of using the app."
Molly Mirhashem from The New Republic also criticized the app, writing that "situations where consent is often misunderstood or disregarded -- one or both parties being intoxicated, 'implied' consent within relationships -- will not be addressed with this or any app."
While Good2Go's structure could be helpful in making sure that there's no miscommunication between two parties, it doesn't necessarily allow for any of the gray area that exists in real life sexual situations and conversations. For example, the app doesn't address exactly what you and your partner are comfortable (or not comfortable) doing in the bedroom.
HuffPost spoke to the managing attorney of the Victim Rights Law Center (VRLC) Colby Bruno to find out if the 11-year veteran of the field thinks this app could be useful on college campuses. Overall, she seemed hopeful.
"Anything that helps students get to a mutual understanding is important for consent," Bruno told The Huffington Post in a phone interview. "If it helps just one student or one couple with understanding what they're about to do then terrific."
If young people are willing to use it, Good2Go could definitely signal a step in the right direction.
Bruno put it perfectly, stating: "There are clearly flaws [with Good2Go], but if it brings some consciousness to the issue [of consent] then fantastic. Why not?"
UPDATE: 10/8/14 2:15 p.m. -- Apple removed the Good2Go app from its store on Oct. 7. Creator Lee Ann Allman also pulled the app from Google's app store and shut down its website. A spokesperson from the company emailed The Huffington Post the below statement:
Sandton Technologies was given no further information about why Good2Go was pulled by Apple other than that it violated clause 16.1 of the developer's guidelines and was deemed "excessively objectionable or crude."

The company was given specific guidelines under which the app can be resubmitted to the app store's educational app section, specifically involving removing the data capture/database. Sandton leadership absolutely believes there is a space for technology that facilitates affirmative consent and feel the strong reaction to the app's launch is indicative that a broader conversation about consent and sexual assault on campus is needed.

Sandton Technologies and everyone associated with Good2Go is working on this project because they believe that sexual assault on our nation's campuses is a pandemic and that, as President Obama and many others have said, "it is on us" to fix the problem.

Company leadership is exceptionally proud of having been able to elevate this conversation to an international level and hope that supporters and critics, alike, will contribute their thoughts into how we can address and fix this serious problem.

Moving forward, the Allmans and Good2Go are looking forward making Good2Go v2.0 a "crowd-sourced" app - they will shortly launch an online community in which anyone interested can contribute ideas on how to make the next version of the Good2Go successful and useful.
Related
Before You Go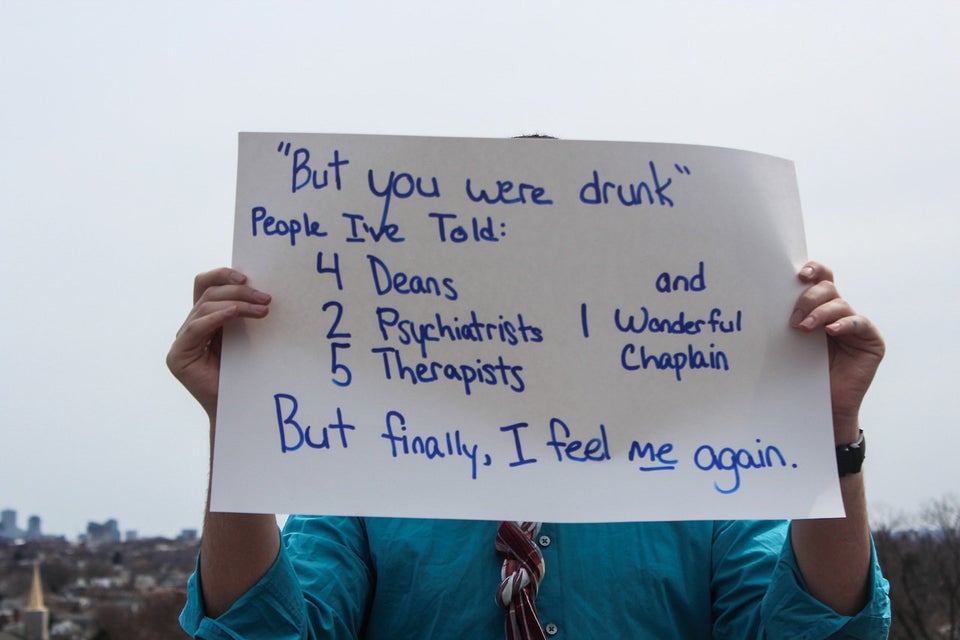 Surviving In Numbers: Stories Of Sexual Assault Survivors