 This October, when Angie Epifano published the story of her sexual assault at Amherst College--and the lack of support she received--readers were saddened, disturbed, and enraged. Although an investigation has since concluded that "[Amherst] failed to follow policy and procedure in a way that would have provided a prompt and integrated response to Ms. Epifano's report," students are not done addressing the issue of campus sexual assault--and reaching out to other campuses to talk about it.
As turns out, a group of college men in Williamstown, MA had high hopes for encouraging sex positivity and combating sexual assault months before this ongoing issue leaped into the media spotlight.
Last July a (then) newly formed group at Williams College called 'Men for Consent' (MFC) was envisioning a conference for Northeast schools to talk about sexual assault. This conference, the brainchild of Long Dang '15 and Henry Bergman '15, came to fruition February 22nd and 23rd as the first annual 'ConsentFest'.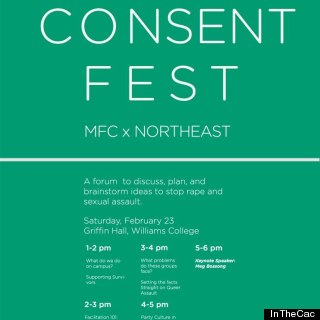 "The impetus for a conference was that we knew other schools had the same problems as we do, and had similar groups," explains Bergman, "Since we are a new group, we assumed that we hadn't thought of everything else some of these other groups had done, so sharing ideas and strategies was what we wanted to get out of it."
Six schools representing a dozen campus advocacy groups arrived on the Williams campus. Participants included students from Bennington College, Bowdoin College, Colby College, Hamilton College, School of the Art Institute of Chicago, Smith College, and the host school.
They jumped right in discussing past programming successes (and failures) and comparing notes, especially regarding their ability to boost attendance at their events. They agreed that the most effective advertisements for the work they do come in the form of slogans that are creative, yet don't trivialize the issues of rape and assault.
MFC credited this Dos Equis inspired poster campaign with getting their name out on campus: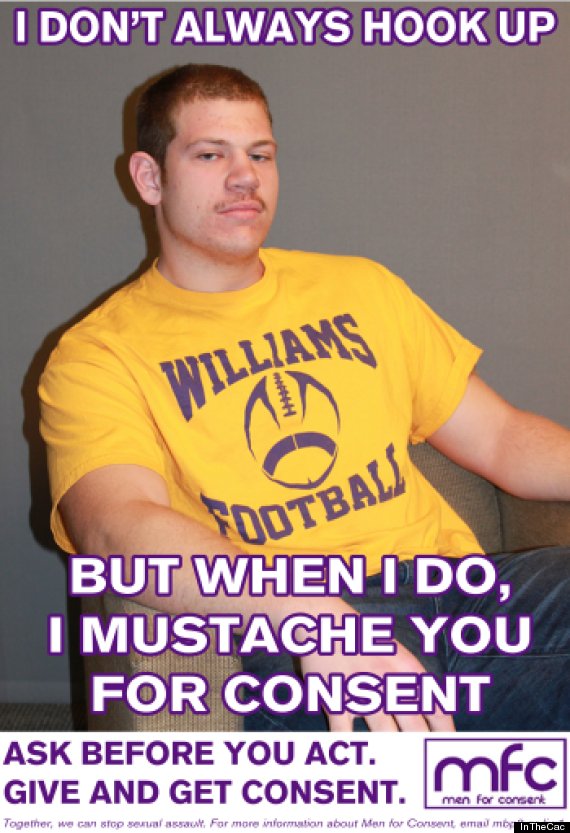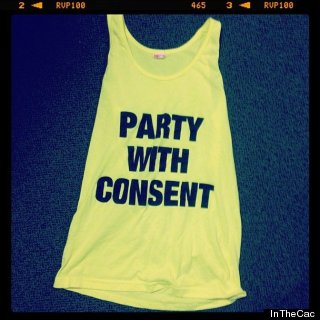 Other ideas included writing facts about consent and sexual wellness on Solo cups to hand out at parties, or enlisting the campus Athletic Director as an ally in upholding a healthy campus sex culture.
Of course, education and prevention of sexual violence are crucial to the work these groups do. But supporting survivors is critical to their presence on campus. Some of the groups at ConsentFest were professionally trained to support their peers, but one conference session brought out tips for an untrained peer supporter.
Things as simple as "not looking down at your phone" feed into a survivor's ability to feel like someone is listening. Making sure not to blame the victim is one of the biggest guidelines, especially since many already feel an unfounded sense of guilt/shame.
Addressing sexual assault requires a united front, said Williams Queer Students Union in the session that they led. Statistics show that sexual assault is more prevalent in the queer community, and college policies to address sexual assault "need to be more focused, more inclusive"--more of an alliance between queer and heteronormative individuals. "We all become tokens by entering spaces where our voices aren't wanted," was a salient point made in the session.
ConsentFest ended with a speech by Meg Bossong (Williams '05), Manager of Community Engagement at Boston Area Rape Crisis Center. According to Bossong, the idea of boundaries--a person's right to themself--even more so than consent, will be central to lowering the alarming statistic that 1 in 4 women will experience sexual assault in their lifetime.
Reflecting on the weekend, Bergman and Long say that they accomplished their goals for ConsentFest: "Establishing connections was a goal...we have so many new ideas we don't know where to start."
Popular in the Community