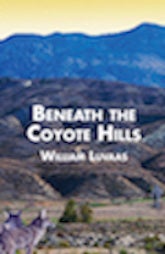 Are our failures deserved? Successes earned? Are any of us the author of our own destiny? These are the issues confronting Tommy Aristophanos, the homeless, epileptic, fiction writing narrator at the center of William Luvaas' new novel, Beneath The Coyote Hills (Spuyten Duyvil, September 2016).
I recently had a chance to talk with Luvaas about his engaging, offbeat narrative. Luvaas, who lives in Riverside County, a landscape similar to much of the setting in Beneath The Coyote Hills. Luvaas has a tendency to set his fiction in the places he is residing while he is writing. His most recent book, Ashes Rain Down, was the 2013 Huffington Post BOOK OF THE YEAR.
Tommy, spends much of the novel squatting in a hut he built in an abandoned olive grove in California's high desert, as he seeks refuge from being challenged again and again by demons and visions and luck and circumstance.
"We Americans seem to have that fantasy that we control everything ourselves." William said. "Years ago, I was living in England at the time, a friend told me, 'You Yanks think you are in control of everything.' That really struck a chord in me." Luvaas went on to say that like his main character Tommy, he too has epilepsy and that it taught him quite early how little control he had over his life.
While most of us avoid fixating on who decides for us, Luvass has Tommy relentlessly confronting choice and chance and Fate. As Tommy pens in a letter to a friend: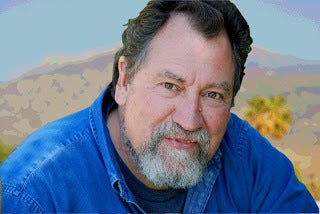 "Here I sit pathetic as a person has any right to be, having lost most everything, including a kidney. What does Fate need with my kidney? It takes parts of us and doesn't reimburse us for them. What will it want next?"
Still, Tommy pursues these questions with a mixture of resignation and vigor. He is a survivor and he carries on with an ample skill set to cope with misfortune chance disrupts his life.
Tommy spends much of his time in the grove working on a novel. His main character, Volt, the highly successful Volt is his complete opposite in that Volt is certain he alone is in control of his destiny. Despite their polar opposite experiences and points of view, they share a consequences be damned attitude toward decision making.
It doesn't take long before Volt jumps off the page and invades Tommy's life. Luvaas said that he didn't intend this to happen and that "it only occurred to me that I was doing that after I was already doing it. It was as if Volt willed himself into Tommy's life to harass him. In the end, I just wanted to mess with reality. And maybe the success and failure of Tommy and Volt are maybe tied together. It goes back to, who is writing our story?"
Luvaas refuses to let Tommy, or any of his other characters, slip into predicable behaviors. So, while Luvaas has Tommy tormented by visions and demons, he also has the good fortune of attracting noble people into his tragic existence. The olive grove is littered with survivors with their own moral code and who are in their own way committed to the struggle of persevering against all odds.
A great part of this novel's charm is this thoughtful, hilarious, imaginative, and enterprising community of like minded misfits and outcasts who befriend Tommy and who look out for each other.
The total result for the reader is a compelling POV and a fascinating and inventive narrative.
Popular in the Community