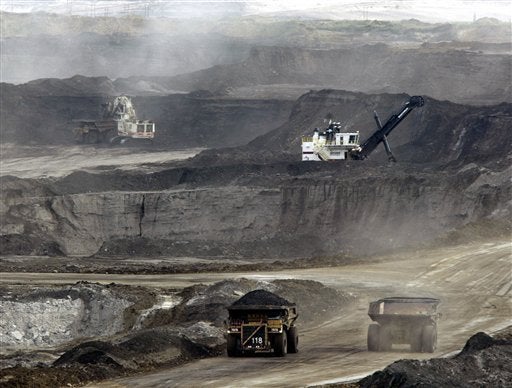 Critics of the group, however, are unimpressed. To them, C.I. is hopelessly compromised, and it represents the worst of what the old-guard environmental movement has become: fat, wealthy, and addicted to the largesse of polluting corporate donors.
Where you sit along that divide will likely determine how you'll receive a recent video assault undertaken by a ragtag British magazine called Don't Panic, which sent a pair of reporters posing as executives from the arms maker Lockheed Martin to meet with a Conservation International representative. They were seeking C.I.'s help in greenwashing the company's militant and presumably eco-unfriendly public image.
The video catalogs Conservation International's business relationships, and documents what its producers consider the cloying tone of press releases on C.I.'s Web site, which praise the environmental efforts of the group's corporate sponsors.
"Are they any more than a green PR company helping major corporations launder their public images?" Prowse asks.
The video and accompanying low-quality audio gathered from the meeting with the Conservation International representative appear to offer a rather damning portrait of the organization -- particularly as the C.I. rep seems all too willing to accommodate the phony executives' needs, including the odd suggestion that the company adopt an endangered Middle Eastern vulture as a mascot.
Christine MacDonald, a journalist and author of the 2008 book "Green Inc.," said no one should be surprised by the exchange. MacDonald's experience working as a media manager at Conservation International inspired her book.
MacDonald also said it was worth noting that in the video, the C.I. representative never suggests that her organization could actually improve Lockheed's environmental practices -- only its image.
"The entire discussion is about how C.I. could help the company improve its image by linking its brand to an endangered species," she said.
But Justin Ward, the vice president for business practices at Conservation International, said in a telephone interview that the video is misleading, in part because it represents just one slice of a whole range of interactions, including a variety of phone calls and emails, that taken together provide a fuller picture of how Conservation International deals with potential corporate partners.
"We do not help companies with their image," Ward said.
Ward provided, by way of demonstration, a copy of a follow-up email sent from the C.I. representative heard in the Don't Panic exposé to the phony arms dealers.
In that email, the representative notes that Lockheed will need to go through C.I.'s more extensive due diligence process. She also encourages further engagement on developing the company's environmental and climate strategies -- and seeks contact with technical staff at Lockheed capable of discussing the matter on a more granular level.
"The video unto itself is not representative of the interactions that any of our employees have with any of the companies that we work with," Ward said.
"It's an important source of revenue, and we believe it's appropriate to involve the private sector. Conservation requires resources," Ward said. "Provided all corporate relationships are handled in a transparent way, and all revenues are channeled into our conservation programs, then we don't think that compromises our mission and it doesn't present a conflict of interest."
Still, MacDonald said it was hard to view the video and not wonder whether, in real world situations, conservation groups working with business executives were not akin to lambs among wolves.
"Can you imagine an actual P.R. firm or advertising agency ever suggesting that an arms dealer adopt a vulture as its mascot? It so absurd it's almost funny," MacDonald said. "But it underscores a more serious problem: Nonprofit officials are often ill-matched against corporate executives and often lack the hard nosed business skills to negotiate good deals for nature."

Popular in the Community