Fiscal conservatives are disappointed in President Donald Trump for cutting a deal with Democratic congressional leaders on Wednesday to keep the government running and increase the debt ceiling for just three months as part of a bill to provide emergency funding for areas hit by Hurricane Harvey.
The agreement, which Trump reportedly sprang on House Speaker Paul Ryan (R-Wis.) and Senate Majority Leader Mitch McConnell (R-Ky.), extended government spending and the debt limit for a far shorter period than Republican leaders wanted. It also gives Democrats leverage to demand significant policy concessions in December, since the two previously separate deadlines are now due to coincide, skeptics warned.
But some of the president's critics are even more frustrated with Ryan and McConnell for allowing the deadline to approach without an apparent strategy to extract policy wins from Democrats, losing the president's confidence in the process.
If the two congressmen had a plan for the upcoming deadlines, members of the ultra-conservative House Freedom Caucus were not aware of it, according to Adam Brandon, president of FreedomWorks, a conservative activism group with ties to the hardline Republican faction.
"I put most of it on [Ryan and McConnell] to be honest. You had a lot of time and we were just getting closer to [the government funding deadline of] September 30," Brandon said.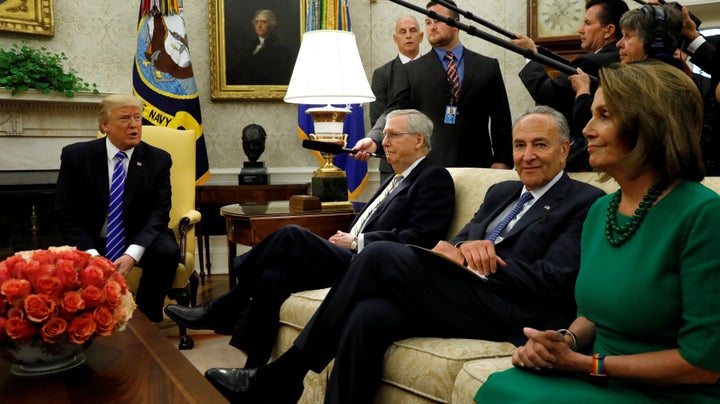 "I blame McConnell and Ryan first. Trump is doing exactly what he said he would do: He said he likes debt; he said he was gong to expand spending; and he said that when the time was right, he would pivot to working with Democrats," said Matt Kibbe, president of Free The People, a libertarian-leaning conservative advocacy group.
Failing to prioritize passage of a full-year budget earlier this year, weakened Ryan and McConnell's bargaining leverage, Kibbe said. Had they gotten further along in the budgeting process, Kibbe suggested, they would not be faced with the prospect of appearing to hold up emergency funding to deal with two historic hurricanes.
"They want to play the last-minute brinksmanship game and they always lose that game ― every single time," he said. "They have created this situation where they don't have a card to play."
Meanwhile, the more nationalist-oriented conservatives that make up Trump's base shared the fiscal hawks' criticism of Ryan and McConnell, even as they defended Trump's deal with the Democrats.
Congressional Republican leaders have squandered the president's trust by failing to shepherd an Affordable Care Act repeal and other Trump priorities, according to Trump partisans. Cutting a deal with Democrats was a necessary message to Republicans to get their act together, according to John Gilmore, who runs the Minnesota Conservatives blog.
"Trump is saying: If you don't deal with me, I'll deal with somebody else," Gilmore said.
Ryan and McConnell had first proposed an 18-month government funding and debt ceiling extension, and then a 6-month extension.
But Ryan and McConnell have not proven that they can corral the moderates in their caucus who waver at the first sign of a fight with Democrats, Yossi Gestetner, a pro-Trump commentator, argued on Twitter.
Knowing that, Trump decided to avoid a prolonged process where he could be "tripped by 'righteous' GOPers," according to Gestetner.
John Nolte, an editor-at-large at Breitbart, drew a similar conclusion on Twitter.
The president's nationalist supporters now have to contend with new evidence that Trump is playing ball with Democrats on immigration policy, an issue closer to many of their hearts. On Thursday, Trump tweeted an assurance to the undocumented recipients of the Deferred Action for Childhood Arrivals program that they have "nothing to worry about," after Rep. Nancy Pelosi (D-Calif.) asked him to do. Pelosi has also claimed that Trump promised to sign the DREAM Act if it reached his desk.
Assessing whether Trump and congressional Republicans suffered a tactical defeat or not, hinges largely on which party one believes the public would hold responsible for a government shutdown, how high the political price would be for that party, and whether it would be offset by longer-term gains.
Trump could have used his bully pulpit to pin the blame on Democrats for a forthcoming government shutdown by arguing that they were the ones refusing to accept spending cuts to reduce the debt, Brandon posited.
"If the Democrats are going to try to support shutting the government down over their issues, then let's tell the American people that," Brandon said. "Then you go to the negotiating table with higher leverage."
"[Former President Barack] Obama used that rhetoric to grind down the GOP. Now you have the opportunity to flip that," he added.
If Ryan and McConnell could have insisted on the type of spending cuts that fiscal conservatives so badly crave, that would at least allow groups like FreedomWorks to show their members that a unified Republican government can lead to tangible constraints on spending and debt, according to Brandon.
Even if Republicans got stuck with the blame for a shutdown, it is not clear that voters' anger would last long enough to affect the party's performance in the 2018 midterm elections.
In 2013, Republicans forced a government shutdown when Obama refused to de-fund the Affordable Care Act. The party capitulated after a few weeks with nothing to show for it but $24 billion in lost economic output, but a year later voters handed Republicans control of the Senate.
"There's always lot of talk about the political damage from debt ceiling showdowns and government shutdowns, but the data in practice doesn't seem to show that," Kibbe said.
"Would it be different given the devastation of these two hurricanes?" he continued. "There's a way to solve the emergency funding problem and still insist on a path to a balanced budget, but it would have to be something that the president and the Republican leadership had invested in."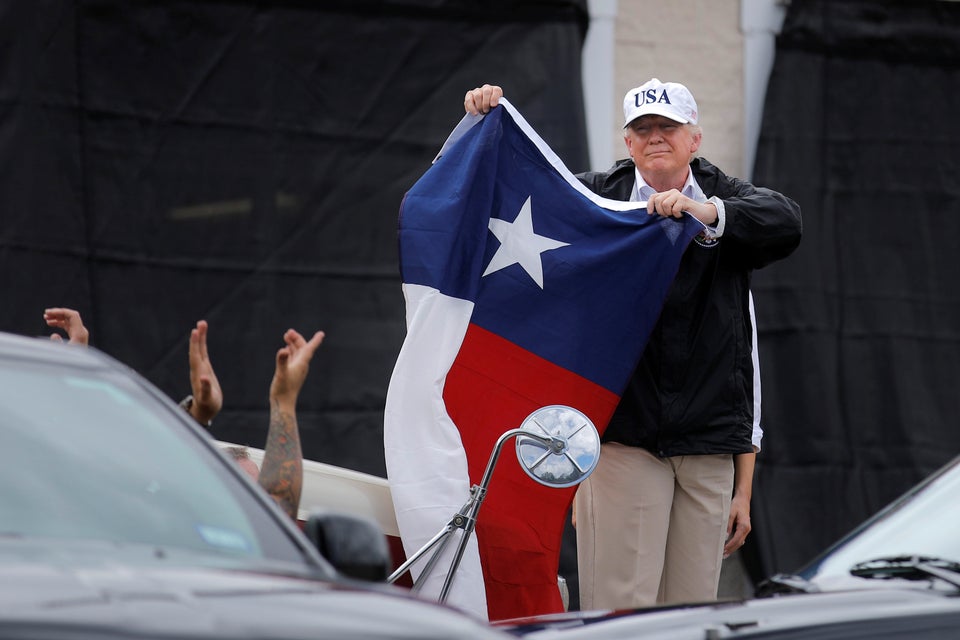 Trump Surveys Hurricane Harvey Damage
Popular in the Community