After calling for a history curriculum that downplays "social strife" and emphasizes "respect for authority," a conservative Denver-area school board has attracted the same kind of civil disobedience it had hoped to gloss over in the classroom.
Hundreds of students marched Thursday in the fifth day of demonstrations against the Jefferson County school board, which oversees the second-largest school district in Colorado. Protests began last Friday after members of the board called for a review of the new Advanced Placement U.S. History (APUSH) curriculum to see whether it promotes "respect for authority" or encourages "civil disorder, social strife or disregard for the law."
By Thursday, the protests had grown to include nearly 1,000 students from Columbine, Lakewood, Bear Creek and Dakota Ridge high schools.
"There are substantial numbers of us who want honesty and integrity in all of our classrooms, not just AP U.S. History," Maggie Ramseur, a senior at Dakota Ridge High School, told The Huffington Post. "We fear that if the school board gets the power to change the APUSH curriculum, they will have the precedent to make even more dangerous and controlling changes to our education down the road. The policies they are suggesting are ridden with political agendas, something that belongs in our curriculum about as much as religious agendas do."
The proposal in question would create a school board committee tasked with ensuring that all U.S. history materials taught in Jefferson County would "promote citizenship, patriotism, essentials and benefits of the free enterprise system, respect for authority and respect for individual rights." The proposal also says that instructional materials "should present positive aspects of the United States and its heritage." It directs the committee to inform the board of any "objectionable materials" it might encounter.
Nathan Woodliff-Stanley, executive director of the American Civil Liberties Union of Colorado, said his organization is keeping a close watch on what he called an attempt to implement an "ideologically motivated" review of the district's history curriculum.
"State-funded school [curricula] should promote academic integrity, not ideological agendas," Woodliff-Stanley said. "A committee that polices educational materials for insufficient devotion to patriotism or a lack of respect for authority runs the real danger of substituting propaganda for education."
In a statement posted to Facebook Tuesday, Julie Williams, one of the three conservative and controlling members of JeffCo's school board who helped design the proposal, wrote that she was "surprised" by the outrage it has provoked.
"To be accused of censorship? 'Seriously?' That is just ridiculous," Williams wrote. "I am advocating for just the opposite."
She goes on to argue that the existing APUSH curriculum "rejects the history that has been taught in the country for generations," and that it "has an emphasis on race, gender, class, ethnicity, grievance and American-bashing."
"Why is an emphasis on race, class, gender and ethnicity an issue?" said a teacher at Dakota Ridge High School, who asked not to be named for fear of professional reprisal. "Those are distinctly American topics. And the truth is, we have made some mistakes as a country in our history. Talking about those mistakes, or even disagreeing about our past, doesn't constitute 'bashing.' That's just pure ignorance and closed-mindedness. Williams and the rest of the conservative members of the board are political puppets."
Williams is not alone in her objections. Conservative groups around the country have claimed that the AP course framework contains an anti-American bias -- something the College Board, which created the framework, vehemently disputes.
"This, to me, is a tip of a big movement against government involvement in local educational jurisdictions on a lot of different levels," said Elaine Gantz Berman, a Democratic member of the Colorado State Board of Education. "It's powerful and it's scary."
Berman was critical of Williams and the other conservatives on the JeffCo school board, whom she said have taken "a piece of the Republican Party platform and are pushing it on our students."
"School boards are supposed to be nonpartisan," Berman told HuffPost. "This does not bode well for public education."
Last month, the Republican National Committee adopted a resolution condemning the APUSH framework for reflecting "a radically revisionist view of American history that emphasizes negative aspects of our nation's history while omitting or minimizing positive aspects."
Amid this week's demonstrations in Jefferson County, district Superintendent Dan McMinimee emailed parents on Tuesday to say he had taken steps to ensure student safety during the protests.
"I have personally met with a group of students from Evergreen and Lakewood high schools, listening to their legitimate concerns, answering their questions and providing them accurate information," McMinimee wrote, according to KMGH-TV, a Denver television station. "We want our students to know that we respect their viewpoints and have heard their anxiety over the issue. Our students deserve to be heard and need to know that they can have a role in shaping their education."
But Berman told HuffPost that some educators and parents are watching McMinimee closely at the moment to see if he is "really going to be a leader or just a puppet for the board."
McMinimee's tenure began earlier this year amid controversy when he was appointed by the JeffCo school board after being selected as the only finalist for the vacant position.
"He was appointed with very little public input," Berman said. "He came from Douglas County and wasn't even considered for the DougCo superintendent seat. And yet DougCo is smaller in size than JeffCo. So if he wasn't good enough for DougCo, then why was he selected for JeffCo?"
Meanwhile, the students in JeffCo are getting to partake in a real-world act of civil disobedience, carrying on their protest without a sense of just how long it may go on. The board is expected to take up the curriculum proposal in early October.
"The point of civil disobedience is to break an unjust law with the intention of bringing attention to it so that it may be rectified and made just," Maggie Ramseur told HuffPost. "Teaching students about that does not encourage them to become anarchists. It encourages them to speak up about policy and make the government serve the people, which is what our democratic republic was designed for."
"And that is something that I learned in Advanced Placement United States History," she added. "The uncensored version."
Before You Go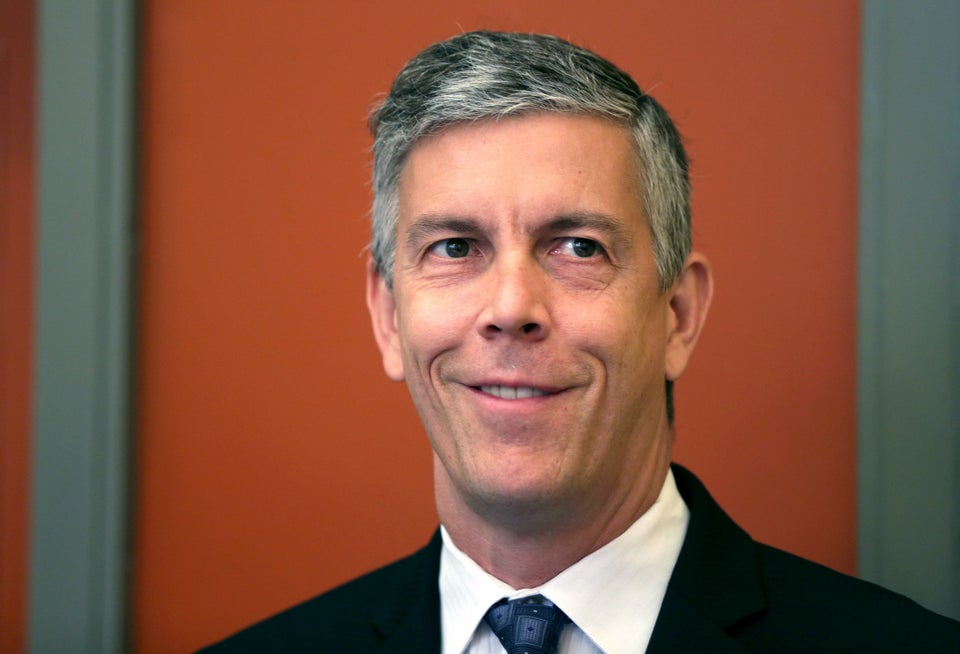 Education Leaders Who Have Never Taught
Popular in the Community