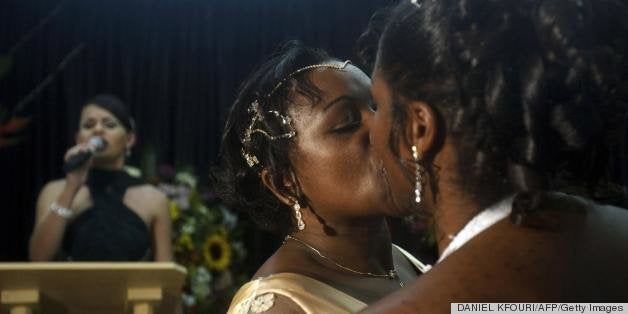 One week after Brazil's National Council of Justice (CNJ) ruled that same-sex couples cannot be denied marriage licenses by public notaries, the conservative Social Christian Party (PSC) took legal action to overrule the decision and immediately suspend its enforcement.
PSC gained notoriety in Brazil after appointing congressman and evangelical pastor Marco Feliciano as the head of the Commission on Human Rights and Minorities of the country's House of Representatives. Feliciano, who is under investigation for embezzlement charges, is known for his homophobic and racist statements. His appointment triggered a massive public outcry across Brazil demanding his removal from the commission.
The PSC has asked Brazil's Supreme Court for a preliminary injunction suspending the resolution until it is ultimately judged. There is no established deadline for a decision on whether the ruling will be suspended temporarily or taken directly to the plenum of the Supreme Court.
According to the CNJ, a panel that oversees and regulates the activities of Brazil's justice system, the decision reinforces a ruling from Brazil's Supreme Court that recognized "stable unions" between people of the same sex in 2011. Since then, the decision to issue marriage certificates to same-sex couples was up to state jurisdictions. Twelve states and the Federal District were already doing it.
"Brazil's Supreme Court confirmed that the Constitution clearly states that all Brazilians are equal under the law," Andre Banks, Executive Director and co-founder of All Out, said. "Feliciano and his extremist Social Christian Party are trying to turn back the clock. All Brazilians should have a right to marry no matter who they are or who they love. Conservatives need to stop attacking loving couples and their families."
"The Brazilian Congress cannot continue to delay a discussion that is so critical for the life and dignity of millions of Brazilians," said Leandro Ramos, All Out's Campaign Manager in Brazil. "Our legislators should pass the marriage bill immediately."
REAL LIFE. REAL NEWS. REAL VOICES.
Help us tell more of the stories that matter from voices that too often remain unheard.