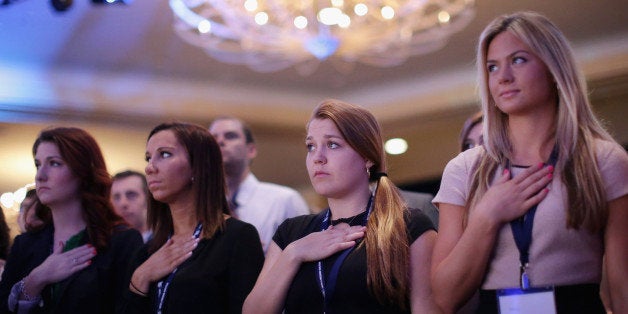 WASHINGTON -- The placement of a Barack Obama figurine in a urinal at a conference for Christian conservatives Friday captured why these gatherings have become so damaging for the Republican Party.
The Faith & Freedom Coalition's conference, like the Conservative Political Action Conference and the Values Voter Summit, has attracted thoughtful conservatives but also politically tone-deaf, fringe right-wingers, and put the latter on display. The media broadcast their behavior to the country, and they come to represent all conservatives everywhere.
There were never more than 300 people in the ballroom at Washington's Omni Shoreham hotel on Friday, but because likely 2016 Republican presidential candidates like Kentucky Sen. Rand Paul and New Jersey Gov. Chris Christie were speaking, a full contingent of the national press corps was on hand to document the event.
The freak show element of the conservative conference circuit has been a fixture for years now. What is new is the friction between two competing points of view on the right: those who think the sky is falling, and those who think conservatives need to stop shouting about what's wrong with the world and start embracing a proactive approach to solving the problems of regular people.
This contrast was on display in the hours before Paul and Christie took the stage. Early Friday morning, longtime Christian conservative activists Ralph Reed and Gary Bauer gave speeches that hearkened back to their days of working with leaders of the Moral Majority in the 1980s and 1990s.
Reed, who runs the Faith & Freedom Coalition hosting this week's "Road to Majority" conference, ran through a catalog of societal ills and bemoaned that "as a society, after 50 years of 'if it feels good, do it,' we have reaped what we have sown."
"We have turned our back on God and his precepts, and like a prodigal child we now live with those consequences," he said.
"We're the ones who have to repent. We're the ones who have let this happen. And I don't know about you, but I'm done letting it happen in the country that I love," said Reed, dialing up his laid-back style a bit for emphasis. "Let that repentance begin this weekend. Let's humble ourselves. Let's usher in, by the power of the Holy Spirit, that awakening and restore our land."
Reed was followed by Bauer, who for roughly 10 minutes rattled off a list of President Obama's many, many sins. Bauer was unusually animated, nearly shouting at times as he declaimed how Obama is "ripping us out of our Judeo-Christian roots."
"We need to heal the racial divide for the sin of slavery," Bauer said. "But this guy stokes racial tensions. He has never hesitated to make a sensitive racial matter worse rather than better!"
"He uses the IRS to attack his political enemies. He abandoned our men and our diplomats in Benghazi, and then to put icing on the cake, just traded five top Taliban commanders for one POW whose fellow soldiers believe deserted the United States," Bauer said. "He promised to bring some light and openness to Washington, D.C. He's brought secrecy and closed doors. He promised health care to the uninsured. He took away the health care of the insured! He claims to be the science president, but he gutted the space program. The media says he's brilliant. But he says he doesn't know when life begins. Would somebody please buy him a high school biology book?!"
Rafael Cruz, father of Sen. Ted Cruz (R-Texas), also spoke, walking around the stage in the preacher's style that his son likes to imitate. Cruz told the audience that conservatives should stop being "politically correct" and start being "biblically correct," and grieved that when "the righteous" do not vote or participate in politics, that leaves only "the wicked to elect the wicked."
Not long after, Arthur Brooks took the stage. The president of the American Enterprise Institute has drawn notice in the past year or two for making the AEI newly relevant and influential. His message was radically different from the one carried by Reed, Bauer and Cruz.
Reed, Bauer, Cruz and others come from a long history of conservatives lamenting the loss of a "Christian nation." It's a perspective often voiced by, or aimed at, conservatives in red states who see the nation changing on the coasts and in the urban centers, and declare they don't recognize what America has become.
Another perspective, one that is spreading among many evangelicals and Protestants, believes that the Christian future in the West is to embrace the reality of a nation with many faiths, creeds and ethnicities, to compete in the marketplace of ideas, and to greet disagreement and even hostility with a smile, humility, optimism and love. Brooks' message seemed to originate from that point of view.
His 20-minute speech began not with a recitation of ills perpetrated by Obama or other Democrats, but with a plea for conservatives to recognize the growth of economic inequality and the struggles of the poor.
"In 2014, we're going to have two economic growth rates. We're going to see 5 percent economic growth for people in the top half of the economy, and we're going to see zero percent economic growth for people in the bottom half," Brooks said. "We are becoming two Americas," he said, with a nod to former Sen. John Edwards (D-N.C.), "and in the past five years, it's been worse and worse to be on the wrong side of the privileged divide."
The rest of Brooks' speech was a passionate argument to put the poor and the down-and-out at the center of conservative political organizing and agitation. But he couched it in the same narrative of redemption that Reed and Bauer had used to frame their messages.
"We have a moral obligation to save the country, especially those who need it the most," Brooks said. "The rich are going to be fine, because they always are, but the poor need you. That's why we're here, and that's why we're in the movement."
Brooks then pressed his point. "Some will say, 'Yes, but they vote for the other guys,'" he said. "Who cares?! Patriots fight for everybody, no matter how they vote."
When Paul and Christie finally spoke, they clearly aligned more closely with Brooks than they did with Reed and Bauer.
"We need to stand up for the hurt and the wounded," Christie said as he discussed helping those with drug addiction get treatment rather than incarcerating them. "From the womb to natural death, we need to be there even for those who stumble and fall, to be there to lift them up. To me that's the true meaning, the complete meaning, of being pro-life."
Paul talked about the need for conservatives to articulate their principles "from our soul, full of compassion."
Of course, how conservative Republicans propose to help the poor through government action and policy has been and will continue to be challenged by liberal Democrats. But on Friday, and for some time now, the battle on the right was still stuck in a debate over whether this should even be a top priority.
REAL LIFE. REAL NEWS. REAL VOICES.
Help us tell more of the stories that matter from voices that too often remain unheard.
BEFORE YOU GO
PHOTO GALLERY
Conservatives Pointing Fingers