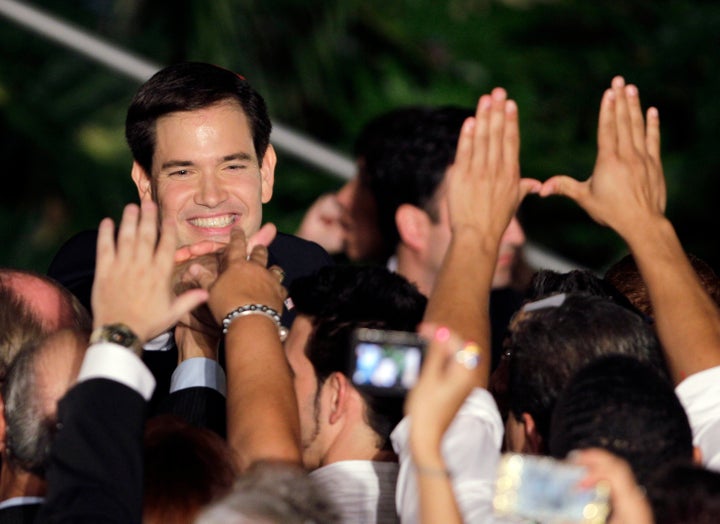 Kevin Solis, a third-generation Mexican-American from Los Angeles, describes himself as a "poster child for the Democratic Party." One of his uncles was a founder of the Brown Berets, an activist group that protested police brutality in L.A. and marched with Cesar Chavez, and his mother rarely said the word "Republican" without prefacing it with a swear.
So it says something about the depth of Solis' disappointment with President Obama that he is thinking of voting Republican in the next election.
As much as he loathes the harsh immigration policies and rhetoric espoused by many on the right, he is dismayed by the President's record on the economy and of all things, immigration.
And as a volunteer for groups that work with young undocumented immigrants, he says he has spoken to many young Latinos who share his ambivalence. "When I ask them about Obama, the first reaction is a sigh and an eye roll," he says. "And then they say, 'Well, I guess he's got to be our next president.' "
As the long election season gets underway, many Latinos are expressing a sense of frustration with the choices ahead. On the one hand, President Obama has failed to enact the sweeping immigration reforms that he promised during his campaign, and unemployment among Latinos stands at nearly 12 percent, three points higher than the national average.
He's also deported more than a million illegal immigrants, a record number. "It infuriates us," said Solis. "The way you get to a million is by sending people back who maybe have a traffic citation."
On the other hand, the GOP is the party of Russell Pearce, the architect of Arizona's Bill 1070, and other politicians -- including Tom Tancredo, J.D. Hayworth and Debbie Riddle -- who've gained national attention for supporting tough measures against undocumented immigrants.
Latinos are in a bind, said Pilar Marrero, a political writer and columnist for the Spanish-language newspaper La Opinion. "It doesn't really benefit Latinos to have one party that takes you for granted and another party that basically attacks you," she said. "But that's what we have right now. We don't have many good options."
It's unclear how this frustration could affect the outcome of the upcoming election. Noting that it was too soon to make such predications with any accuracy, Marrero said she thought it was unlikely that many Latinos would vote for a Republican candidate. Yet she'd heard "talk about the potential of people not going to vote," she said. And if that happens, the President could find it hard to gather all the votes he'll need to win, especially in heavily Latino battleground states like New Mexico and Colorado.
For years, Latinos have overwhelmingly supported Democratic candidates. In 2004, President Bush won 44 percent of the Hispanic vote, more than any Republican presidential nominee before, but whatever gains the Republicans made appeared to dissipate in 2008, when 67 percent of Latinos voted for President Obama and only 31 percent voted for Senator John McCain.
"The Latino vote came back to the Democratic Party after a brief flirtation with the Republicans," said New Mexico's then-governor Bill Richardson at the time.
Now conservative groups are hoping that Latinos' disappointment in Obama might prompt another reversal. American Crossroads recently debuted an expensive Spanish-language ad campaign on television stations in states with large Spanish-speaking populations, and the Republican State Leadership Committee has embarked on an effort to recruit and train Hispanic candidates for office.
In January, the Hispanic Leadership Network, a conservative campaign group formed under the umbrella of the American Action Network and American Action Forum, held its inaugural conference in Miami, which featured appearances by many of the top players in conservative Latino politics, including former Florida Governor Jeb Bush, whose wife, Columba Garnica Gallo, is Mexican-American, and the former Secretary of Commerce Carlos Gutierrez.
According to the group's executive director, Jennifer S. Korn, its mission is to build a grassroots network of Hispanic activists throughout the country. "The combination of disappointment with Obama and the fact that more conservative groups are popping up throughout the country and putting more effort into doing Hispanic outreach is really going to help," Korn said.
As the population of eligible Hispanic voters nears 22 million, she said, conservatives are "really starting to open their eyes to the fact that Hispanic voters are very important."
As evidence of a potential shift to the right among Hispanic voters, conservatives often point to the 2010 election victories of three Latino candidates -- Senator Marco Rubio in Florida, and Governors Brian Sandoval in Nevada and Susana Martinez in New Mexico. But even with Mitt Romney saying he's considering Rubio as his running mate -- in a bid to win over Hispanic voters, no doubt -- it's not at all clear whether those successes are indicative of a larger trend. The fact that Rubio is of Cuban descent may have helped him win over Cuban voters in Florida, but Marrero said it's unlikely that his background would give him a similar boost among Mexican-Americans in Nevada or Colorado.
Another cause for optimism among Republicans is the perception that Latinos tend favor traditional values. In a 2010 poll of Latinos conducted by AP and Univision, a majority of those surveyed said they opposed abortion and same-sex marriage. Yet in the same poll, 42 percent of respondents said they considered themselves Democrats, compared with only 12 percent who labeled themselves Republican.
For the most part, Latinos remain solidly Democratic, said Marrero. "If you have a local candidate who's Republican and who's actually been good to Latinos and who's not gotten on the anti-immigrant train, you may get a good chunk of Latino votes –- 45, 50 percent," she said. "But it's never really reached beyond that."
DeeDee Garcia Blase, a Republican activist in Arizona, said many of the Latinos she's spoken with say they'll vote for Obama only because they see the rise of the Tea Party and the "anti-immigrant" rhetoric associated with it as a potential catastrophe for Latinos.
"Even though they've very disgruntled," she said, "they view the Tea Party Republicans as having significant control over the entire Republican Party, and the Tea Party is kryptonite to the Hispanic population."
Calling all HuffPost superfans!
Sign up for membership to become a founding member and help shape HuffPost's next chapter