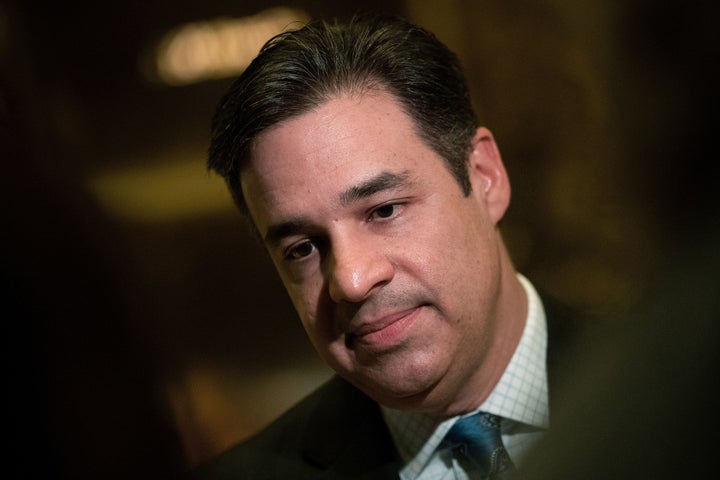 The monthly panel "Conversations with Conservatives" turned from a pleasant pizza party discussion between lawmakers and the press into an awkward standoff Tuesday when Rep. Raul R. Labrador (R-Idaho) refused to answer a question from a Breitbart reporter.
The reporter, Julia Hahn, asked the panel of lawmakers for a show of hands as to who would support a suspension of Muslim immigration into the United States. But before any lawmakers raised their hands, Labrador stepped in.
"I don't answer questions from you, because you are not a truthful reporter," he said. "And I will not answer any of your questions."
When Hahn asked if Labrador could point out what reporting he took issue with, the Idaho Republican responded, "We have tried. And you guys won't change your reporting, so ..."
When Hahn sought further clarification, the moderator of the discussion, Rob Bluey of The Daily Signal, said they could take it outside. Hahn tried once more to get her question answered, but Labrador was emphatic.
"I'm not talking to you," he said.
The cause of the dustup was apparently a story from Monday wherein Hahn went after House Freedom Caucus chairman Jim Jordan (R-Ohio) for getting no commitment from Speaker Paul D. Ryan (R-Wis.) that Congress would curb the immigration of Muslim refugees.
"He wasn't even asked a question about the refugee program in that story," Labrador told The Huffington Post after the event.
He also took issue with some recent reporting on the speaker election, wherein Breitbart reported on details of the House Freedom Caucus' dealings with Ryan and then, Labrador said, would not correct stories after lawmakers and staff reached out to say the site had it wrong.
"They just don't care," Labrador said. "When we're informed that they don't care, there's no need to speak anymore."
Breitbart did not respond to a request for comment.
When HuffPost asked Labrador if there was a more delicate way he could have dealt with the situation, he seemed to have already cooled down a bit.
"There probably was," he said. "I'm not feeling well today."
Hahn, who is a former press secretary for Rep. Dave Brat (R-Va.), moved to Breitbart in July. Her former boss, Brat, was actually on the panel, but did not interrupt the exchange. After the discussion was over, Brat told HuffPost he never gets into personal stuff.
"I just talk principles," he said.
UPDATE: 11:48 p.m. -- Breitbart executive chairman Stephen K. Bannon issued a statement going after Labrador and standing behind his reporter.
"Congressman Labrador has spent too much time in Washington if he thinks its okay to try and intimidate a 24 year-old woman who asked a basic question," Bannon said. "He called her a liar and tried to humiliate her in a public forum in the Capitol, when in fact HE is the liar! Breitbart News will not back down and we stand by Julia's reporting 120%."
Editor-in-chief Alex Marlow said in a statement: "Either Congressman Labrador is uninformed and didn't read our story or he flat-out lied. He attempted to embarrass our reporter while insulting our largely-grassroots conservative audience of over 20 million readers, and he was dead wrong on the facts. If the Congressman is interested in the truth, we invite him to read the story that's about to be posted laying out the facts in a painfully clear way."
Popular in the Community