One America News CEO Charles Herring blasted the Federal Communications Commission's recent decision to relax media ownership rules, a move that could pave the way for Sinclair's $3.9 billion purchase of Tribune Media and allow the broadcast company to extend its reach into more than 70 percent of U.S. homes.
"Utilizing the 'UHF discount,' which is an antiquated, irrelevant regulation, is really politics at its worst," Herring said Monday, referring to a loophole around a federal cap limiting ownership to 39 percent of the national audience.
There's already been significant opposition to the nation's largest owner of TV stations expanding its footprint to around 215 stations. The Maryland-based Sinclair operates local affiliates across the major networks ― ABC, NBC, CBS and Fox ― and has increasingly faced scrutiny over its practice of forcing stations to air "must-run" segments and conservative commentary on their local newscasts.
Trump's son-in-law Jared Kushner reportedly said the Trump campaign struck a deal with Sinclair for better coverage, a characterization the company rejected. Politico reported Sunday how Trump-appointed FCC commissioner Ajit Pai "aided Sinclair's expansion" by reinstating the so-called "UHF discount."
Christopher Ruddy, a Trump friend and CEO of conservative Newsmax, last month called for a delay in the government approval process of the Sinclair-Tribune deal. And Glenn Beck's The Blaze joined several independent media outlets in a June letter to the chairs of the Senate Commerce and Judiciary committees. "Regardless of political affiliation, we should agree that robust democracy demands a variety of viewpoints from a myriad of sources; yet, the Sinclair/Tribune merger threatens this core value," the letter read.
The Sinclair deal has also rankled 21st Century Fox executive chairman and Trump friend Rupert Murdoch, who unsuccessfully vied for Tribune earlier this year. Bloomberg reported last week that 21st Century Fox has threatened to shift local Fox affiliates away from Sinclair and to Ion Media Networks, the latest dispute in a decades-long feud between Murdoch and Sinclair.
Sinclair declined to comment on opposition from the right.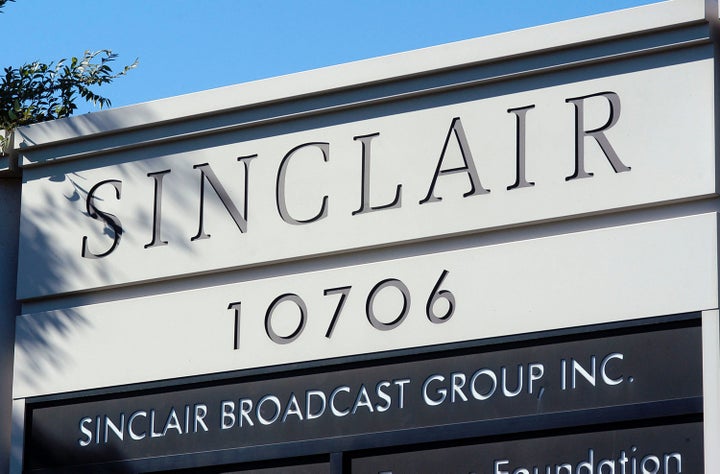 Herring spoke to reporters Monday morning on a conference call with representatives from the American Cable Association, a trade organization, and public watchdog Common Cause.
Michael Copps, a former FCC commissioner and now a special adviser to Common Cause, said Sinclair "is the most dangerous company most Americans haven't heard of." And Copps specifically questioned the ideological implications of the Maryland-based broadcast company imposing segments ― such as commentaries from former Trump White House official Boris Epshteyn ― onto local newscasts.
"So much for community news. So much for real news. So much for journalism. So much for fair and open media," Copps lamented. "No one company should have such power over the news and information that citizens must have."
The conservative case against the deal, however, hasn't focused on Sinclair's political leanings, but on the ramifications for competitors and consumers.
"I think the Sinclair merger with Tribune raises very serious concerns about competition and media diversity," Ruddy recently told Multichannel News. "President Trump himself warned about the 'concentration of media power.' The Commission and public need sufficient opportunity to carefully review this precedent-setting deal."
Networks like One America News and Newsmax have to hammer out deals with cable and satellite providers for distribution, a difficult and costly process, and currently reach tens of millions fewer homes than the likes of CNN and MSNBC. The proposed deal has fueled speculation that Sinclair, possibly through acquiring Tribune channel WGN, could launch a national network to rival the Murdoch-owned Fox News and that might lure current stars, like Sean Hannity, or former host Bill O'Reilly.
Sinclair has tried to tamp down the speculation one of the company's goals is to build a national conservative news channel. "Our strength is local news," CEO David Shipley told Variety last month. "The market for national cable news is very well served."
Herring specifically expressed concerns on Monday about the 39 percent ownership rule being relaxed without public discussion, and argued that Sinclair would have too much leverage when making deals with cable and satellite providers.
"The real concern here is if you have an entity with excessive, unbalanced power in the marketplace, which Sinclair arguably has now," he said, "the market doesn't work."
Related
Popular in the Community