NATIONAL HARBOR, Md. -- "Is #CPAC2016 coachella for conservatives?" @jujufresh12 tweeted the night before the 2016 Conservative Political Action Conference kicked off just outside of Washington, D.C.  
It's not an unfair question. Many Republican campaign events or tea party rallies can feel like a retirement home's lecture night, with speakers hauled in to scare a bunch of old people. But CPAC is markedly younger, packed with eager millennials casting furtive glances at one another during breakout sessions on the Tenth Amendment. There are fewer Native American headdresses -- not to mention snide remarks about "Native American" and the PC police -- and the pastel colors mostly originate from Brooks Brothers, but it's probably the closest the movement will ever get to the California music festival of Coachella. 
CPAC's young'uns are experimenting with a mind-altering substance, to boot. But unlike Coachella's hordes, it's not a pill with a smiley face that someone slipped them in a plastic bag; it's an orange-hued New York real estate developer turned reality star who is nevertheless removing them from their sense of reality and causing a heightened sense of paranoia.
That anxiety and confusion may not have been evident during the impromptu dance party at the Turning Point USA pavilion, or at the "Engaging Millennials" breakout session ("Be authentic"), or in all the attendees' starstruck exclamations ("Oh my god, Emma, guess who we just saw? Thom Tillis!"). But it was there.
"This election has been a complete roller coaster with Trump in the race," said Matthew Schargel, a student at Catholic University in Washington. "I know the hashtag surfaced this week, #NeverTump -- I would count myself as part of that."
"He's basically just taking the party system where the right is overtly populist and nationalist, and that really scares me," added Devon, a 19-year-old Marine stationed at Camp Johnson in Jacksonville, North Carolina.
CPAC is freaking out, man.
Youth support for Donald Trump has been mixed, and the general lack of enthusiasm for The Donald at this year's Conservative Political Action Conference among millennials illustrates the extent to which CPAC -- and the tea party, as well -- no longer represents the Republican Party's insurgent wing. Instead, it's just one-third of a Republican Party composed of establishment, conservative and populist camps. If the mood at CPAC is any indication, the conservative camp, including its young activists, is not eager to Make America Great Again.
"I really don't like Donald Trump, I don't think he has good politics whatsoever," said Victoria, a Marco Rubio supporter and student at Elon University in North Carolina, who added that Trump is "very conceited."  
"I could never go in there and actually vote for him," said Abby Titus, a freshman at Hillsdale College in Hillsdale, Michigan. "I'm not sure what I would actually do."
The Trump campaign's last-minute decision to cancel his appearance at CPAC may have been for the best. While the convention is not without its very vocal Trump supporters, the 43 percent of GOP voters who support him nationally were underrepresented here.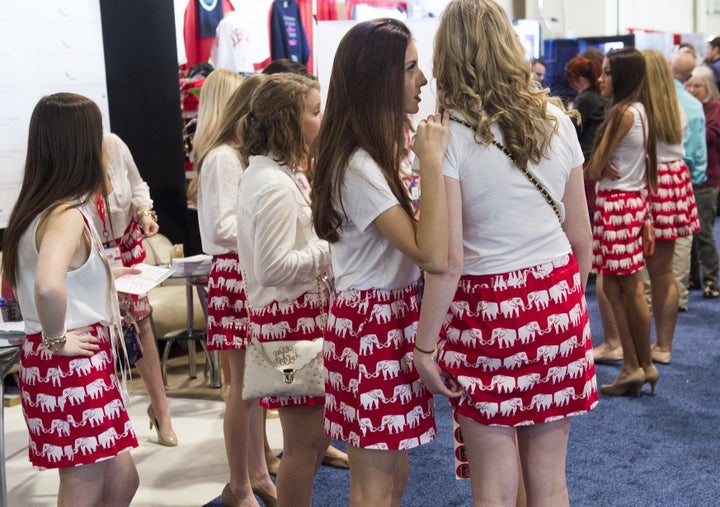 Most of the young voters interviewed at this year's CPAC said they supported Sens. Marco Rubio (R-Florida) or Ted Cruz (R-Texas), drawn to their staunchly conservative platforms. Josh, 19, from Massachusetts, said he was drawn to Cruz's unapologetically conservative platform but was supporting Rubio, whom he viewed as a more electable candidate.
But asked who they would support in the event of a Donald Trump nomination, reactions were more varied, though most insisted they couldn't bring themselves to vote for the former "Apprentice" host.  
"I would not vote for Trump. If we as Republicans nominate someone who espouses what he believes, then I think that we deserve Hillary Clinton," lamented Nick Vaughn, a student at North Carolina's Wingate University.
"I would write in 'Jesus,'" speculated Tavia Vitkauskas, also a freshman at Hillsdale College. "There'd be no hope, it'd be over."
"I'd probably either vote for the Constitution Party," Josh from San Diego said, "or write in somebody cool like my dad."
Not all millennial voters at CPAC were so hostile to Trump, but most who said they would consider voting for him in a general election did so very reluctantly.
"I might have to ride out the Trump thing and pray to Jesus," speculated Julie Havlak, also a Hillsdale College freshman.
George, another Elon University student and a supporter of Ohio Gov. John Kasich, said he would vote for Trump, but added, "The best case I'm hoping for is a contested convention."
He continued, "I tend to be an optimist, so I try to make the best of a situation and hope that maybe through all the muck, there's something worth appreciating about him as a nominee."
Calling all HuffPost superfans!
Sign up for membership to become a founding member and help shape HuffPost's next chapter
BEFORE YOU GO