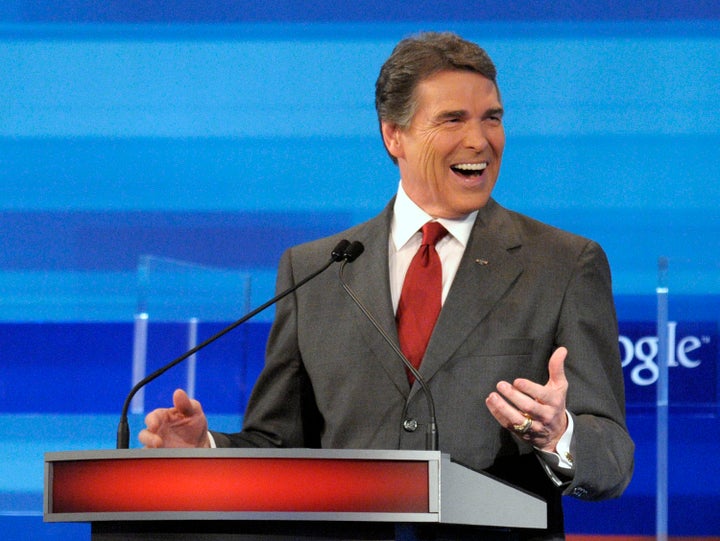 Many conservatives were not happy with Rick Perry's debate performance on Thursday night, and the sentiment was evident in the backlash from right-leaning pundits on Friday.
One of the most vocal critics was William Kristol, who penned a Weekly Standard editorial lamenting the sad state of the GOP presidential field, but Perry in particular. He wrote, "But no front-runner in a presidential field has ever, we imagine, had as weak a showing as Rick Perry. It was close to a disqualifying two hours for him."
Peter Wehner, who worked in the last three Republican administrations, echoed the sentiment that Perry is all but done. He wrote for Commentary magazine, "I hope Governor Rick Perry enjoyed his six-week run as the front runner of the GOP field, because it's now over."
Ross Kaminsky at the American Spectator said that Perry's performance validated criticism that "he's not the sharpest knife in the drawer."
Perry's long-time critics did not pull punches either. Joe Scarborough said, "Rick Perry looked as uncomfortable as a chimp opening a suitcase."
People on Fox News — where the debate took place, and where Perry might have hoped to get a friendly reception — also lit into the governor.
Speaking to Fox News' Bill Hemmer, Washington Examiner writer Byron York called Perry the least effective of the night. Karl Rove (an admitted enemy of Perry's) gave his post-debate analysis on Fox News, and noted, "Governor Perry didn't break through last night. He's had a so-so performance."
Megyn Kelly, who co-hosted the debate, said that she spoke to Republican analysts at the site, and "many of them were pointing to this answer as a missed opportunity by Governor Perry and as an overall representation of how they wanted him to do better but were disappointed."
Perry responded to the criticism on Friday, telling conservative voters, "It's not the smoothest candidate or the slickest debater that we need to elect."
Related
Popular in the Community