WASHINGTON ― For Texas Gov. Greg Abbott (R), suing the federal government is a point of pride.
During Barack Obama's presidency, Texas sued the administration at least 48 times. Abbott, who served as the state's attorney general before winning the governorship in 2014, filed 31 of those lawsuits, according to the Texas Tribune. The Lone Star State has fought the federal government on matters ranging from drugs used for executions to climate change regulations. And Texas Republicans have refused to become part of the Affordable Care Act's expansion of Medicaid, turning their backs on billions of federal dollars.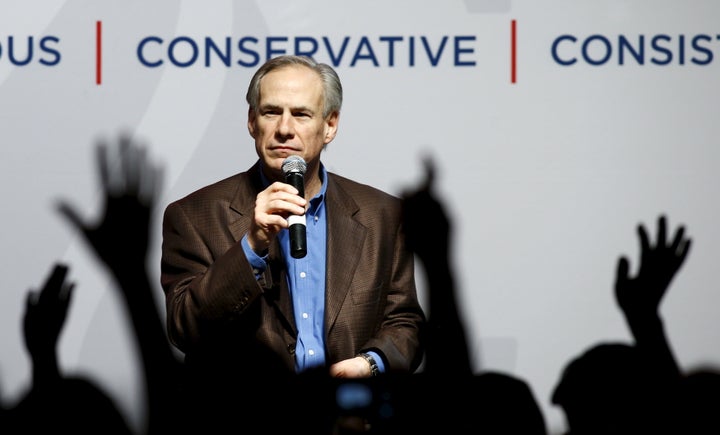 But since catastrophic Hurricane Harvey hit, Abbott has eagerly accepted the feds' support. (Abbott's office did not respond to a request for comment.)
"We could not be more appreciative of what the federal government has done," he said on Sunday, noting that FEMA had been "very actively involved and engaged ... long before the hurricane even hit the ground."
More than 12,400 employees from over a dozen federal departments and agencies are working to respond to the storm damage in Texas and Louisiana, according to a FEMA statement on Wednesday, and more than 63,000 individuals and households have been approved for FEMA assistance.
Conservative Texans don't see a contradiction between fighting the federal government and accepting its help — after all, they say, they already paid for the U.S. government services, so they might as well use them. But Hurricane Harvey has underscored a basic reality of Texas politics: The feds are easier to blame and blast when they're not helping save people's lives in one's homestate.
Texas has engaged in an ongoing tug-and-pull between "trying to get as much out of the federal government as possible while giving the least," said Eric McDaniel, an associate professor specializing in politics at the University of Texas at Austin. But while the federal government is "seen as the bogeyman" by some Texans, people have to "realize how much the federal government actually provides to the state," he said.
Anyone who looks at the flooding in Texas "can quickly see the critical role all levels of government have in protecting lives," said Manny Garcia, deputy executive director of the Texas Democratic Party. But, he added, "Natural disasters are not the only challenges we face. When the cameras are gone, Texans will still face a health care disaster, voting rights abuses, low wages, and high tuition" for state universities.
New Jersey Gov. Chris Christie (R) has labeled members of Texas' congressional delegation "hypocrites" for lining up behind what will no doubt be a massive federal emergency aid proposal after opposing a similar package for the northeastern stateshammered by Hurricane Sandy in 2012.
But others don't see a problem with the conservative state accepting federal help.
"I'm sitting on a mountain of hate mail over here from people that are just gleeful that Texans are suffering right now, and it's absolutely disgusting," said Daniel Miller, president of the Texas Nationalist Movement, which advocates for Texas independence and is helping out with relief efforts. "The opposition [says] 'Oh, look, you guys want independence but yet you've got your hands stuck out looking for federal aid.'"
The way he sees it, "Texas has been paying into this federal system, and when we ask for federal disaster relief, we're essentially just asking for a little bit of our money back."
Miller said he doesn't have concerns with FEMA being in the state, but he remains loath to say a good word about them. "What we do have a problem with is them coming in like they are saviors," he said.
His group's website asserts that "any notion that Texas needs FEMA is misinformation at best and a blatant lie at worst." It also says: "As anyone in Texas can tell you, FEMA gets in the way more than it helps."
Bashing the federal government for political reasons was particularly popular in Texas during the Obama administration, which intensified conservative Texans' natural distrust of big government.
"It became a very easy foil for Texas Republican leaders," where even those running in local elections could campaign as much against Obama as against a local rival, said Mark Jones, a fellow in political science at Rice University in Houston. "It was a winning strategy."
With President Donald Trump in office, there's less benefit for Texas Republicans to attack him or the officials running the relief efforts. But as the recovery from Harvey proceeds "any failures will be 'FEMA, the federal government failing us again,' and successes will be, 'look at our great state leadership,'" said McDaniel.
"You're not going to see a lot of whining about what the federal government has brought or hasn't brought," said Carl Tepper, the former GOP chairman for Lubbock County, Texas. Resolutions advocating Texas's secession from the Union under certain conditions once passed his county convention.
"Texans are a hardy bunch, and they're not going to look to the federal government for help," Tepper said.
But he added, "If there's some help there, and we paid into it and we deserve it, we'll take it."
Popular in the Community