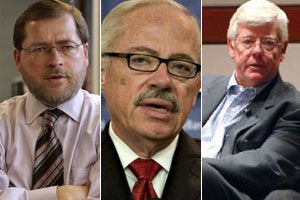 Republicans in Congress are gearing up to fight a new White House effort to relocate detainees at Guantanamo Bay to a prison facility in Illinois. But on Sunday, a group of highly respected conservative figures lent their support to the transfer, calling it necessary to "preserve national security" while simultaneously avoiding "sweeping and radical departures from an American constitutional tradition."

In a joint statement prepared by the Constitution Project, David Keene, founder of American Conservative Union, Grover Norquist, president of Americans for Tax Reform, and former representative and presidential candidate Bob Barr say moving suspected terrorists to the Thomson, Illinois prison facility, "makes good sense." Taxpayers, they note, have already invested $145 million in the facility, which has been "little used." And the surrounding community, they add, could benefit from increased employment once the prison becomes filled.
"The scaremongering about these issues should stop," they add, noting that there is "absolutely no reason to fear that prisoners will escape or be released into their communities."
The letter is a bit of a boost for the Obama administration, which has had great difficulty finding a politically palatable way to transfer prisoners and close Gitmo. Still, having the support of an elected Republican would be preferable. Already, Mark Kirk, the Republican Senate candidate in Illinois, has blasted the administration for considering the Thomson facility.
"As home to America's tallest building, we should not invite Al Qaeda to make Illinois its number one target," Kirk said in a letter circulated Saturday.
Here is the entire statement from Norquist, Keene and Barr::
As it moves to close Guantanamo and develop policies for handling terrorism suspects going forward, the government should rely upon our established, traditional system of justice. This includes our system of federal prisons, which have repeatedly proven they can safely hold persons convicted of terrorism offenses.

We are confident that the government can preserve national security without resorting to sweeping and radical departures from an American constitutional tradition that has served us effectively for over two centuries.

Civilian federal courts are the proper forum for terrorism cases. Civilian prisons are the safe, cost effective and appropriate venue to hold persons convicted in federal courts. Over the last two decades, federal courts constituted under Article III of the U.S. Constitution have proven capable of trying a wide array of terrorism cases, without sacrificing either national security or fair trial standards.

Likewise the federal prison system has proven itself fully capable of safely holding literally hundreds of convicted terrorists with no threat or danger to the surrounding community.

The scaremongering about these issues should stop.

Using a state of the art but little used prison facility like the one at Thomson, Illinois - with any appropriate security upgrades our law enforcement professionals deem necessary - makes good sense for the tax payers who invested $145 million in the facility and who are seeing millions wasted every month at the costly, inefficient Guantanamo facility. It makes sense for the community which will benefit from the related employment and has absolutely no reason to fear that prisoners will escape or be released into their communities.

But most of all it makes sense for America because it is a critical link in the process of closing Guantanamo and getting this country back to using its tried and true, constitutionally sound institutions.

SIGNATORIES:
Bob Barr, Member of U.S. Congress (R-GA), 1995-2003; CEO, Liberty Strategies, LLC; the 21st Century Liberties Chair for Freedom and Privacy, the American Conservative Union, 2003- 2008; Chairman, Patriots to Restore Checks and Balances; Practicing Attorney

David Keene, Chairman, American Conservative Union; Member, Board of Directors, National Rifle Association

Grover Norquist, President, Americans for Tax Reform

*Affiliations are listed for identification purposes and do not imply the endorsement of the organizations with which the signatories are affiliated.
UPDATE: During his show on Monday night, MSNBC's Keith Olberman hit on the notion that the debate about closing Gitmo can no longer be thought of as simply conservatives vs. liberals. In a segment with Newsweek's Jonathan Alter, the Countdown host made the case that Republicans like Rudy Guiliani have become increasingly isolated from mainstream thinking on issues of detaining and trying terrorist suspects.
"About these three conservatives," said Olberman, "particularly Mr. Barr, who is now in agreement with me that this is scaremongering -- if this is the consensus, Bob Barr and me and Grover Norquist, how bad has the GOP become in terms of trying to exploit this deadly serious issue for political advantage?"
LATER UPDATE: There are, it should be noted, additional conservative and Republican figures who have signed the Constitution Project's petition calling for Gitmo's closure. The list includes former Reps. Mickey Edwards (R-Ok) and Barry Goldwater Jr. (R-Calif) as well as Scott McConnell, editor-at-large of The American Conservative, David C. Miller Jr., who served on the National Security Council for President George H.W. Bush, and Lawrence Wilkerson, former chief of staff to Secretary of State Colin Powell.
Popular in the Community