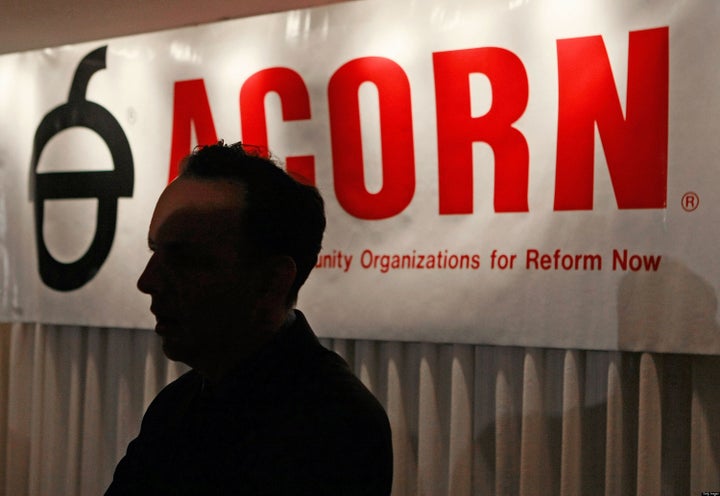 WASHINGTON -- The Association of Community Organizations for Reform Now (ACORN) spent years being a conservative villain and was finally felled in November, when it filed for bankruptcy. The fatal blow came when Congress pulled federal funding from the group after undercover videos of ACORN employees filmed by a conservative activist made the community organizing group a political pariah.
ACORN is gone. Its employees have scattered elsewhere, and the most recent news on its website was about the group's bankruptcy. But many conservatives still worry that this bogeyman is lurking around, haunting them and getting ready to make a return.
A March survey from the Democratic-leaning group Public Policy Polling found that 25 percent of GOP primary voters believe the community organizing group would still try to "steal" votes for Democrats in 2012. Forty-three percent disagreed with this possibility, and 32 percent said they were unsure.
Tucked into the Defense, Interior and Commerce, Justice and Science appropriations bills are provisions explicitly banning funds from being "distributed to the Association of Community Organizations for Reform Now (ACORN) or its subsidiaries." Rep. Steve King (R-Iowa), a longtime crusader against ACORN, also inserted an amendment into the Homeland Security funding bill banning ACORN funding.
"ACORN is a corrupt criminal enterprise that threatens our democratic system of government by systematically committing voter registration fraud," said King. "American taxpayers should not be asked to fund an organization that is dedicated to corrupting the sanctity of every American's vote."
King did not return a request for comment. A GOP aide said the ACORN language was simply a general provision carried in many appropriations bills and had appeared in some in the past.
"Why these things are coming out now -- I really have no clue. It's like beating a dead horse, right? It's just crazy. No one is lobbying the other side on this," said a former senior ACORN official.
"There are all these other organizations that have developed with former ACORN members, former ACORN staff, in lots of different cities and states, but they are technically and legally not successor organizations," the former official continued. "They are not subject to any ban on funding of ACORN. Many of these are named by name in some of these proposed bills, but they have all made the politically smart decision, in my view, that they are not planning to apply for federal funding."
One of the groups in the crosshairs lately is the Affordable Housing Centers of America (AHCOA). The conservative group Judicial Watch noted that the Department of Housing and Urban Development (HUD) recently issued a $79,819 grant to AHCOA "in apparent violation of an ACORN funding ban passed by Congress and signed into law by President Obama in 2009."
The Judicial Watch investigation also pointed out that AHCOA's name was once the ACORN Housing Corporation, Inc., and it highlighted two HUD Inspector General investigations that flagged irregularities in AHCOA's work.
AHCOA spokesperson Alyson Chadwick denied that the group has any association with ACORN.
"The language of the bill says that anyone who is an affiliate, subsidiary or ally of ACORN cannot get funding. We are none of those things," she said.
A September 2010 opinion by the Government Accountability Office (GAO) backed up this assertion: "It is our view that AHCOA, as presently configured, does not fall within the scope of section 418 because it is not an affiliate, subsidiary, or allied organization of ACORN." It reiterated this finding last month as well.
AHCOA, a national nonprofit, was originally founded in 1985 by ACORN members and operated as ACORN Housing Corporation, Inc. Since then, however, according to the GAO, it "has taken measures to sever its ties with ACORN" and changed it name to AHCOA in December 2009.
Judicial Watch president Tom Fitton, however, called the GAO opinion "ridiculous."
"There's no doubt that ACORN Housing is an allied organization. A bill that was meant to restrict funding to ACORN Housing and was signed into law by the president -- the idea that there was any notion that they could get the money as long as they changed their name is silly," he said.
"[HUD Secretary] Shaun Donovan is close to ACORN," he added. "ACORN's a known quantity at HUD. They know exactly what they're doing here. They're lining up the legal opinions and advice to bless them, but it's not going to fool anyone. The law is what the law is."
In response to the Judicial Watch investigation, HUD also pointed to the GAO letter to show that it was in compliance with the law.
REAL LIFE. REAL NEWS. REAL VOICES.
Help us tell more of the stories that matter from voices that too often remain unheard.