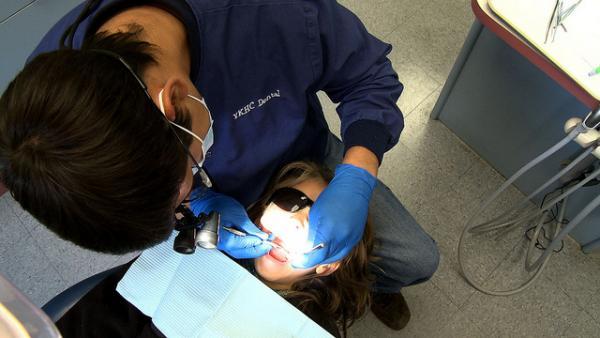 If you're following the heated debate over whether the Affordable Care Act should be repealed and replaced, you might conclude that expanding access to health care is a goal that's inconsistent with controlling government spending. You might also conclude that finding common ground is impossible because, it seems, right-leaning organizations want to talk only about cutting taxes while left-leaning organizations want to talk only about reducing the number of people without health care benefits.
That's the conventional wisdom in DC, but it doesn't apply to what's going on in the states in one important but underreported issue: the growing number of Americans without access to dental care.
Finding ways to alleviate the crisis caused by a lack of access to dental care in the US has brought the left and right together in many state capitals. While most media attention has been focused on the lack of consensus on health care in Washington, several conservative organizations and think tanks, like the Phoenix-based Goldwater Institute, have joined state-based coalitions now spanning the political spectrum that advocate for a free market approach to addressing the oral health crisis. What they all agree on is that the dental workforce can and should be expanded, and that it can be done in a way that will not cost taxpayers anything.
As I reported last month, the Goldwater Institute issued a comprehensive report which recommended that states allow midlevel professionals, called dental therapists or dental health aide therapists, to practice, especially now that the Commission on Dental Accreditation has issued standards on their education and training. The Institute joined Americans for Prosperity, Americans for Tax Reform, the Heartland Institute and the Charles Koch Institute in recommending the licensure of dental therapists. The groups also criticized the organization that is trying to block this initiative: the American Dental Association (ADA).
The ADA contends that there is an adequate supply of dentists and that only dentists should be allowed to perform what it refers to as surgical procedures. (Dental therapists are trained to provide a relatively narrow but scope of services, ranging from education and preventive care to some extractions. When they determine that a patient's oral health needs are beyond their scope of practice, they must refer the patient to a dentist.)
The coalitions of strange bedfellows that have been forming across the country are quietly scoring victories, despite the ADA's opposition. Dental therapists, who've been serving communities in other parts of the world for nearly 100 years, are now treating patients in Alaska, Minnesota, Oregon and Washington State. They've now also been authorized to practice in Maine and Vermont. Several other states are expected to follow suit in the next year or so.
While dental therapists do not practice independently—they always work as part of a dental team and under the supervision of a dentist—they can treat patients in communities where dentists are few and far between. In Alaska, for example, they serve 45,000 Alaska Natives in more than 80 tribal communities, many of which are hundreds of miles from the nearest dentist's office.
As the organizations supporting dental therapists often point out, dental therapists get more experience in the services they provide than dentists, which goes a long way toward explaining why numerous studies have found that the care they provide is both safe and effective.
Advocates cite varying reasons for endorsing dental therapists.
· Dental therapists help alleviate a crisis while also creating jobs—and at no expense to taxpayers.
· Dental therapists enable people in underserved areas to get the care when and where they need it from culturally competent providers, often providers from their communities.
· Dental therapists reduce racial and ethnic disparities in dental care and expand care to the most vulnerable among us, especially children in low-income families.
· Dental Therapists expand the dental team productivity, lower costs and allow practices to see more patients, especially Medicaid patients
We have a shortage of dentists in many parts of Kansas, and a severe shortage of dentists willing to accept Medicaid…Americans for Prosperity-Kansas supports efforts to provide new opportunities for individuals to maximize their own potential, while improving the availability and quality of dental care in Kansas.
Dental therapists are highly trained, mid-level professionals who can perform routine and preventative services in a role similar to that of physician assistants in medicine. They are a cost-effective way to increase access to critically-needed dental care across Kansas…(H)iring mid-level dental providers is (also) a cost-effective way to increase access to care while giving dentists the opportunity to grow their businesses at no cost to the state…. Through the dental therapy model, we can ensure every Kansan has access to routine, quality dental care, without driving to the next county or waiting weeks to get an appointment.
In what has been called a "big idea" for social change, a new category of mid-level dental practitioners known as "dental therapists" may hold the key for providing dental services in underserved and rural populations. Like hygienists, dental therapists work under the supervision of dentists with collaborative agreements that allow them to provide an expanded list of services to patients.
Americans for Tax Reform supports this bold type of dental care reform because it, at no cost to taxpayers, stands to expand health care to underserved populations in the United States.
Limiting the supply of providers not only increases the cost of care services, it forces consumers and government payers to pay prices higher than they might otherwise…The American Dental Association's own Council on Scientific Affairs has acknowledged that, "The results of a variety of studies indicate that appropriately trained midlevel providers are capable of providing high-quality services, including irreversible procedures such as restorative care and dental extractions."
The oral care shortage affecting North Dakotans of various ages and income levels warrants the entry of midlevel dental providers in the state…Dental therapy is a 95-year-old profession with proven success at increasing oral care access for underserved patients in more than 50 countries, including the United States. Permitting dental therapists to obtain licenses in North Dakota would expand access for populations rural and urban, young and old, on Medicaid and off Medicaid. Dentists, who are currently obstructed from hiring dental therapists, would gain the freedom to grow their practices by building their dental dream teams.
North Dakota should take advantage of the knowledge provided by other states' laboratories of democracy, making North Dakotans heirs and pioneers of the free market's successful experiments with dental therapy.
In addition to the websites of various state-based coalitions (see links above), you can find more information about dental therapists on the websites of the W.K. Kellogg Foundation and the Pew Charitable Trusts, both of which support the expansion of the dental workforce to include midlevel providers.
Support HuffPost
The Stakes Have Never Been Higher
Related
Popular in the Community