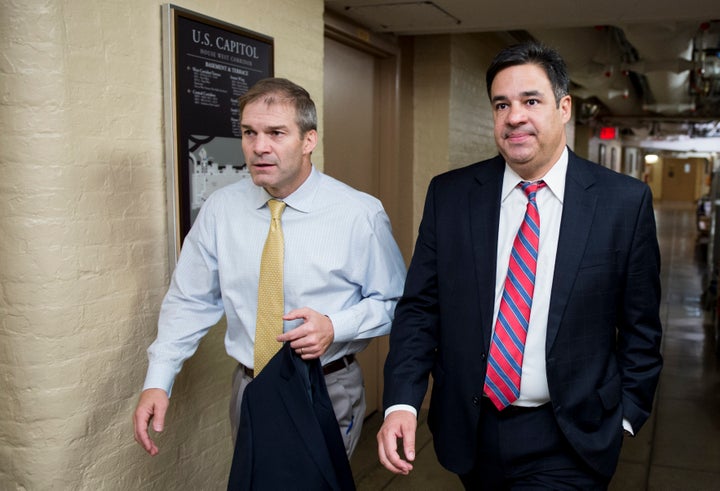 "There's a lot of concerns about the numbers, and people not just in the Freedom Caucus but outside of the Freedom Caucus are saying that there's no way they can vote for these numbers," HFC member Rep. Raul Labrador (R-Idaho) told The Huffington Post Monday night. "This is the Boehner budget."
At the end of October, as one of the last acts of John Boehner's speakership, Democrats and Republicans agreed to a new fiscal 2017 number roughly $30 billion above the topline spending cap set under sequestration.
That budget in October passed with the support of 91 Republicans and all but two Democrats, meaning 152 Republicans voted against that legislation. And if you listen to Labrador, that vote doesn't portend well for adopting that budget number this year.
"Everybody who voted against the budget has a problem with turning around and voting for the budget," Labrador said.
Conservatives have been pushing leadership to go back on the October budget agreement to adopt the lower number set under sequestration in 2011. And while Speaker Paul Ryan (R-Wis.) and Majority Leader Kevin McCarthy (R-Calif.) told Budget Committee members in January that "the number is the number," according to a senior GOP aide, Freedom Caucus members simply don't buy it.
"Can I support the Boehner budget?" HFC member Tim Huelskamp asked Monday. "Absolutely not! We just kicked him out as speaker."
Huelskamp repeated a common line Monday night -- that the budget is "in trouble" -- and he said GOP leadership already didn't have many votes to spare.
So what does leadership do now?
"They'll probably head over to Nancy, I guess," Huelskamp said, referring to Minority Leader Nancy Pelosi (D-Calif.).
"They won't vote for the budget," Huelskamp said of Democrats, "but will they vote for a resolution to deem the number they voted for last fall?"
""I just wish we didn't have so many examples of the Senate just absolutely thumbing their nose at us"
Asked about that possibility Monday night, Ryan's office said they had no further comment beyond what they told HuffPost last week, that members want to get back to a regular order appropriations process, that the budget is an important first step to achieving that goal, and that "the best path ahead" would be determined in the coming weeks.
But Freedom Caucus members don't seem to buy Ryan's argument that a budget will make a difference on the appropriations process.
"Let's do the appropriations at the lower number," Labrador said.
"Isn't that how it's supposed to work," Labrador continued. "We can vote bills out of the House, and the Senate votes bills out of the Senate. I don't know, maybe something in the Constitution talks about that?" Labrador said sarcastically, adding that he "may be confused though."
Yet another HFC member, Rep. Mick Mulvaney (R-S.C.), was a little more sympathetic to Ryan's argument.
"I understand it," he said. "I just wish we didn't have so many examples of the Senate just absolutely thumbing their nose at us when it comes to the appropriations process. If there was any credibility on the other side of the building, that argument might carry a lot more weight."
But with so much doubt that the Senate will take up appropriations bills, with doubt that they'll even pass their own budget, conservatives don't seem to think it makes much sense for Republicans to vote for a blueprint with more spending -- especially in light of new baselines from the Congressional Budget Office that show growing deficits.
It's those baselines which had already given GOP leadership a difficult challenge. To get the budget to balance in 10 years, which has traditionally been the Republican goal, it was going to take drastic cuts to popular programs -- something many vulnerable Republicans aren't ecstatic to do in an election year. And, on the other side, defense hawks could look at the budget as an opportunity to advocate for more money for the Overseas Contingency Fund, as they did last year.
The truth is the budget was already in trouble before conservatives ever started making problems. And if leadership figures out that there's no coalition of 218 Republican votes, they may start to see the conservative insurrection as a blessing.
On Monday night, as Labrador slammed the spending document, Budget Chairman Tom Price (R-Ga.) walked by Tortilla Coast, holding a pile of dry-cleaned shirts. Labrador looked at Price. Price looked at Labrador. And the two congressmen waved at each other.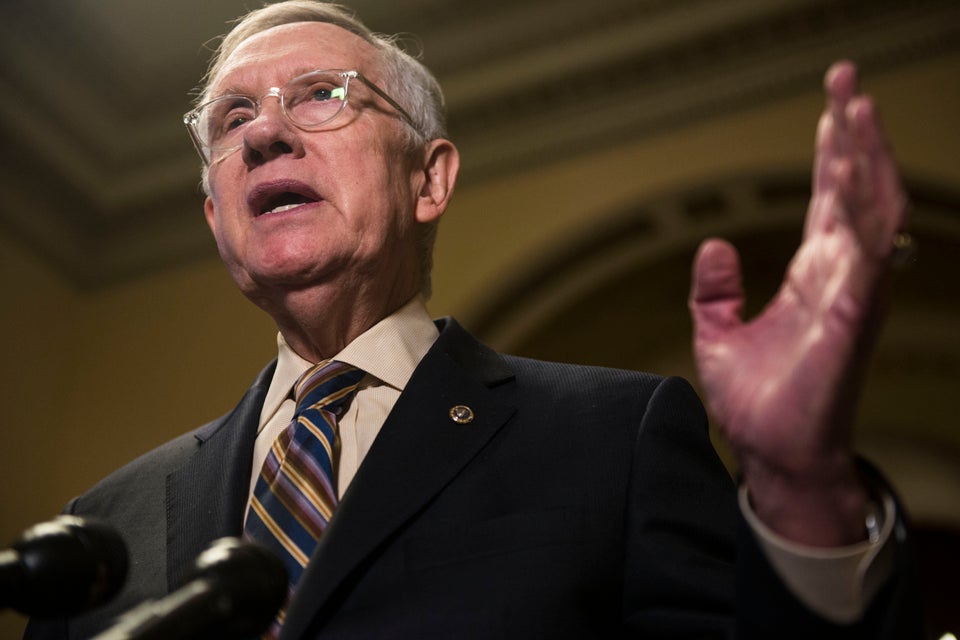 Politicians React To Paul Ryan Getting Elected Speaker
Popular in the Community