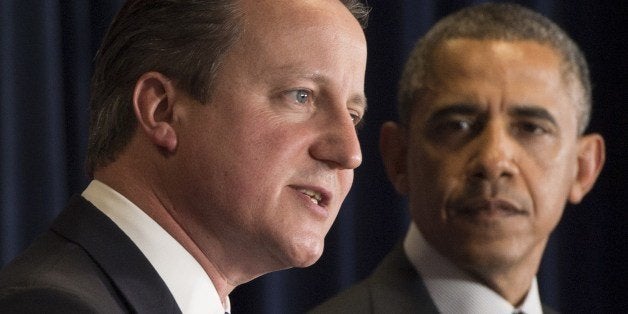 British Prime Minister David Cameron delivered a forceful speech on Friday, talking about the need to address the mounting threat his nation faces from the Islamic State, the militant group formerly known as ISIS or ISIL. A day after President Barack Obama had spoken about the extremists in a White House press conference -- and attracted criticism for saying "we don't have a strategy yet" for a broader military operation -- Cameron vowed to take on radical Islam "at home and abroad."
Cameron's urgent tone and strong words about the "poisonous and extremist ideology" of radical Islam were enough for U.S. conservatives to decide that the British prime minister had demonstrated a meaningful contrast between his leadership style and Obama's:
So much so that some American conservatives even wished they could have tradesies with the U.K., offering up Obama for Cameron.
But the truth of the matter is that the strategies of the two nations -- or lack thereof, if Obama's soundbite is the only thing being taken away from his press conference -- are not substantially different. British authorities announced Friday that they were raising the terror threat level to "severe," and Cameron said he would unveil legislation to restrict British travel to Syria and Iraq. The White House said Friday that it didn't have plans for a similar threat-level increase, though U.S. authorities already have extensive powers to restrict the travel of almost anyone, either into or out of the country.
One primary difference between the two nations is that the U.S. is actually already bombing the Islamic State -- which, presumably, is a more impressively masculine move in the eyes of conservative hawks than tough talk. So far, the operation has cost about $560 million, an average of $7.5 million a day. Cameron is considering joining the U.S. in its airstrikes in Iraq and will reportedly make an announcement next week at a NATO summit in Wales.
Whether to further expand the U.S. military operation against the Islamic State in Iraq and into Syria is a difficult decision and, as The Daily Beast reported Thursday, one that the Obama administration still couldn't reach a consensus on after "days of heated debate inside the top levels of his own national security bureaucracy." As the president said Thursday, action must be part of a "broader, comprehensive strategy to protect our people and to support our partners who are taking the fight to ISIL." Stressing the need to include regional forces in any decision, the president said he would act "as soon as we are able to fit together the military, political and economic components of that strategy."
It's fair to expect Obama to develop a strategy to combat the Islamic State in Iraq and Syria. But while Cameron's stern tone (and British accent?) may arouse stateside conservatives, let's not mistake the volume and emphasis of his words for a real solution.
Or, perhaps, it wasn't really the words that mattered.
REAL LIFE. REAL NEWS. REAL VOICES.
Help us tell more of the stories that matter from voices that too often remain unheard.
BEFORE YOU GO
PHOTO GALLERY
Syria War In August