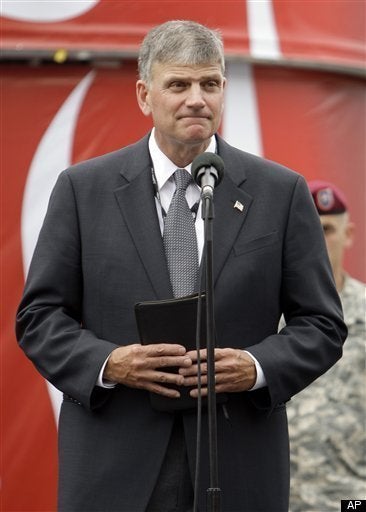 By Adelle M. Banks
Religion News Service
WASHINGTON (RNS) Conservative Christian leaders blasted the Army's decision to disinvite evangelist Franklin Graham from a Pentagon event on the National Day of Prayer because he has been critical of Islam.
Graham, this year's honorary chair of the National Day of Prayer Task Force, was scheduled to speak at a May 6 event coordinated by the independent task force with the Pentagon chaplain's office.
The Military Religious Freedom Foundation and the Council on American-Islamic Relations pushed the Pentagon to rescind Graham's invitation, citing his comments that Islam was an "evil and wicked religion" and Muslims are "enslaved by Islam."
Col. Tom Collins, an Army spokesman, said Army leaders thought it was "problematic" to include Graham in the annual program. "His past comments about Islam are not consistent with the multifaith emphasis and inclusiveness of this event at the Pentagon," Collins said.
Family Research Council President Tony Perkins said Graham's "deeply held biblical convictions" were not a reason to deny him the speaking opportunity.
"The fact that he has theological differences with Islam -- differences wholly in keeping with the teachings of the New Testament -- and that he has expressed them publicly, is now being used by anti-Christian zealots in a manner offensive to the freedom of religion guaranteed by the very Constitution military leaders are sworn to uphold," Perkins said.
Shirley Dobson, who leads the task force, said Pentagon officials "melted like butter and withdrew the invitation" after receiving complaints from "a small group of naysayers."
Graham, the son of evangelist Billy Graham, issued a statement saying he regretted the Army's decision and will continue to pray for the troops.
Calling all HuffPost superfans!
Sign up for membership to become a founding member and help shape HuffPost's next chapter