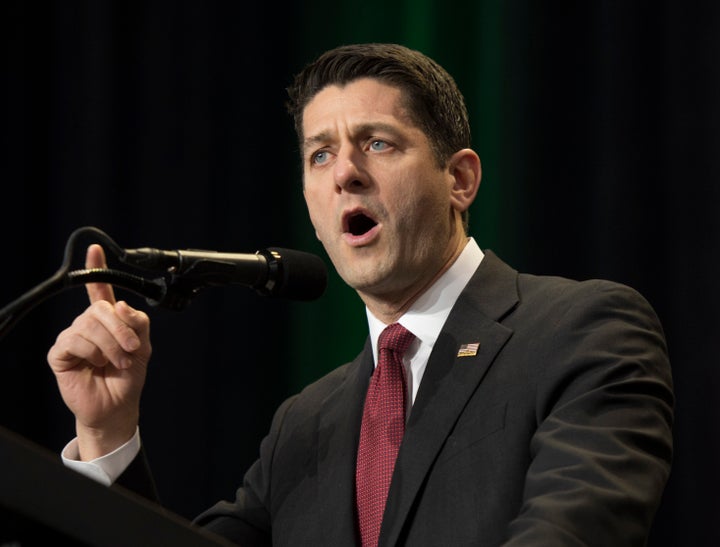 WASHINGTON ― Already looking for reasons to oppose House Speaker Paul Ryan (R-Wis.), conservatives reacted with conspiratorial suspicion to news of the National Republican Congressional Committee paying for an ad seeming to knock Donald Trump.
"They knew exactly what they were doing," Rep. Tim Huelskamp (R-Kan.) told The Huffington Post. "They wanted to pick a fight, they wanted to stick it in the face of Trump and Trump supporters."
Huelskamp was a bit more willing to speak on the record about the ad now that he's leaving Congress, but other members HuffPost talked to on background had similar thoughts. "This is all about Paul Ryan and his effort to make sure people know he's different from Donald Trump," said one conservative member.
"I think this is an indication he doesn't want the job," said another Republican Congressman. "How else do you allow that to happen? You know it will be an issue."
Of course, legally, Ryan can't coordinate with the NRCC, but that isn't stopping Republicans from blaming Ryan and the mood he's helped foster against Trump.
The issue that has conservatives so riled up is an ad paid for by the NRCC touting Rep. Bob Dold (R-Ill.) standing up to the GOP nominee. "I think Donald Trump has disqualified himself," Dold says in an appearance on CNN that was clipped for the commercial.
It was remarkable because the NRCC, the official campaign arm of House Republicans, was running an ad praising a Republican for opposing the Republican nominee. Moreover, Trump himself helped pay for that ad, albeit indirectly. (Trump's joint fundraising committees gave money to the Republican National Committee, and the Republican National Committee gave money to the NRCC, most recently $1 million in September.)
For context, a Democratic operative characterized a campaign committee running an ad against its party's nominee as "truly insane."
"Imagine if the DCCC had run ads against Obama in 2014," the operative said. "This will only create further chaos in the Republican Party and for establishment figures like Paul Ryan."
The Trump campaign didn't respond to multiple requests for comment about the ad. And Ryan's office declined comment too. But the overall reaction from conservatives, despite Ryan truly not having anything to do with the ad, was that the speaker and the NRCC had crossed a line.
"Unbelievable!" was Rep. Raul Labrador's one-word response, with the Idaho Republican choosing to leave it at that.
"Republicans have created a messaging vacuum for the past 20 years, so let me clear it all up right here," Rep. Dave Brat (R-Va.) said in a text message. "We stand for the Judeo Christian tradition, the rule of law, and for free markets. As soon as the NRCC can start messaging and spending on that, we will win again and make America great again." He attached a thumbs-up emoji at the end.
It was Huelskamp, however, who had the harshest words, seeing a direct line between the commercial and Ryan's effort to be re-elected speaker ― or president of the United States, for that matter. ("I think Donald Trump pretty well closed the door on that," Huelskamp said.)
Huelskamp's take was that Ryan had "at least 20" Republicans who were currently opposing him to be speaker, and that it would grow "after something like this."
"He doesn't have 218 votes today, but there's not going to be a vote," Huelskamp said. Instead, Huelskamp thought Ryan might decline to run, particularly if Republicans lose a large number of seats this Election Day and he sees that there's no viable path for him to be speaker besides accepting Democratic votes.
"He's in trouble. My summation is he's in trouble," Huelskamp said.
Huelskamp is still bitter about his own re-election loss in August, when he felt that Ryan didn't do enough to step in and deter outside spending from conservative groups with close business ties who opposed Huelskamp in his primary, and the Kansas Republican didn't buy that Ryan had no hand in the Dold ad.
"I'm hard-pressed they didn't know they were going to create a controversy," he said.
Another member had an interesting take that the NRCC decision to run the ad might have more impact than just on Ryan, focusing his attention on NRCC Chairman Greg Walden (R-Ore.).
"This isn't going to help Walden be Energy and Commerce chair," the Republican said, referring to a contest primarily between Walden and Republican John Shimkus (R-Ill.) to be chairman of that committee.
Popular in the Community