WASHINGTON ― As the GOP plan to repeal and replace the Affordable Care Act becomes less of a pamphlet and more of a bill, House Republican leaders are hoping recalcitrant conservatives in their party who claim they can sink those efforts won't be willing to cross President Donald Trump.
GOP leaders are insisting that Trump is with them. Yet nobody is quite certain where the president stands on the current repeal bill ― or where he ultimately will be.
During a closed-door conference Thursday morning, GOP leaders did everything they could to circle, underline and highlight anything they interpreted as clues that the president supports them. They went so far as to cut up clips of Trump's speech and tie his vague words to specific components of their plan.
In the House GOP leadership edit of Trump's address, for instance, "tax credits" become "advance refundable tax credits" ― a controversial cornerstone of House Speaker Paul Ryan's replacement plan that conservatives say is nothing more than another monthly welfare check.
The leadership response is less focused on the policy, however, and more on raw power. Their message to their colleagues at Thursday's gathering: Whatever you may think of the plan, Trump supports it. And that's all you should need to know.
Some members drove that message home ― totally not at the direction of leadership, they insist ― when they lined up at the microphones and talked about how Trump was very popular in their districts and how they would get "fried," in the words of Rep. Bradley Byrne (R-Ala.), if they didn't support the Obamacare repeal.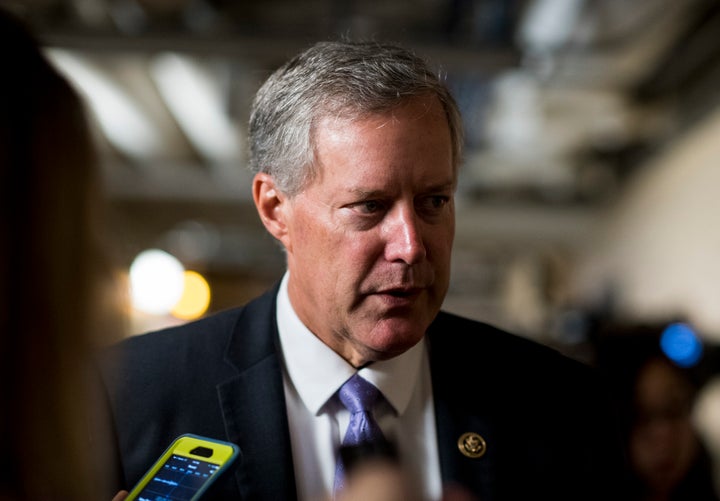 What GOP leaders and their allies lack in subtlety, they may make up for in sheer momentum. The plan to repeal and replace Obamacare was looking like it could be in real trouble early in the week, when more conservative Republicans were drawing hard lines on the legislation and members were coming out saying they couldn't support the bill if it looked like the one that leaked two weeks ago.
The House Freedom Caucus took an official position against any repeal that is weaker than the one Republicans passed in 2015. Those roughly 40 House Freedom Caucus members, as well as the chairman of the Republican Study Committee, were speaking out against the advance refundable tax credits that would be part of a health care plan.
But the mood has shifted a bit since Trump's speech, even though Trump was unclear and barely offered an endorsement of GOP leaders' plan. "He didn't say 'advance' or 'refundable,'" Freedom Caucus Chairman Mark Meadows (R-N.C.) noted later in the week. "He did say 'tax credits,' and I'll give him that."
Meadows swears he won't support a repeal that includes those sorts of payments, saying they would functionally create a new entitlement. But he also won't say exactly how many votes he truly has to say "no" to a repeal. Most conservatives were hesitant to speculate on the record whether they could actually hold strong, though Meadows told HuffPost on Friday that he thought it'd be unlikely that Republicans could pass the current bill.
"It is clear, that without substantial changes to the replacement portion of the bill, there is little chance of reaching the 218 vote threshold," Meadows said. "HFC continues to look for common ground on conservative areas of concern and we remain optimistic that a path forward will ultimately be found."
But if Trump's tepid endorsement was enough to move the mood of the conference, imagine the pressure the president could apply if he started calling members ― or perhaps worse, started tweeting about them. After years of shouting about how Congress needs to repeal Obamacare, are Republicans from some of the most pro-Trump districts really willing to oppose a repeal plan that Trump supports?
"I know from my constituents back home, if the president is in support of it ― my district is a 68 percent Trump district ― if the president's in support of it, that gives them a certain comfort level," Freedom Caucus member Rep. Morgan Griffith (R-Va.) told HuffPost this week.
One GOP member said he thought the plan from House GOP leaders was to speed through debate on this bill and "shove it down" other Republicans' throats, essentially daring conservatives to oppose Trump and an Obamacare repeal.
I know from my constituents back home, if the president is in support of it ... that gives them a certain comfort level.

Rep. Morgan Griffith (R-Va.)
Moving forward quickly with a repeal plan would have the added benefit of not letting opposition outside of Congress harden. Moderate Republicans who often fold to pressure from their leaders would get on board and maybe just hope the Senate could temper the most controversial provisions ― or that the legislation would just fail there entirely.
The little secret among House moderates is that an Obamacare repeal vote is easier for them if it's just going to die in the Senate. No one is clear on what the Senate can pass, both because of the chamber's rules on reconciliation that could subject parts of the House bill to 60 votes, and because some of the moderates in that chamber may have more of an appetite to hold up a repeal over items like gutting the Medicaid expansion.
The Senate is hardly discussing Obamacare at this point, bogged down in confirmations and the latest revelations about Trump and Russia. And senators seem perfectly fine with the House acting first on health care.
Speaker Paul Ryan (R-Wis.) met with a small group of Freedom Caucus members on Wednesday, and Health and Human Services Secretary Tom Price has been meeting with members to allay their concerns as well. "And I would say that the discussions are fruitful," Meadows said.
But there are plenty of provisions in the Obamacare repeal bill that conservatives don't like. "Advance monthly refundable tax credits is a euphemism for a new monthly entitlement check," Rep. Thomas Massie (R-Ky.) told HuffPost on Friday, sounding perfectly at ease with voting against the legislation.
It's just a question of whether there are enough conservatives willing to take the heat, and whether the measure's other pitfalls will cause hang-ups for other members. For instance, hardly anyone is talking about how the legislation is expected to raise the cap on how much insurance companies can charge seniors compared to young people. The ratio is currently 3-to-1 in the Affordable Care Act, but the GOP's plan would change it to 5-to-1.
Still, leadership's plan to keep the bill hidden until the last possible moment before a markup, move it through committees as quickly as possible and get it to the floor before the end of the month could work ― especially if only a handful of Republicans have the mettle to buck Trump.
This story has been updated with a comment from Mark Meadows.
Calling all HuffPost superfans!
Sign up for membership to become a founding member and help shape HuffPost's next chapter