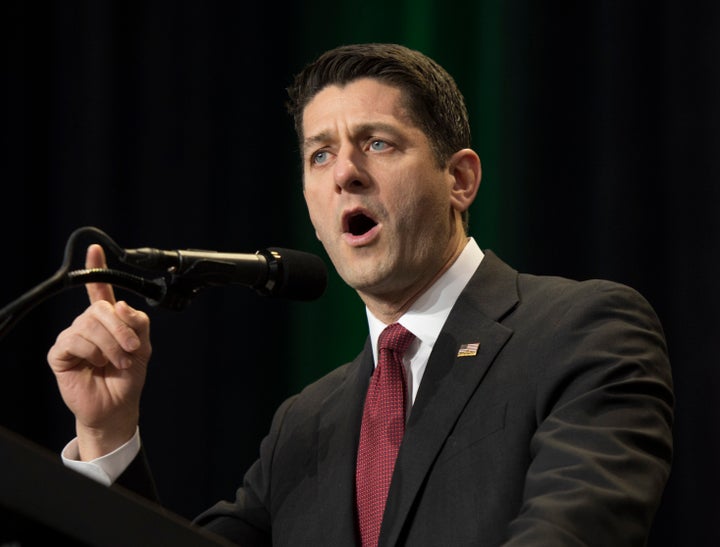 WASHINGTON -- Rep. Paul Ryan's speakership is only a few weeks old, but conservatives are already saying the Wisconsin Republican has changed Congress for the better -- even if, in their telling, it's the GOP agitators who maybe deserve the credit.
"I'm extremely pleased with the approach that he has taken," Rep. Cynthia Lummis (R-Wyo.) told reporters at a recent panel discussion hosted by the Heritage Foundation. 
Lummis, who is retiring at the end of this term, said she had gotten to know Ryan years ago on the House Budget Committee. "And I see him as the same person today that he was then, in terms of the issues that he wants to approach," Lummis said.
She complimented how Ryan has handled what was, in her mind, the biggest problem facing Congress. "Which was that Congress had become a command control, reward-and-punishment organization," said Lummis.
"Paul Ryan, I think, chafed under that system as well," she said.
Other conservative lawmakers on the panel generally seemed to think that Ryan wants many of the same things they do -- a GOP-led overhaul of entitlement programs and health care, a more open process for bringing amendments to the floor, more power at the committee level -- and they recognized his efforts to bring them into the fold.
"I want to give him a lot of credit here for saying the right things, and trying to do the right things at this point," said Rep. Thomas Massie (R-Ky.), who helped write a resolution to oust then-Speaker John Boehner (R-Ohio) in July and who voted against Ryan to be speaker last month.
While Massie stopped short of a full endorsement, he said what Ryan was trying to do was akin to turning a battleship. "And it's going to take a long time," he said. 
Rep. Randy Weber (R-Texas), who also voted against Ryan, summoned the battleship metaphor as well to describe changes in the House. "Some people say the Republican conference is broke," he said. "No, it's not. We're making adjustments."
So far, those adjustments have led to changes on the House Republican Steering Committee, which picks the chairman for every House committee, and more amendment votes, like on a recent highway bill. Ryan also established a Speaker's Advisory Group, an unofficial panel of eight Republicans from different sections of the conference to, at best, help him make decisions and, at least, take the temperature of his colleagues.
On Wednesday, Ryan's office was more than happy to take a victory lap for the changes he's already made and the positive reactions he's received.
"Speaker Ryan believes our conference is strongest when it's united, and he is committed to creating an inclusive speakership," Ryan press secretary AshLee Strong told The Huffington Post. "He's encouraged to hear members across the conference express confidence in this approach."
Of course, this is the Republican conference, where uniformity is often elusive, and not every conservative speaks as well of Ryan. When HuffPost asked Rep. Mo Brooks (R-Ala.) how the new speaker had done so far, Brooks said Ryan had performed "about as expected," and Brooks was content to "leave it at that."
Rep. Walter Jones (R-N.C.) also expressed some skepticism, mentioning that Ryan was once part of the Young Guns program, a prominent group of House Republicans led by Ryan, current Majority Leader Kevin McCarthy (R-Calif.) and former Majority Leader Eric Cantor (R-Va.), now with the investment bank Moelis & Company.
"I hope that relationship with Eric Cantor is not too tight," Jones said at the Heritage event.
The man who beat Cantor in Virginia's GOP primary last year, Rep. Dave Brat, said it was true that Ryan had changed business as usual at the Capitol. But he argued that the driving force behind that change was not Ryan; it was the conservatives who had pressured Boehner into retirement and threw their weight around in the speaker's race.
"And so if the press would go back and give credit where credit is due to the people who have been asking for this -- you all in the press know up here things just don't happen by saying, 'Please pass the salt and pepper,'" Brat said.
He added that conservatives have "just got our way," successfully pushing the conference to change how the House operates and who sits on the Steering Committee. 
"No one's claimed credit," Brat said in passing the accolades onto conservatives who have been making the case for change much longer than he's been in Congress. "No one spiked the ball."
Rep. Raul Labrador (R-Idaho) joked that he was going to spike the ball, but instead said he'd just sum up his reaction to Ryan as "cautiously optimistic."
Calling all HuffPost superfans!
Sign up for membership to become a founding member and help shape HuffPost's next chapter