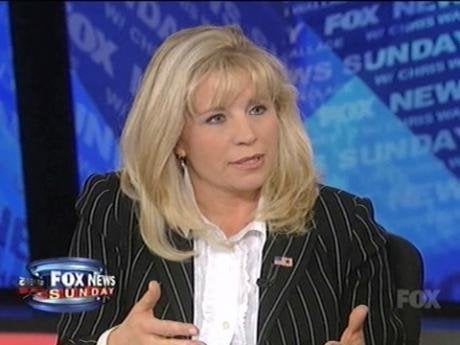 The backlash is growing against Liz Cheney after she demonized Department of Justice attorneys as terrorist sympathizers for their past legal work defending Gitmo detainees -- and now it's coming from within deeply conservative legal circles.
On Friday, the conservative blog Power Line put up a post titled, "An Attack That Goes Too Far." Author Paul Mirengoff, called Cheney's effort to brand DoJ officials the "Al Qaeda 7," "vicious" and "unfounded" even if it was right to criticize defense lawyers for voluntarily doing work on behalf of Gitmo detainees.
Reached on the phone, Mirengoff offered an even sharper rebuke, contrasting what Cheney is doing to the anti-communist crusades launched by Sen. Joseph McCarthy and, in some respects, finding it worse.
"It could be worse than some of the assertions made by McCarthy, depending on some of the validity of those assertions," Mirengoff said, explaining that at least McCarthy was correct in pinpointing individuals as communist sympathizers. "It is just baseless to suggest that [these DoJ officials] share al Qaeda values... they didn't actually say it but I think it was a fair implication of what they were saying."
Mirengoff isn't alone among conservative legal theorists who think the ad campaign by Cheney's group, Keep America Safe, is distasteful. In a statement to the American Prospect, John Bellinger III, a former legal adviser to Secretary of State Condoleeza Rice, called the effort "unfortunate."
"It reflects the politicization and the polarization of terrorism issues," Bellinger said. "Neither Republicans nor Democrats should be attacking officials in each other's administrations based solely on the clients they have represented in the past."
The Keep America Safe ad is below:
Likewise, the Huffington Post reported on Thursday that back in 2007, Ted Olson -- who served as a lead counsel in Bush v. Gore and solicitor general of the United States -- co-authored an article for Legal Times in which he said that efforts to demonize detainee defense lawyers are antithetical to American values.
"When government officials are called 'war criminals' and when public-interest lawyers are called 'terrorist huggers,' it not only cheapens the discourse, it scrambles the dialogue," Olson wrote, along with Neal Katyal, currently a DoJ Deputy Solicitor General and one of the lawyers who represented Gitmo detainees. "The best solutions to these difficult problems will emerge only when the best advocates, backed by weighty resources, bring their talents to bear. And the heavy work of creating solutions for these complicated issues can only move forward when the name-calling ceases."
Cheney, for her part, shows no signs of relenting. Hours after her organization was able to browbeat the DoJ into releasing the names of the seven officials who previously represented detainees, it put out a statement demanding even more disclosure.
"We regret that they still refuse to tell the American people whether any of these lawyers are currently working on detainee issues inside the Department," said Aaron Harison, the executive director of Keep America Safe. "The American people have a right to know whether lawyers who voluntarily flocked to Guantanamo to take up the cause of the terrorists are currently working on detainee issues in President Obama's Justice Department."

Popular in the Community