Myrlande Constant is undoubtedly Haiti's fiercest flag bearer. A (drapo Vodou) Vodou flag maker who has been refining her craft in the last two decades, Constant ironically exists in near obscurity as a Haitian artist while nothing about her work, accomplishments and personality are meek.
Brown University rectifies that by bringing the trailblazer into the limelight with Reframing Haiti: Art, History and Performativity, a series of exhibitions, workshops and lectures that closes April 21 with Brown alumn, Haitian-American writer Edwidge Danticat. The project done in collaboration with the Rhode Island School of Design and The Waterloo Center for the Arts -- the largest public collection of Haitian art in the United States -- offers New Englanders a necessary nuanced glimpse of the fractured republic. According to Anthony Bogues, the Harmon Family Professor of Africana Studies and co-curator of the exhibition, "The exhibition's starting point is that the past shapes both the present and the direction of the future. We want to present a different narrative about Haiti which challenges historical and contemporary biases."
Events include numerous talks and panels on contemporary post-quake issues by scholars as well as artists. The founding members of the Haitian artists' collective Atis Rezistans (Artists of Resistance) came from Haiti and held brief residencies at the university along with Haiti's most well known contemporary artist Edouard Duval-Carrié. Constant who came from Haiti held a three-day flagmaking workshop for interested members of the community during her visiting artist stint April 5-8. The exhibition of flags gives us the opportunity to encounter one of the country's most brilliant yet unknown talents.
Born in 1970, Constant is a self-taught flagmaker whose artistry is rooted in her skills as a seamstress and the beading techniques that she learned from her mother as a child. While in her teens, both of them had worked in a wedding dress factory. Her foray into the world of flag making coincides with a story of self-emancipation from exploitative factory labor. In a public dialogue in Kreyol that I had with her at Brown last Wednesday, Constant recalls quitting her job at the factory over a compensation dispute. When her mother who still worked at the factory asked her what she would do, she responded, she didn't know. She then found herself tracing the outline of what would eventually become her first flag, an homage to Danbala that was purchased by singer and bandleader, Richard Morse, also owner of the Hotel Oloffson, where the flag still hangs.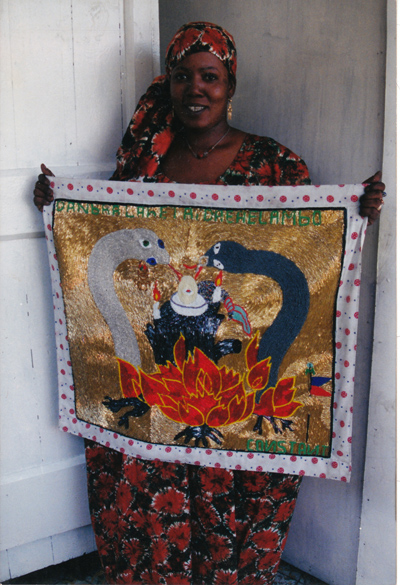 Photo by Katherine Smith
What distinguishes her from other flagmakers (who are all men) is the fact that she worked with solid round and cylindrical beads instead of the flat sequins used by other artists. Art historian, Katherine Smith, who curated the project along with Bogues and Karen Allen Baxter, comments on Constant's innovation. Her "introduction of the solid-bead technique revolutionized the [flagmaking] tradition."
Indeed, Constant's oeuvre and impact is most evident at the exhibition of flags in Brown's Rites and Reason theatre. Moreover as Smith says:
Constant's influence on a generation artists over the last twenty years has not yet been properly recognized. I have known Constant and other flag artists in Port-au-Prince, including a number of her former apprentices, for many years. Still, it was not until Constant and I walked into the gallery of Vodou flags here at Brown that the magnitude of her teaching legacy really struck me. Vodou flags have experienced a kind of Renaissance over the past ten years, flourishing with new developments in both form and content. It is not an exaggeration to say that nearly all of the artists taking flags in new and stunning directions were trained by Constant or by her students.
Within the closed world of Haitian art dealers and private collectors, Constant is known for pushing the boundaries of this form in ambitious ways. She has also been creating gigantic flags since she began to respond to her gift. Some of these works are well over six feet. For the workshop at Brown, she brought along two newly completed pieces (one for Danbala, a recurring subject and another for Gede), not included in the exhibition. The largest one eight by five feet required the disciplined assistance of twelve workers over the course of three months.
"I have another at home that is even bigger than these two that I have been working on for years," she said. Constant is driven to create larger than life flags with a painter's meticulous attention for details. And she actually wants to make flags the size of murals. When I asked what motivates her? She replied that she feels compelled to include everything she knows about her subject. "I am like a school teacher, a professor who is giving students a lesson. I have to include everything. I have to tell them everything I know give them all of the information I have to change them."
Given the historic ways Vodou has been demonized and remains a scapegoat for Haiti's problems, Myrlande Constant's artistry and communion with the spirits through her flags is an education onto itself. She illuminates the religion and the beauty in its art forms, making her Haiti's fiercest flagbearer.
Related
Popular in the Community