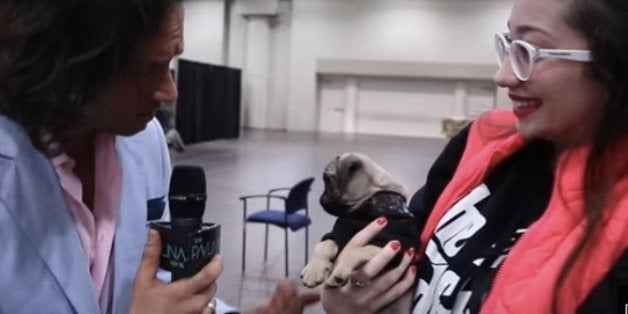 You've got to have some fun with Broadway stars once in a while! And who doesn't love a pug? A pug, you ask? And Constantine Maroulis? What do they have in common?! Absolutely nothing, but throwing a pug in is -- how you say -- "what the heck?" Why not! I'm at the LGBT Expo at the Javits Center in New York City. It's a modern, eclectic event that has everyone embracing unity. And what does that have to do with a pug? Nothing. No, really, nothing!
Tony Award-nominated Constantine gave an outstanding performance and rocked the house with his rocker voice and smoldering stare while giving his shoulder length hair a quick flick.
The guy has a stage presence that should be bottled as "Hot" cologne.
I talk with Constantine, where he headlined the LGBT Expo. Backstage, after his performance, we talk about some of his favorite moments in his career. He just about took over American Idol on Season 4 with his killer rendition of "Bohemian Rhapsody." Constantine further proved himself when he starred in Rock of Ages on Broadway. He's now got a lot of projects going on including producing the critically-acclaimed show, Spring Awakening. Constantine is also recording a new album that will have his rocker style in place and the album has some collaboration with acclaimed production and writing duo Andy Waldeck and Chris Reardon (Daughtry, David Cook and Scott Stapp). His new album is coming out really soon through Noble Steed Music, an independent imprint run by former Warner Music's Jason Spiewak.
Enter the pug, maybe Penelope the pug's eyes reminded him of his audiences over the years of females with eyes popping out of their head to watch this talented guy on stage. Maybe he likes pugs (who doesn't really), or maybe when said reporter as in moi, asked him to sing a little to Penelope -- he was game. Who knows?
Constantine belted out the chorus of "Oh Sherry" from Rock of Ages and my devoted Penelope was a slave to him. It was disgusting -- she never even blinked, she was so enthralled. So goes another fan. Chalk it up to the guy having the whole package: talent, talent and smoldering eyes, no I meant talent. I have a feeling, Penelope is going to be listening to Constantine's new album with the same devotion. Rock on, Constantine, and for showing support of Broadway Sings for Pride, you're a rocker of all ages.
Calling all HuffPost superfans!
Sign up for membership to become a founding member and help shape HuffPost's next chapter