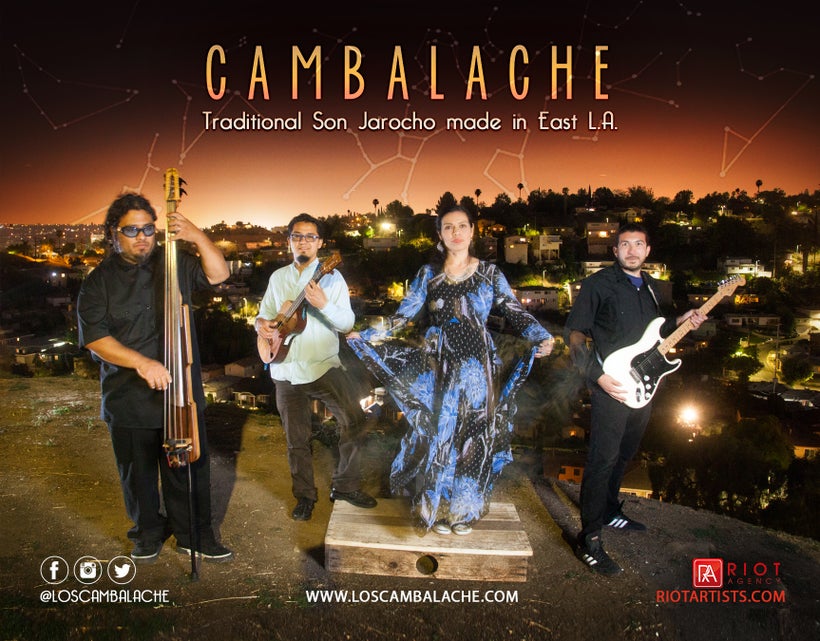 In Latinx neighborhoods across the nation, the evidence of displacement and repressive policing is more visible than ever. While anti-immigrant policies are nothing new to our communities, since the 2016 elections, the intentional terror with which they have been deployed has had astonishing effects, making people afraid to exercise what should be ordinary, everyday, risk-free activities, such as walking to the store, taking children to school, or letting them play outside. Recent, high profile ICE raids constitute a reign of terror that results in keeping people from visiting doctors, and from reaching out for help in an emergency or domestic violence crisis. At a time like this, it is more important than ever to elevate the power and fortitude of our communities, to listen to the sounds of justice and resistance. One of the most powerful statements in recent memory to commemorate the resilience and strength of the Chicanx community in Los Angeles is Cambalache's new album, Constelación de Sonidos. It is a disruption of the effects of gentrification, displacement, and the surveillance regimes that are inundating Black and Latinx neighborhoods in Los Angeles with unprecedented sophistication and speed. With this album, Cambalache lodges a fierce and beautiful soundscape, saturated with the sounds of a history that has sustained us, reminding us that our presence is necessary and beautiful.
There is no collective of musicians more poised to offer this soundscape. The musicians in Cambalache grew up on LA's Eastside, where the sounds of everyday life have lengthy histories in Black and Brown music making. Sonero and maestro Cesar Castro enlivens Cambalache's connection to Veracruz through the radical roots of the Son Jarocho tradition, and together, the group weaves these roots through the sounds and physical spaces of East LA. This does not happen simply through study: Cambalache is well respected in the son jarocho community in Veracruz, carrying on the tradition of this musical community to connect cultural production, community making, and social justice work.
Constelación de Sonidos is a statement of resilience, a tribute to the capacity to rewrite history and future, to pull sounds of home from wherever we create it. In "Aguacero," generations intertwine in an elder's narration of dreams unfulfilled, in the combination of electric and acoustic guitars, in the punctuation of the tarima, and in the tradition of making "a primavera from an aguacero." "El Conejo Blues" reveals a new source of 21st century blues: forced migration. But it also uncovers the stubborn refusal to abandon dreams of sanctuary, even during the seasons when hope can't be found. "Tilingo Greengo" is a comment on the way that gentrification has affected our communities. And "Butaquito Lindo" warns us not to forget the intimacy of pa'conocerte, of person-to-person connection, as a panacea against those assaults. "I Cut My Teeth on Marx" is a remembrance of family and community, of bravery and addiction, of love and admiration. Xochi Flores shows us how memory becomes the ground upon which we walk and live. "Gallo Ramiro" implores the family rooster to keep singing, as a reminder of a time when people brought their roosters with them to new neighborhoods of possibility, marking the experience of the new day for everyone in it. "El Trompito" is a beautiful tribute to amistad, continuity, and the struggles we witness in the lives of our elders.
Constelación de Sonidos is a feast of sonic memory, a reminder that the places and the sounds that unite us are more important than the issues that divide us. This album sounds an urgent remembrance of our rights to joy and justice, and insists that our presence alone constitutes a life and a way worth living. Even at what appear to be the most exhausting moments for freedom seekers, people around the world are tired of injustice. "The cry is always the same," Martin Luther King once said. "We want to be free." Constelación de Sonidos is a statement of resilience, a tribute to the capacity to rewrite our historia and our futures, to create the sounds of home wherever we wish or must be. And to make it a home from which we can never be evicted.
Calling all HuffPost superfans!
Sign up for membership to become a founding member and help shape HuffPost's next chapter
This post was published on the now-closed HuffPost Contributor platform. Contributors control their own work and posted freely to our site. If you need to flag this entry as abusive,
send us an email
.