WASHINGTON -- When the Supreme Court struck down the Defense of Marriage Act in late June, Rep. Tim Huelskamp (R-Kan.) didn't waste any time filing legislation that would go around the court and ban same-sex marriage by amending the U.S. Constitution.
Since then, Huelskamp's bill has picked up 36 cosponsors -- all of whom are rank-and-file conservatives -- and now awaits action in the House Judiciary Committee.
And that may be all you ever hear of the bill.
The Huffington Post has been reaching out to key Republican offices for the past two weeks to see if or when anyone plans to move the bill forward, but nobody seems to want to go near it. An aide to House Speaker John Boehner (R-Ohio) said committee decisions are up to House Majority Leader Eric Cantor (R-Va.). A Cantor aide said to talk to the House Judiciary Committee about their plans. Aides on that committee didn't reply to numerous requests for comment on the status of the bill, and Huelskamp's office also never responded.
A request for comment from Sen. Roger Wicker (R-Miss.), who sponsored a similar constitutional amendment in the Senate in 2008, also was not returned.
It shouldn't be too surprising that Republican leaders wouldn't want to pick a fight over gay marriage. When the Supreme Court struck down DOMA, neither Boehner nor Cantor issued statements slamming the ruling or vowing to take action. Instead, their response was more of a shrug, with a call on states to debate the issue. Both also made it clear that their defense of DOMA for the past two years was less about agreeing with the law and more about having a constitutional imperative to defend it, since the Obama administration would not.
"The court's made its decision," Boehner told reporters after the ruling. "I have no plans at this point in terms of how the House would move ahead on this."
That's a stark contrast to tone of the House in July 2006, the last time Congress voted on a proposed constitutional ban on gay marriage. That bill failed 236-187 -- it needed 290 votes to pass -- and Boehner and Cantor were among those voting for it.
Republican leaders must now also face the reality that a majority of Americans support same-sex marriage. A Gallup poll in May found that 53 percent of Americans said federal law should recognize gay marriages. Another CNN/ORC poll released in late June put support at 55 percent.
Huelskamp's bill already had no chance of becoming law with a Democrat-led Senate and White House. And given how little top Republicans appear willing to even touch the issue, it doesn't look like it's going anywhere in the House, either.
"It's no surprise that [the bill's cosponsors] can all talk to their rightwing constituents about this amendment effort and ... then the leadership doesn't utter a peep about it," said a senior Democratic aide. "This has been the GOP strategy for quite some time: Do your hating quietly."
The bill's cosponsors include Republican Reps. Joe Barton (Texas), Jim Bridenstine (Okla.), Mo Brooks (Ala.), Paul Broun (Ga.), Jeff Duncan (S.C.), John Fleming (La.), Trent Franks (Ariz.), Louie Gohmert (Texas), Ralph Hall (Texas), Andy Harris (Md.), Randy Hultgren (Ill.), Sam Johnson (Texas), Walter Jones (N.C.), Jim Jordan (Ohio), James Lankford (Okla.), Mark Meadows (N.C.), Randy Neugebauer (Texas), Steven Palazzo (Miss.), Stevan Pearce (N.M.), Robert Pittenger (N.C.), Joe Pitts (Pa.), David Schweikert (Ariz.), Bill Shuster (Pa.), Chris Smith (N.J.), Steve Stockman (Texas), Tim Walberg (Mich.), Lynn Westmoreland (Ga.), Frank Wolf (Va.), Kenny Marchant (Texas), Tom Latham (Iowa), John Carter (Texas), Scott Garrett (N.J.), Kerry Bentivolio (Mich.), Doug LaMalfa (Calif.), Richard Nugent (Fla.), Alan Nunnelee (Miss.) and Richard Hudson (N.C.).
UPDATE: 10:20 p.m. -- Latham aide Chris Deaton told HuffPost the congressman was never a sponsor of Huelskamp's bill, despite his name showing up as once being a sponsor and then withdrawing his name.
"It was a staff member's mistake," Deaton said. "The withdrawal was the correction of that mistake."
Before You Go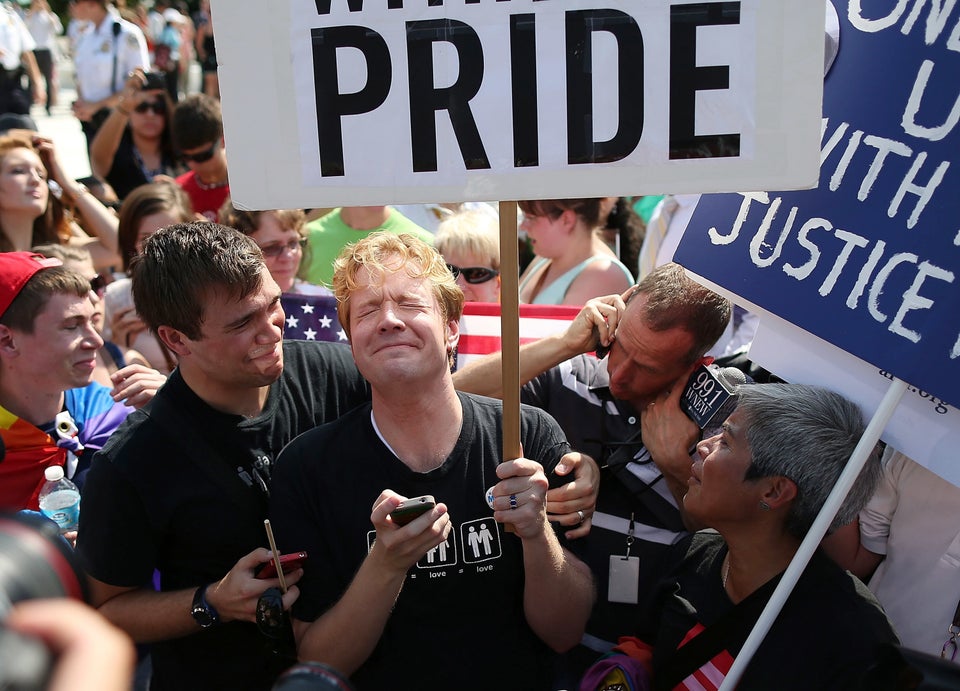 SCOTUS Decisions On Prop 8, Defense Of Marriage Act
Popular in the Community