Working in Haiti is full of challenges -- whether the ongoing work to clear the rubble still strewn across the tiny country, to a continued focus on designing and constructing safe buildings.
At one time, Haiti had its own comprehensive building and zoning code, with a semblance of enforcement. However, due to political instability over the past 30-40 years, this 'structure' has become non-existent. Since the earthquake, the responsibility for the country's health, safety and welfare when it comes to construction now lies with individual designers and builders and their skills and understanding.
Many Haitian architects and engineers are familiarizing themselves with seismic code and refusing to design non-seismic structures. Change within the construction industry, though, is a tougher nut to crack as most laborers are continuing to build as they have always practiced.
I've helped address this as the 2010 fellow of the American Institute of Architects (AIA) and the U.S. Green Building Council (USGBC) and with Architecture for Humanity. With several other on-the-ground colleagues, we've developed the Rebuilding 101 Manual, a how-to guide on the basics of building, chock full of graphics and written in four languages. Being here has made me and my colleagues find that job-site education and hands-on training are essential to breaking this cycle, so each of our projects has on-site construction training and tight construction oversight built into each project.
Projects are also all competitively bid on by local contractors who, in turn, are required to use labor local to the project area. Unfortunately, some of these local laborers will be unskilled and inexperienced but this does lend itself well to training a new generation of workers with the necessary skills.
Each selected construction team is given onsite training by a partner organization called BuildChange -- an NGO providing training to local builders and homeowners in earthquake disaster zones. The organization's focus is housing, but they have developed a special three-day program in partnership with AFH for the basics of masonry and concrete school buildings.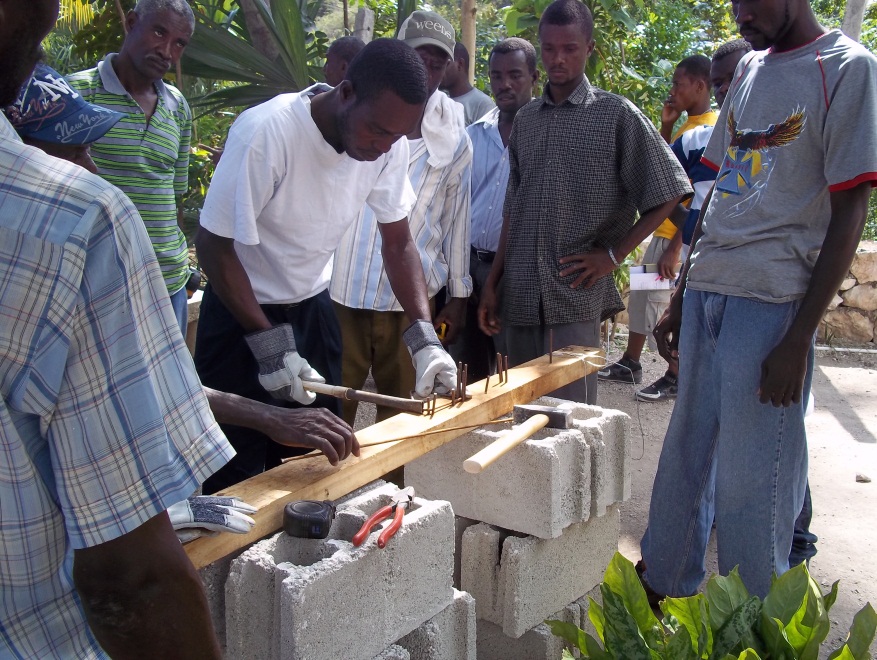 Working to make wire ties for Ecole la Dignite in Cayes Jacmel.
Photo by Build Change
The progress has been slow -- but steady. In the beginning, we visited our only construction site once per week and made the contractor tear out a lot of work because they thought it was OK to skimp on rebar or pour foundations on a slant, etc. Learning from that lesson, we put our field engineers on the construction site four days per week, overseeing construction and making daily reports. If there is a problem or the workers start getting off track, it is immediately corrected. The fifth day is spent in the office with our two construction managers who also spend one day on the jobsite. All the reports are reviewed and a weekly summary report is created.
All reports and photos are posted to the Open Architecture Network -- one of our projects, Ecole la Dignite', is a good example. Reports can be found on the Updates and Files tabs. Funders love this because they can check on progress anytime. The best part about our construction administration staff is that they are all young Haitian engineers who are doing an outstanding job and who will continue to help make buildings safe long after we leave Haiti.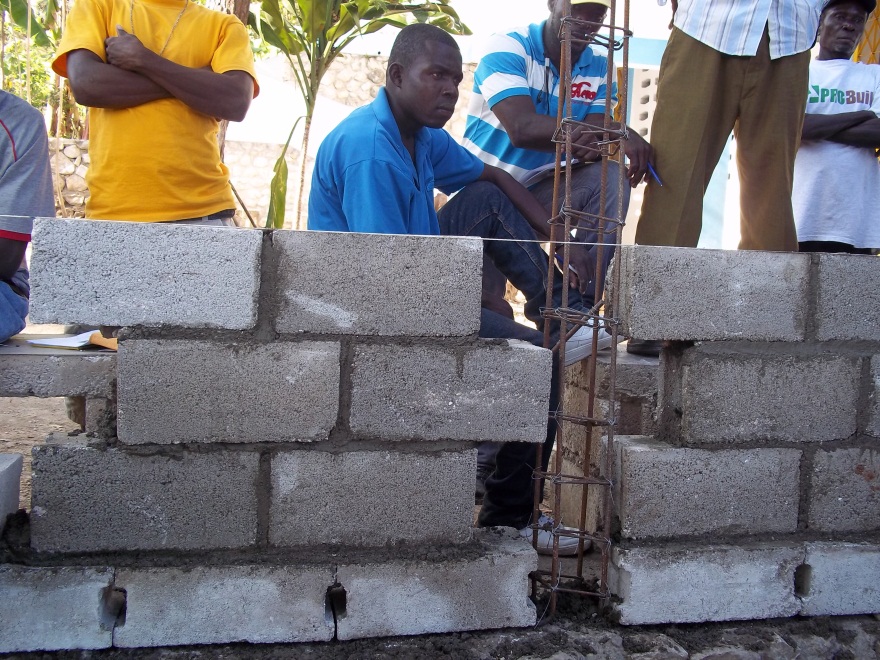 The locals we have been working with practicing confined masonry.
Photo by Build Change
Education on safe building practices is just one of the many issues being addressed here. But this is an important step in the process. Education will help to avoid this issue in the future. Recovery in Haiti will continue for decades, properly implementing education on safe structures are just the first steps down the long path.
Related
Popular in the Community