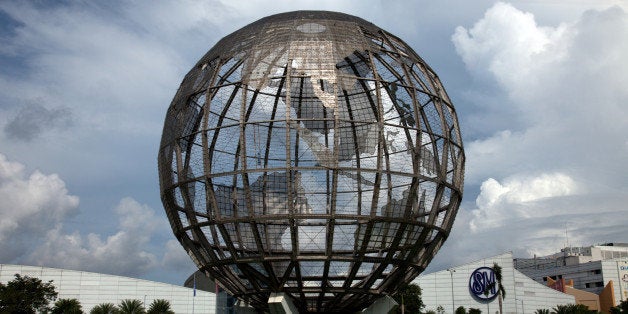 Baku will be hosting the 7th Global Forum of the United Nations Alliance of Civilizations this week. The theme for this year's summit "Living Together In Inclusive Societies: A Challenge and A Goal" is very timely and meaningful.
As I will try to explain at the panel titled "Constructing Peace , Deconstructing Terror", all countries are faced with the threat of terrorism these days. Although, the form and manifestation of the threat may be different, remaining resolute and global solidarity are concepts that apply to all.
There is no difference between the suicide bombings in Paris, Brussels, Baghdad, Istanbul or in Ankara. Whether it is DEASH, or PKK, whether it is DHKP-C or Al Qaeda -- we must show absolute determination in displaying international solidarity against all types of terrorist organizations. The international community must match their solidarity with practical deeds.

Dialogue is the key word for our main global problems. Today we all are well aware of the importance among the civilizations.
With this understanding Spain and Turkey, two nations who have historically been at the crossroads of East and West , took the initiative to affect the course of events. In 2004 the Prime Minister of Turkey, Mr. Recep Tayyip Erdoğan, accepted the proposal of Spanish Prime Minister, Mr. José Luis Rodríguez Zapatero, to co-sponsor an initiative called "the Alliance of Civilizations". It was later endorsed by the U.N. Secretary-General, Mr. Kofi Annan, as a UN project in 2005.

In the last three decades, "civilization discourse" have been at the center of the contemporary international debate. This debate has partly been emotional, partly ideological and mostly prescriptive and thus normative. Behind the modern debate, stands "the clash of civilization" theory which provided a futile ground for "explaining away" many world events.

The Alliance offers an alternative understanding of civilizations. It defines civilization as a joint product of humanity encompassing common values of whole mankind. The Alliance has achieved a considerable success in promoting this alternative meaning and today it has largely been endorsed at the UN platform.

The Alliance initiative believes that humanity has enough commonality. Civilizations, cultures have enough elements as well as genuine differences. Human dignity, freedom, equality, justice, the yearning for fair democratic governance are common values that civilizations share. These values exist in all major belief systems and cultures and manifest themselves in similar ways and thoughts. Being a cradle of acculturation itself, Turkey attaches great importance to one universal civilization based on fundamental values such as democracy, human rights and the rule of law.

From the beginning the Alliance aimed to go beyond fostering dialogue among civilizations, by taking an action oriented approach to the problems and by developing concrete strategies to tackle the existing challenges. In this regard youth, education, media and migration were determined as the focus areas in order to create the maximum impact.

I would especially like to focus on media. Media is a major force shaping our perceptions and views. The recent events that we have witnessed in the last two decades clearly show that developments in information technology has also worked against our purposes and given extremist groups a way to reach out to large masses, inciting violence and hatred. Hate speech stands out as a major obstacle preventing the emergence of discovering, understanding and respecting each others'differences. Without undermining in any way the freedom of the press and the freedom of expression, reporting objectively and responsibly will no doubt make a constructive contribution to the existing efforts for dialogue.

It is an undeniable fact that extremism provides a breeding ground for international terrorism. One of our greatest assets in tackling extremism is countering the prejudices and polarizations taking shape on the basis of cultures and religions. In most of the modern societies today, social exclusion is breeding extremism and extremism is strengthening discrimination and social exclusion. The alternative offered by the Alliance and its theory of intercultural dialogue is therefore valuable in the context of strengthening our solidarity and joint fight against international terrorism.
Terrorism is not a new phenomenon. It has always been a security challenge for governments and a source of fear for ordinary people. Just remember the Zealots in the Roman times and the Assasins in the 13th century, considered by scholars as the forerunners of modern terrorists in terms of motivation, organization and methods.

There has always been a transnational aspect to terrorism, as well. We have been victimized for decades by different terrorist groups with links outside our borders: The terrorist groups targeting Turkey, including the PKK, DHKP-C and Daesh, operate across borders, running camps and acquiring financial resources in third-world countries. They freely operate media outlets to disseminate their propaganda and glorify their vicious acts. We have seen perpetrators of terrorist crimes, their mentors and financiers, escape justice and travel freely.

What we are being faced with today however, is unprecedented. We see a drastic proliferation of terrorist groups all around the world that possess an enhanced capacity to inflict much serious physical damage on us, and an ever increasing ability to disseminate their "narratives" and to lure disillusioned young people to commit heinous forms of violence.

As such, terrorism has become a truly global and rapidly evolving threat. The very phenomenon of Foreign Terrorist Fighters is a particularly disturbing illustration of this reality. We see tens of thousands of radicalized young people travelling to the conflict zones from more than one hundred different countries that are as diverse geographically as they are in terms of the level of development.

Hardly a day goes by without an act of terrorism taking place somewhere in the world, indiscriminately affecting innocent people, who just happened to be in the wrong place at the wrong time.

The pain caused by terrorism is common, it hurts us all deeply and leads to outrage. Likewise, the tactics used by Al-Qaida, DAESH, Boko Haram and Al-Shabab, as well as PKK/PYD and DHKP-C are all the same, although they may be acting in different geographies with different ideologies.

We reiterate that terrorism cannot be affiliated with any religion, sect, ethnic group or nationality. The primary objective of terrorist organizations is to trigger polarization, otherization and separation, on both national and international levels. We cannot and shall not allow this to happen.

Likewise, countering terrorism can only be possible with genuine international cooperation. It is evident that our security definitions cannot be confined to national boundaries at a time when terrorist organizations have become globalized, using information and communication technologies.
In other words, we all are only as secure as our neighbors. Our common security should be reinforced through dialogue, rather than of alienation fed by the feeling of panic; as well as through building bridges of security and trust, instead of walls.

There is no such a thing as a "good terrorist" and no end can justify terrorism. Differentiating between terrorist organizations is a source of weakness in countering terrorism.

Yet the words are not enough. We should now be able to deliver more than repeating what has already been said and done. The security of our countries and communities can only be protected by a realistic, comprehensive and sincere cooperation.

Sine-qua-non condition of sincere cooperation is refraining from double standards. Terrorism feeds on the understanding that "my enemy's enemy is my friend".

Our most effective instruments in countering terrorism are: collecting timely, reliable and systematic intelligence; a well-organized law enforcement system that properly utilizes this intelligence, an adequate legislation and effective judiciary. There are lessons to be learnt from each other, solutions that we can come up with together. We should share them in a fast, open and frank manner. In this new century when everything gets faster, so do the terrorists in organizing, expanding and perpetrating their acts; and they now use more sophisticated technologies.

Moreover, countering terrorism cannot be successful without genuine attempts at eliminating conditions that terrorist groups abuse to legitimize their horrendous acts of violence.

On several occasions, these unfavorable conditions, or root-causes, are related to bigger problems, such as the lack of socio-economic development, democratization, historical grievances, feelings of marginalization and alienation, un-met aspirations of youth, human rights abuses, absence of a rule of law based legal system, et cetera.

Further, we know by experience that the threat of terrorism spreads due to the violent and turbulent conflicts, and failed or weak state structures. Sustained conflicts not only provide groups involved in terrorism an opportunity for recruitment and disseminating their sick narratives, but also safe havens to increase their warfare capabilities.

These facts compel us to develop new approaches and tools. While we cannot shy away using coercive measures against terrorists, we should also duly mainstream human rights and the rule of law in our counter-terrorism policies and practices.

Of course, no pretext justifies the act of terrorism. Yet, we need to address these problems, in order to stop them recruiting new terrorists by exploiting and twisting these deficiencies.

In other words, hard security measures alone are not enough, and should be complemented by soft measures aimed at building the sense of trust and belonging on the part of vulnerable individuals towards the state and the society in general.

Turkey is also at the forefront of DEASH & PKK terrorism threat and our authorities exert every effort to counter it. They are taking necessary measures to prevent third world country citizens from traveling to Syria to join radical groups. In this regard, almost 40,000 people have been included in the no-entry list since the Syrian crisis erupted. Around 3,000 foreigners were deported since 2011 in the context of measures against foreign fighters. Risk Analysis Units have checked around 7,500 people and approximately two thousand of them were denied entry to Turkey.
Although Turkey has been fighting against PKK, this Marxist terror group is also active in Syria, in Iraq and in Europe with its affiliates. It is trying to take advantage of the Syrian unrest, through YPG.
Since last July, PKK caused the loss of lives of almost 500 people and it kidnapped almost 200 civilians. It attacked railways, damns, other infrastructure, schools,hospitals, ambulances etc. Yet it continued its attempts to portray itself as a legitimate entity and we felt disappointed when we saw its propaganda voiced in the European Parliament and in the European media.
Some of the suicide bombers who caused so many civilian lives to end in Paris & Brussels were let go by some of our European allies after being detained by Turkish authorities. This fact by itself is painful and alarming.
Once again, whether it is Al Nusra or DAESH, PKK, YPG or DHKP-C, all nations must be united in their stance against the threat of terrorism.
Egemen BAĞIŞ
Former EU Minister & Chief Negotiator of Turkey
Popular in the Community