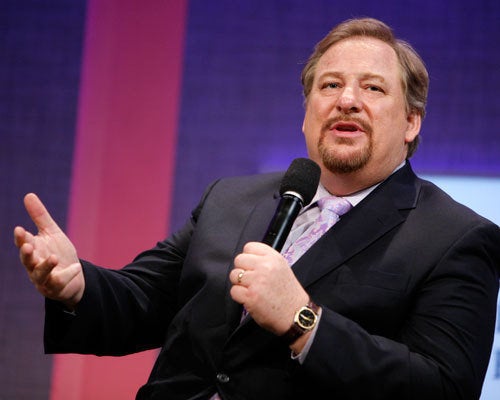 I'll admit it. The Rick Warren selection stung. I really tried not to take it personally. I raised many gay dollars (insert funny visual here) for the President-elect. I received more than a handful of emails with the subject line; "I want my money back."
My 81-year-old mother said it in her own inimitable fashion: "That wasn't very nice of him (Obama). After all you people did for him...." (this may be the only time I have ever laughed heartily when referred to as 'you people')
My partner says she is done. She doesn't want to go to the inauguration or any of those balls with me. I get her point. And it's not because I'm not a very good dancer.
During the primary and general election season, everything was so clear. The President-elect is in the right place in terms of his record and on policy positions on issues facing LGBT Americans. Our community had to work like crazy to get him elected. Many of us did. Conversely, another thing was clear. The gay community's support would not bring him a single electoral vote he needed. And might lose him a few. I get that too. We are after all, the most effective weapon in the cultural war -- the last and best hope of the religious right. Just ask Rick.
And so like many of us, we look for signals during the Transition so that we can continue to believe the promise. And there have been some. LGBT community leaders met with the most senior folks in the Transition team. The team members were smart, supportive and impressive. And yes, we all celebrated the announcement of Nancy Sutley to the Chair of the White House Council on Environmental Quality.
But here we are on the cusp of New Year's Eve -- and we've got Nancy Sutley and we've got Rick Warren.
Unlike my partner, I am not angry. I'm just plain perplexed. For a team that has had flawless execution, what gives?
I have come to believe that the team needs some help. A very smart friend of mine emailed me yesterday. She said:
"We can't let the right wing co-opt yet another good and well-meaning Democratic President. That is our responsibility. The poor dupes never know what hits them until after it is done. Barack will only be different if we stay connected to him and smart."
Best email I've gotten in a long time.
So with that as a very lengthy preamble, here are three ideas:
1) Hurry up and hire some gay people.
Our community has been working since February to pull together resumes. Jim Messina told a group of LGBT leaders that our process has been a model for other constituent groups to follow. I've seen the resumes. I serve on the Board of Advisors of this Presidential Appointment Project. The administration would be lucky to have any number of these folks . And the administration needs their voices. The more diverse the voices around the table, the fewer missteps.
2) White House Initiative on LGBT Americans.
So, now think about all of the federal programs that have relevance to LGBT Americans. From Health Care to AIDS to employment to family issues. The list goes on and on and on. A coordinated effort might be the only way to integrate us fully into the fabric of federal programs designed to benefit all Americans. The Obama administration eschews constituency politics and avoids thinking of people in unique silos. Conceptually, I love that -- I want to be considered in my totality -- not just simply as a gay American. However, I believe that an initiative like this would in fact be one that would bring us together.
3) Send a message that this administration understands that equality for LGBT Americans is a civil rights issue. Appoint the first openly gay member of the U.S. Commission on Civil Rights.
A look at the current list of commissioners indicates that attention to diversity would be of value. Only 2 of the 8 current commissioners are women. And when we see that one of the commissioners is a staff member at The Heritage Foundation, it is easily argued that diversity of point of view might also add real value.
So, to my fellow LGBT friends and our straight allies, to those who raised money and gave money. To those of us who have dedicated time and energy to the visibility of the second class citizenship of gay and lesbian Americans -- Let's use the Rick Warren choice as an opportunity to be impatient. I for one plan to be impatient constructively (as demonstrated above).
Join me. My list is a place to start. And hardly exhaustive. Perhaps you have some ideas?