While many may argue that a digital strategy differs greatly from that of a more traditional construct, I believe it stands to reason that nothing is new in the world of marketing and giving back to the communities that support any market is not only a sound business plan, but one with the power to uplift the human condition.
In leveraging large-scale events, specifically for those with a taste for the "foodie experience" the market has shifted. Costs have skyrocketed making it imperative that these events are successful. Therefore, it is the amalgamation of both qualitative and quantitative data or more simply the lived experience wrapped around empirical statistics creating a synergistic relationship and a genuine desire to do "good".
The iconic food festival is an excellent example as each data point reflects an identified consumer invigorated by attending "a consumable event." Interestingly enough along the strategic digital highway, Las Vegas and Florida, specifically Southeast Florida offer an excellent window into strategic planning for the continued growth of the food festival and large scale events overall . Florida adds a special spin with a laser focus by one of the largest events on addressing those in need.
While Florida boasts many smaller food-centric offerings, the most reliable data rests in the largest sample sizes, in this case the South Beach Wine and Food Festival which boasts more than a decade's worth of data.
For the first time, the Food Network & Cooking Channel South Beach Wine & Food Festival (SOBEWFF) will expand north to host the inaugural Taste Fort Lauderdale event series during the 15th annual Festival, February 24-28, 2016 but will it be successful and will still support the community?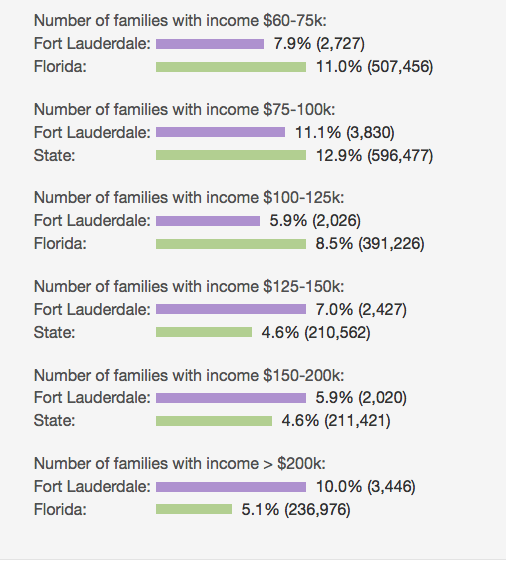 Image Credit: United States Census
Tim Petrillo, president of the Fort Lauderdale based The Restaurant People believes in this expansion and has been instrumental in making it a reality. In a recent phone conversation he explained that,

The days of Fort Lauderdale being branded as Spring Break's "LiquorDale" are over. Broward County has changed and is a place where residents love to eat and are extremely charitable.
Is the future of the food Festival bleak? Not according to Lee Brian Schrager, Philanthropist, Founder & Director, Food Network & Cooking Channel South Beach and New York City Wine & Food Festivals,
The concept of a food festival is fluid and as such we are rigorous in redefining and reinvigorating the brand. Fort Lauderdale welcomed us with open arms. It was a true collaboration and exploration of what the market demanded and how we could position the expansion to new segments especially the Millennial consumer who is not afraid to spend money and support those in need.

Schrager speaks to the age-old marketing mantra when he explains,

Nothing is guaranteed, but we do our due diligence to fully analyze the cost/benefit before we commit. Many don't realize we are a charitable endeavor and have raised millions as we 'Eat. Drink. End Hunger.' While that is rewarding, it can sometimes be an added pressure as it is always my goal to drive the team to make strategic decisions that will not only ensure future success, but put the most money each year in the hands of the people that are most vulnerable and most in need.
NOTE: I have no commercial connection to any of the brands mentioned in this article nor was I compensated in any way to write it.