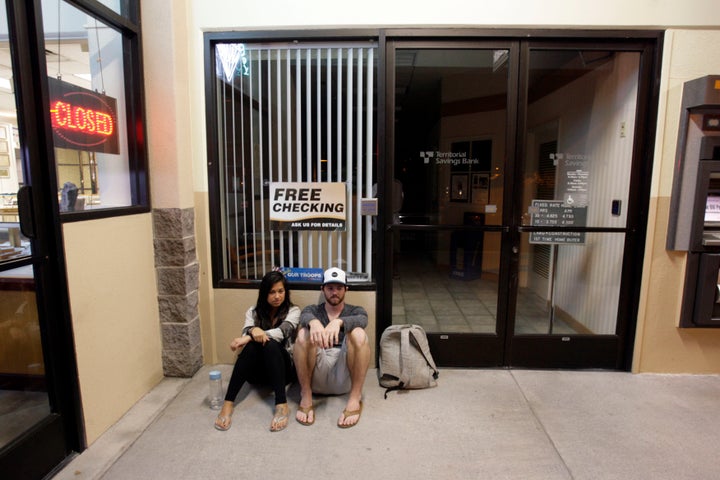 NEW YORK -- Just a couple of months ago, it seemed the slow economic recovery was starting to gather momentum.
But that was before a series of violent protests in the Middle East pushed energy prices to their highest level since 2008. A devastating earthquake struck Japan, threatening global supply chains and raising fresh fears about nuclear radiation. Last weekend, international conflict began in Libya, as a U.S.-led coalition pummeled the country with missiles.
Americans appear to be growing nervous, and that unease could take an economic toll. Consumer sentiment fell in March to its lowest level since November 2009, according to the Reuters/University of Michigan index, released Friday. With oil prices rising, Americans' confidence in the economic recovery has taken a sudden plunge. Amid new anxieties, people are becoming less inclined to spend money.
And consumer spending makes up two-thirds of U.S. economic activity. So as Americans worry about unrest abroad and a still-weak domestic economy, the recovery faces another strain.
"There's a negative psychological blow when the economy starts to deteriorate," said Bernard Baumohl, chief global economist for the Economic Outlook Group. "We can see consumers begin to worry enough to cut back on spending and preserve their savings."
In a sobering new report, Baumohl argues that a combination of recent economic strains has caused crucial engines of economic growth to cool. Consumers are cutting back. Businesses are likely delaying new investments. Growth in U.S. economic output this year, originally predicted to be 3.5 percent, is now expected to be 2.8 percent, the report says.
The reversal in consumer sentiment has been dramatic. Late last year, holiday sales were stronger than expected. In February, a month when the unemployment rate finally dipped below 9 percent, consumer confidence reached a three-year high.
But that confidence appears to be eroding. Gas prices are still rising. The value of Brent crude, an industry benchmark, has risen more than 20 percent since the beginning of the year, reaching nearly $116 a barrel on Thursday.
Each $10 rise in the price of a barrel of oil translates into a 25-cent increase in gas prices, which tears more than $25 billion from the U.S. economy yearly, economists say. If energy prices continue a sustained rise, that would constitute the "primary threat" to the U.S. economic recovery, said Gus Faucher, director of macroeconomics at Moody's Analytics.
High pump prices strain consumers' wallets, and can force businesses to pass high transportation costs on to customers. But expensive fuel also has another effect: It makes people nervous.
Combined, the financial and psychological strains appear to be encouraging Americans to cut back. Already, one in three consumers has cut spending due to rising gas prices, according to the RBC Consumer Outlook Index, released in early March.
"These are not quiet economic times. We see a lot of shakeups, we see a lot of displacements," said Michael Czinkota, a professor of marketing and international business at Georgetown University. "Does that contribute to uncertainty by customers? Absolutely, yes."
That situation isn't likely to improve soon. Gas prices, for one, will likely stay elevated as long as investors remain nervous that the world's oil supply could be disrupted. Already, Libya's oil output has been reduced by three-fourths. It could fall to zero, the chairman of Libya's National Oil Corporation said in a televised media conference last week.
Investors, whose contracts help boost the price of oil, seem concerned that supply disruptions could strike the region's major producers. Tensions between Saudi Arabia and Iran, which together provide more than 17 percent of the world's oil, appear to be mounting. If that supply were compromised, prices would likely skyrocket.
"The 'fear premium' built into these prices will likely remain," Baumohl said. "No one has a clue how all these disruptions -- the friction in Saudi Arabia, in Lybia and Bahrain -- how all this will play out."
Still, the decline in consumer confidence may be temporary. Such measures are sensitive to news and are liable to change, said Tim Quinlan, an economist at Wells Fargo.
"These sorts of measures tend to get big movements off of either job market moves or gasoline prices," Quinlan said. "You add to that news stories of political instability all over the Middle East and the earthquake in Japan, and fears about radiation in water in Tokyo -- you tend to rattle cages with consumers all over the world."
Related
Popular in the Community