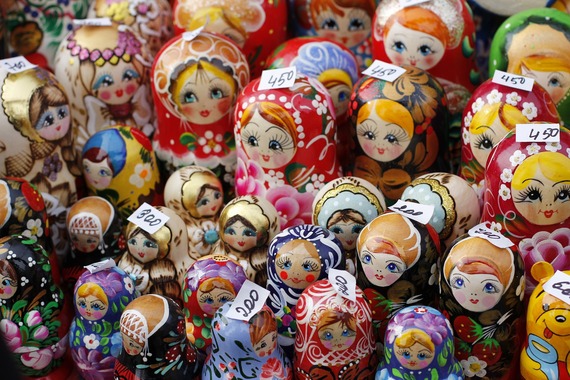 Image: Russian Matroshka. Stock Photo. Pixabay.com
Russian consumer confidence is the worst in a decade in one recent survey, and near the low-water mark in another.
In addition, the Russian public is becoming exhausted with having to count kopeks and go without, according to experts commenting on the situation.
Consumer confidence that is dropping, flat or barely increasing is also the norm in other ex-Soviet countries, according to spending-sentiment trackers.
Nielsen reported a consumer-confidence-index score of 63 for Russia in the first quarter of 2016. That was the lowest since the company began surveying Russian consumer sentiment in 2005. The index stood at 72 in the first quarter of 2015.
Meanwhile, Russia's Federal State Statistics Office reported that consumer confidence in the first quarter of 2016 fell to --30 from --26 in the fourth quarter of 2015.
The past decade's worst level of confidence was --32 in the first quarter of 2015, the agency said.
Unless Russia's economy improves dramatically, it's likely consumer confidence will fall below --32 as the year continues.
The reason Nielsen's confidence measures are on the plus side of the barometer and the Russian agency's are on the negative side is that they use different measuring scales.
Consumer confidence surveys such as Nielsen's and the Russian government's look at current spending and saving, and plans for future consumption and saving.
A whopping 82 percent of Russian consumers have no money left each month after obtaining necessities such as food and paying bills for vital services such as utilities, Nielsen said.
That compares with 96 percent having no money left during 2009, the second year of the global economic crisis.
Sixty-one percent of Russians were forgoing clothes purchases in the first quarter of 2016, and 45 percent were forgoing electronics purchases. The figures in the first quarter of 2015 were 55 percent not buying clothes and 43 percent not buying electronics.
More worrisome is a statistic involving food. More than 52 percent of Russians spent less on food in the first quarter of 2016, largely by buying cheaper items.
An indication of consumers' pessimism is that 70 percent of Russians in the latest Nielsen survey don't see the situation getting better.
"Exhaustion - this is the word that can be used to characterize Russian consumers today," said Marina Lapenkova, director of Global Clients at Nielsen Russia.
International condemnation of Russia's annexation of Crimea and its support for eastern Ukrainian separatists led to Russian patriotism soaring in 2015. That combative mood helped offset public pessimism over the Russian economy skidding due to plummeting oil prices and Western sanctions, according to Dilyara Ibragimova, a professor of economic sociology at the Higher School of Economics in Moscow.
"Today these factors have disappeared and exhaustion from the harsh economy, in which consumers have been living for a year, is growing," she noted.
Inflation has played a key role in the decline in Russians' purchasing power.Last year saw double-digit price increases. Because of that, Russians' real wages -- the amount adjusted for inflation -- fell 9.5 percent in 2015.
Meanwhile, Ukrainians' consumer confidence is dropping again. The confidence index of the sentiment-tracking company Gfk fell to 50.60 in March of 2016 from a post-civil-war peak of 54.1 in February.
The index had plunged to a record low of 41.10 in February of 2015, a few months after Russia began sending tons of equipment and troops to the separatists fighting Ukrainian forces in the Donbass region.
The steep drop in consumer confidence between February and March of this year reflected a widespread Ukrainian view that the current Poroshenko government is almost as corrupt and inept as the Yanukovych government that pro-Western protesters ousted in the spring of 2014.
One of the reasons for this cynicism is President Petro Poroshenko allowing discredited oligarchs to continue having a major influence in Ukraine's governance.
Another reason is federal prosecutors' refusal to bring corruption charges against a number of politicians and business people associated with Yanukovych.
Armenia's consumer confidence ticked up in the fourth quarter of 2015, but analysts see it as a blip in what has been a mostly downward slide since 2013.
The National Statistical Service reported that its consumer-confidence-index score in the fourth quarter of last year was 41.60, up from 40.70 in the third quarter. The third-quarter figure tied a record low set in January of 2015, a time when Armenia began experiencing significant fallout from the drop in the Russian economy.
Because the Armenian economy is a basket case, hundreds of thousands of Armenians have taken jobs in Russia in recent years. Money that these economic migrants sent home helped keep the Armenian economy afloat.
The fall in the Russian economy that began with the Kremlin's takeover of Crimea in the spring of 2014 led to many Armenians losing their jobs in Russia, however.
In addition to this loss of remittances, continuing government corruption and ineptitude continue to weigh on Armenian consumer confidence.
Armine Sahakyan is a human rights activist based in Armenia. A columnist with the Kyiv Post and a blogger with The Huffington Post, she writes on human rights and democracy in Russia and the former Soviet Union. Follow her on Twitter at: www.twitter.com/ArmineSahakyann
Calling all HuffPost superfans!
Sign up for membership to become a founding member and help shape HuffPost's next chapter