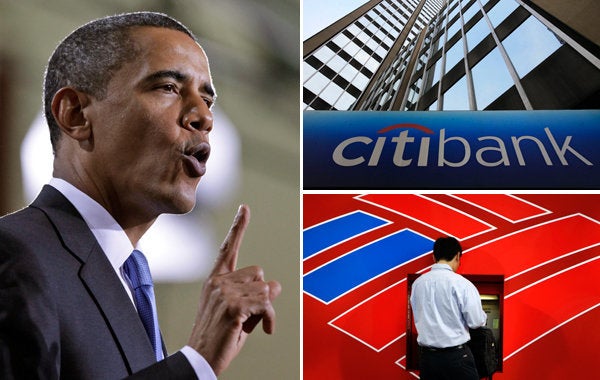 The fight in the Senate Banking Committee over the creation of a new agency dedicated to consumer financial protection has shifted from whether it should be created to what it will look like.
That's a victory for consumer advocates, labor unions and the coalition of progressive groups fighting Wall Street over the shape of reform, but the banks still have several chances to ambush the proposed Consumer Financial Protection Agency as it moves through the Senate.
"I'd like to commend President Obama's leadership in insisting on a viable, strong and independent consumer protection agency -- which is crucial to real financial reform," AFL-CIO head Richard Trumka said at a speech at the National Press Club Monday.
There is history and meaning behind each descriptor Trumka used. With the final outlines of the agency being negotiated, advocates are tightening their definition of success.
Heather Booth, head of Americans for Financial Reform, said her coalition has agreed on the elements of what will constitute a strong CFPA.
"We are fighting for an independent agency that has rule-making and enforcement authority, with an independently appointed head, with an independent budget, and that there are no exclusions, so that everybody is included -- auto dealers, pawnbrokers -- everybody," she told HuffPost. The House version of the CFPA, though strong and independent, exempts auto dealers, pawn brokers and other businesses.
The chief regulator, Booth said, should be appointed by the president and operate independently. Funding for the agency would be independent of the annual appropriations process, so that riders attached to bills can't dictate how or whether the agency enforces its rules.
No banking regulator or other prudential regulator would have authority over the CFPA. Some current consumer protections that exist mostly in name only, such as UDAP rules -- Unfair or Deceptive Acts or Practices - that are currently the purview of the Federal Reserve would be transferred to the CFPA. The new agency would also be charged with implementing and enforcing the Community Reinvestment Act (CRA), in Booth's ideal scenario.
In the House version as it was introduced and proposed by the Treasury Department, the CFPA would have authority over the CRA but it was stripped out before it passed the full House. The version introduced by Sen. Chris Dodd (D-Conn.), chairman of the Banking Committee, contained the same provision.
It is also crucial, said Booth, that the CFPA not preempt state laws that might be stronger.
The American Bankers Association, among other banking lobbyists, strongly opposes an independent CFPA, arguing it will reduce lending and be a burden on banks.
Larry Summers, a senior adviser to President Obama, told HuffPost on Monday that a strong CFPA has the administration's full backing. "There should be a strong consumer financial regulator who has the ability to set rules and assure that they're enforced in a reasonable way, without loopholes," he said.
"Treasury continues to support an independent CFPA," added Treasury spokeswoman Meg Reilly.
Elizabeth Warren, a Harvard professor who first proposed the agency, has been floated by House Financial Services Chairman Barney Frank (D-Mass.) as an ideal first agency head.
"Independence is critical," Warren told HuffPost. She is now chair of the Congressional Oversight Panel, which was created to oversee the financial industry bailout.
Empowering an agency to protect consumers, said Warren, is useless if the agency's primary concern is the health of the banking industry.
"Since 1994, the Fed has had the power to do virtually everything that this new agency could do, but the Fed refused to act," said Warren. "The other banking agencies had the authority to make huge changes, but they refused to act. Giving power to a consumer agency, then putting it under the authority of an agency that doesn't believe in consumer protection is not a prescription for change."
Business interests are generally opposed to any rules -- consumer or otherwise -- that can take a chunk out of their bottom line. Republicans fear that the CFPA could become another Environmental Protection Agency, which isn't required to be concerned about the impact of an environmental rule on the profitability of a business. Similarly, the Financial Accounting Standards Board (FASB) sets accounting rules without worrying about whether accurate accounting will sink a bank. Wall Street successfully fought in the House to strip the independence of FASB and put it underneath a bank regulator who could "eliminate" accounting standards if those rules threatened the financial system.
Banks and their allies on Capitol Hill, however, see in the CFPA an opportunity to preempt state consumer protection laws. Warren argues that the CFPA must be "a floor -- not a ceiling," which means that the standards it sets are the minimum requirement that must be met in all 50 states. If some states want to be more aggressive in consumer protection, they would not be constrained or preempted by federal law.
Graham Steele, a lobbyist with Public Citizen's Congress Watch, said that unless the CFPA meets those specific demands, it won't be real reform and could instead make the situation worse.
"For reform groups, this effort will not be successful without a stand-alone consumer agency. Putting consumer protection into a new, larger banking agency takes the failed structure of the Fed and the other existing banking agencies and consolidates it. These regulators repeatedly prioritized banks' business practices over consumers' financial security, and this proposal is a recipe for more of the same," said Steele.
Kathleen Day, with the Center for Responsible Lending, argues that the CFPA must be immune from pressure from the industry that it represents. Over the last two decades, regulators competed with each other to go easier and easier on what they called their "customers" -- banks. If a bank didn't appreciate how tightly it was being regulated, it could shop around for a laxer cop, said Day, which ushered in the era of "regulator shopping." Because the regulatory agencies were funded by fees assessed to the banks they regulated, they were incentivized to get as many "customers" as they could.
Preventing businesses from ripping people off also has the advantage of protecting the financial system, since consumer spending makes up roughly 70 percent of the economy, adds Day.
"If you hobble people with debt, it makes sense that's a systemic risk," said Day.
Day's organization cobbled together a video it plans to use to make its case for the CFPA.
Related
Popular in the Community