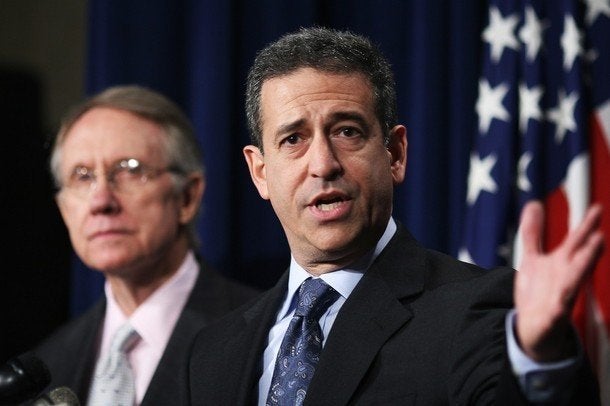 Sen Russ Feingold (D-Wisc.) introduced a bill Wednesday that would prevent companies from forcing consumers and employees into arbitration agreements. Arbitration clauses pop up in contracts for things as small as cell phones and as big as jobs.
At a press conference on the Hill, victims of tragedies made worse by forced arbitration shared their stories. One of them, Jamie Leigh Jones, provided a statement saying she was gang-raped by her Halliburton subsidiary co-workers in Baghdad in 2005. When the Justice Department didn't come through with charges against her assailants, Jones tried to take one of them to civil court. Company lawyers pointed to her employment agreement, which stipulated that any claim "must be submitted to binding arbitration instead of to the court system." (An appeal is in-process.)
"Unfortunately, my case is not an isolated incident," Jones said. "If arbitration of these claims is forced, then there will be justice for none of the victims of these military contractors' misdeeds."
In a Wednesday press release, the U.S. Chamber of Commerce, which opposes the bill, urged lawmakers to "consider evidence over hype" in the arbitration debate:
"Anti-arbitration advocates want more disputes taken to court, so they have been peddling studies and anecdotes to make the case against arbitration, including the ironically named Arbitration Fairness Act," the Chamber said. "Yet, they continue to ignore a growing body of evidence that verifies the benefits of the 84-year old arbitration system."
The Fair Arbitration Now Coalition peddled a study Wednesday showing that most likely voters oppose forced arbitration and support congressional efforts to ban it.
"It's a core American value that people have the right to go to court when there's a dispute," said Deepak Gupta of Public Citizen in an interview with the Huffington Post. Public Citizen is a supporter of the coalition.
Feingold trumpeted the poll results in introducing his bill.
"Americans are sick and tired of a system that so strongly favors big corporations over consumers and in this case robs them of their constitutional right to their day in court," Feingold said in a statement released by his office. "Americans are often given no choice but to give up their rights if they want to sign credit card agreements, cell phone contracts, job applications or other basic contracts. It's time for Congress to side with consumers and employees and end this practice of forced arbitration, which stacks the deck against the people Congress is supposed to represent."
Similar legislation has also been introduced in the House by Rep. Hank Johnson (D-Ga.).
The National Arbitration Forum, one of the biggest companies that arbitrates disputes, said in a statement to the Huffington Post that the bills "would restrict access to justice for millions of middle- and low-income Americans who cannot afford lawyers or prolonged trials. Many lawyers cannot accept representation for smaller-value claims, such as those consumer small claims often resolved in arbitration."
The NAF also said that restricting arbitration would "flood federal and state courts with new cases at a time of national economic crisis and when state courts already face enormous budget shortfalls. American taxpayers would suffer because of the increased costs of litigation and because businesses would pass litigation costs onto the consumer in the form of increased prices."
Public Citizen's David Arkush brushed off NAF's criticism of the bill.
"Consumers lose 94 percent of the time before NAF," Arkush wrote in an email. "Who wants access to that? It's simply false that the Arbitration Fairness Act would restrict Americans' access to justice. It would do the opposite, ensuring that people can hold companies accountable for wrongdoing. Instead of being forced into arbitration, consumers would have a choice whether to go to arbitration or court."
Popular in the Community